So after weeks/months of anticipation, the NBA tour finally kicked off this past weekend in Salt Lake City. The entire weekend was nothing short of thrilling and the Utah Jazz organization provided exceptional hospitality.
Getting there
I left work at on Friday & walked to the Amtrak station 2 blocks away. After a hour train ride, I arrived at Chicago Union Station and walked 3 blocks to catch the "Orange Line" to Chicago Midway Airport. However, I quickly learned that you can not buy a ticket w/ credit or debit & was forced to walk down the street to an ATM. Now with a $20 bill in hand, I re-entered the station only to find that the machine would not give change. I would be spending $20 on a $2 train ticket. I guess the attendant felt sorry for my stupidity and used his "master key" to let me through for free. $2 saved!
I arrived at Chicago Midway airport, checked in w/ ease and headed to the Southwest terminal. Along the way, I spot a sign for flu shots. I thought about the many people I'll be around at work, on planes, and in NBA arenas & decided that this might just be a great investment. I paid the $35 for the flu shot at the airport and am still living to tell about it. When the nurse administered the shot, she laughed because she said that I winced in pain. I quickly showed her one of my other piercings & she quickly conceded that I maybe I didn't.
I arrived in Salt Lake City at about . Shea had arrived about 50 minutes earlier and was already checked in at the hotel. He had already left me 3 voicemails when I turned my phone on stating that he left a bag at the airport so I had to spend the next 30 minutes retrieving it.
What became more interesting was that I had booked an America' Best Inn & Suites through Expedia.com because it offered an airport shuttle among other amenities. When Shea called the hotel, we found that the shuttle was "broke down" and we would each have to take a cab to the hotel and pay 50% of it. We would then also have to take a cab from the hotel to the airport when we were leaving. This added $50 to our expenses and I WILL seek restitution from Expedia & or America's Best. When I booked, they also offered a pool and hot tub, neither of which were functional. The room itself boasted a broken shower head, a single bar of soap, & heat/air conditioning that didn't work. What we found to be extremely hilarious was that on Saturday the maid "turned over" Shea's bed but chose to ignore mine. I guess they give a 50% effort here. Here are some of the finer aspects of our room: the air filtration system from 1984 and the great clock radio!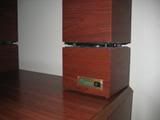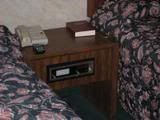 The City of Salt Lake
So we headed out on Friday to experience downtown Salt Lake City. The first thing we noticed are the extremely wide streets. Also, the phrase "Trust Jesus" was neatly spray-painted on several parts of the sidewalk.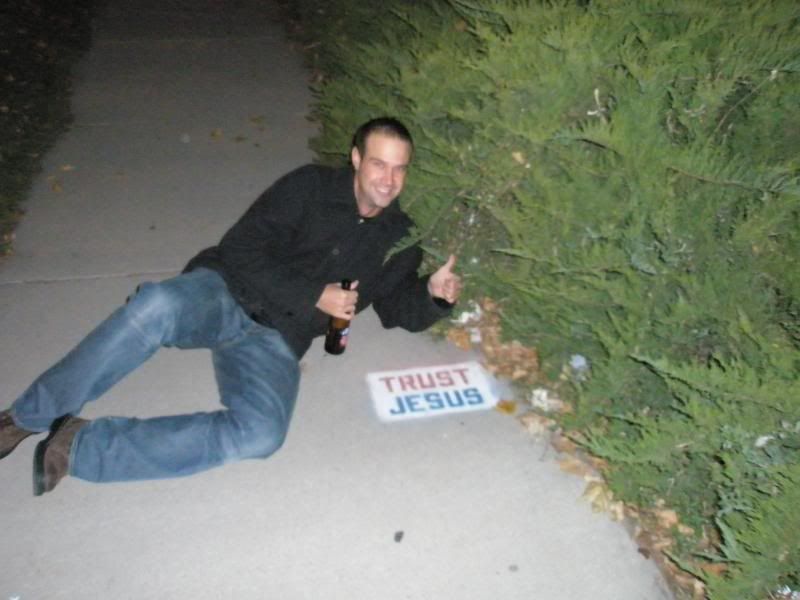 Next, were the multiple taco vendors offering $1 tacos made from cow tongue/cow cheek/chicken/etc.
What was strange here was that the taco vendors would set up shop in the most obscure areas, no open businesses nearby and yet double-digit numbers of people would be lined up for these tacos.
Many people believe
Utah
is a "dry" state.
Not true.
While they have many rules that separate them from most other states, they have bars, breweries, and clubs just like everywhere else.
Having not eaten all day, we started off at Squatters Pub.
Without getting too much into detail of our bar hopping affair, we learned the following
1- All bars that do not serve food require a "membership."
This is a fee that you pay up front and allows one to be a patron of the bar in the future and even bring guests.
2- To allow people to smoke in a bar, you must require membership.
3- Tap beer must be 4% alcohol by volume or less to be served.
4- Restaurants can not serve alcohol past 5- Liquor ceases to be sold at
6- Beer sales end at
7- Servers can not offer the patron a drink, a drink must be requested by the patron.
8- Each individual at a bar or table can have only a single drink in front of them at a time. No "double-fisting" kids!

While I could be off on some of these, I think I've got most of them correct. Nonetheless, it's very different from most other places.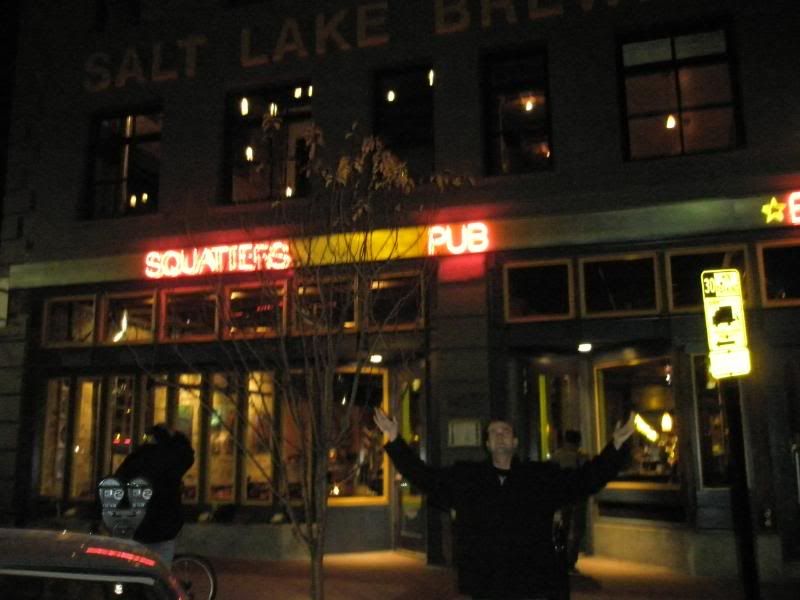 On Saturday morning, we quickly learned that most of the desirable sites that we wanted to see were far outside of Salt Lake City. This posed quite the problem as we couldn't spend what would have been over $100 on cab fares. We began to walk down Main street at about when we stumbled upon our gold mine. "Rent-A-Wreck." We were able to rent a Chevy Cavalier for about $30 for the day. Suddenly opportunity opened up. Notice my "senior pic" pose below:

We took the car to Olympic Park, just outside of Park City. Here they were doing time trials on the bobsled track & the ski jump was active with athletes. The view from up here was incredible as you could see the small towns lodged in between the Rocky Mountains.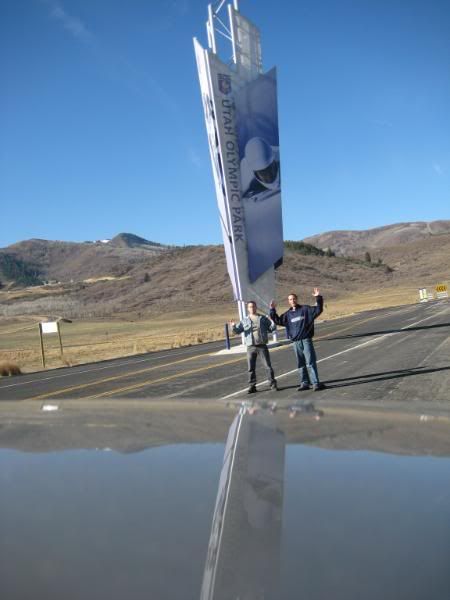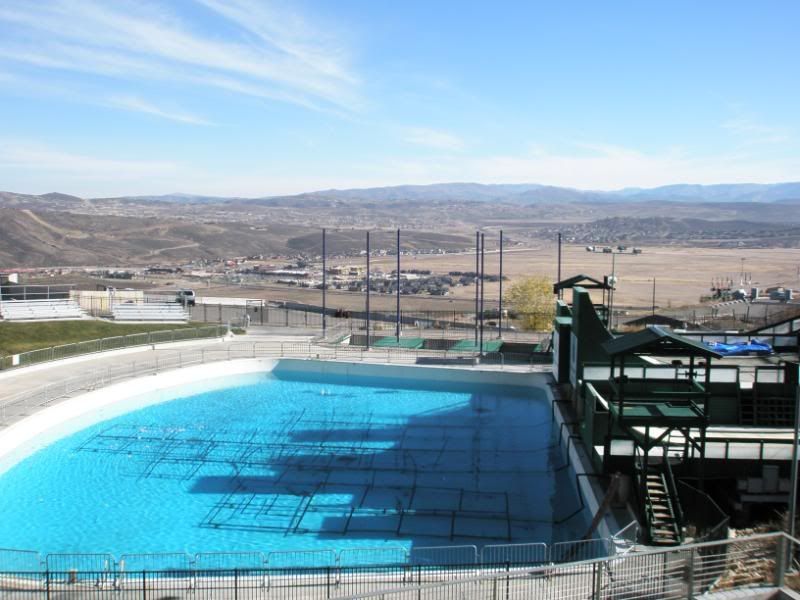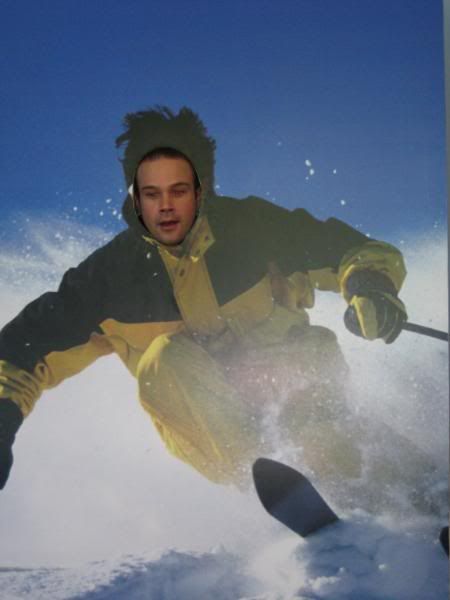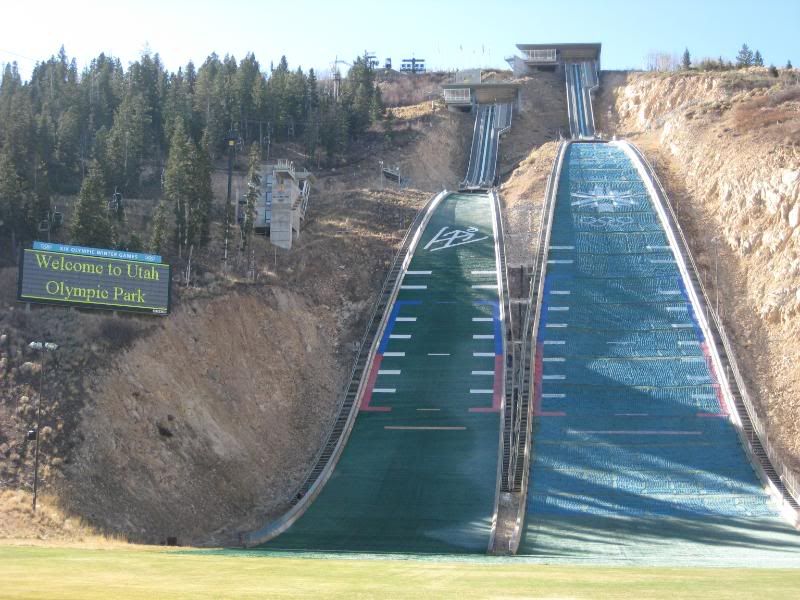 Next we drove to the Great Salt Lake. As we approached it, you could see nothing but white on the shores. We drove and parked at one of the marinas and went into the locker room to change. Strangely enough, as we approached the locker room we were greeted by a massive black cat, just hanging out in the sink. I have no idea of why it was there or where it came from, but a bit odd. It was approximately 50 degrees out and we went down to the shore. I'm always wanted to get into the Great Salt Lake and it was unfortunate that I made it here at this time of year. The water was freezing. Anyone who knows me however, will tell you that I go after my dreams at all costs. I took my shoes, sweatshirt, and jeans off and jumped right in. You can see the video below. The Great Salt Lake has a salt concentration that is EIGHT times greater than the ocean. When I jumped in the salt immediately burned my eyes, nostrils, and lips. Although only in for a short period, you could instantly tell that there was much more buoyancy in this body of water because of the salt. I think we've both successfully avoided pneumonia to this point. My body had the dry white salt all over it. No matter how much I tried to wipe it all off, there was constantly more.
SLC - NBAdrew and Shea hit the Great Salt Lake

Add to My Profile
More Videos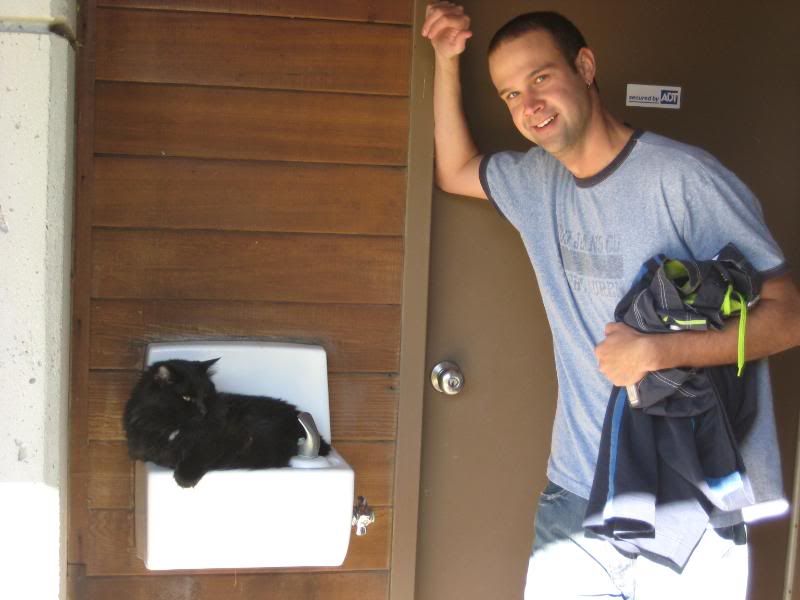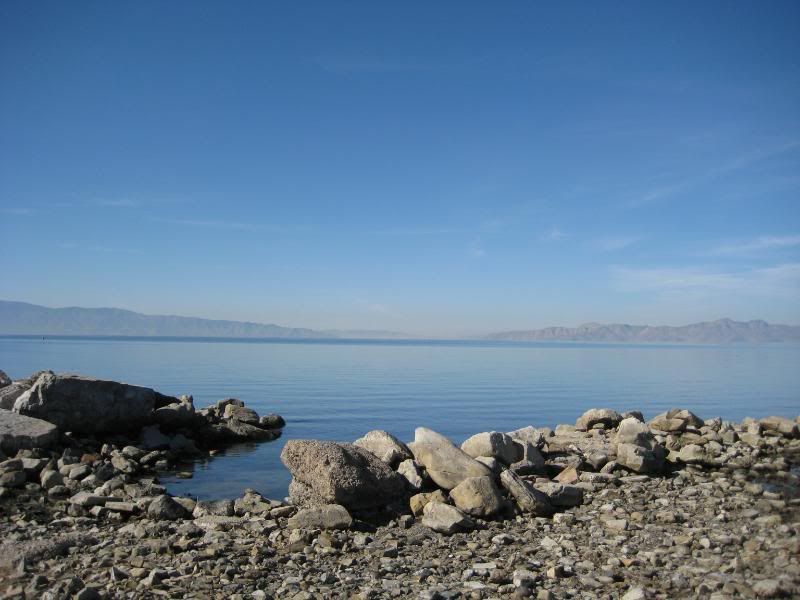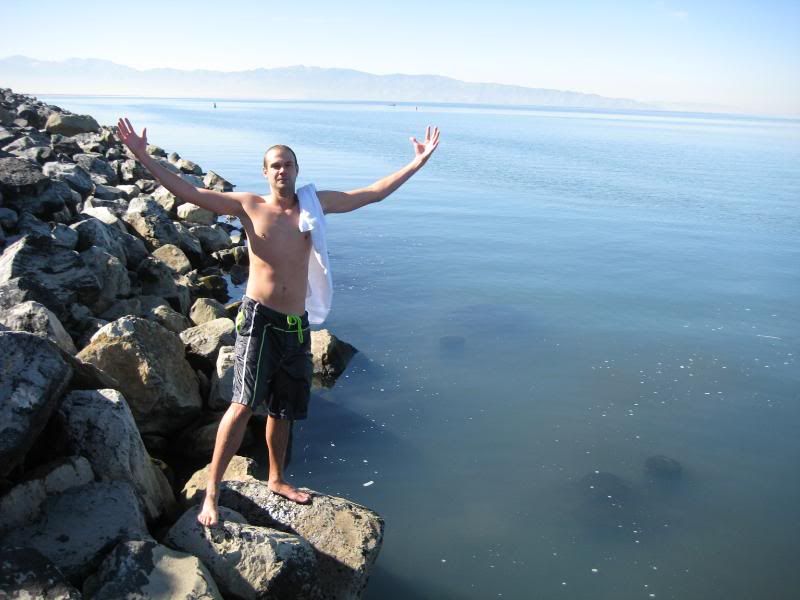 notice the salt pasted to my face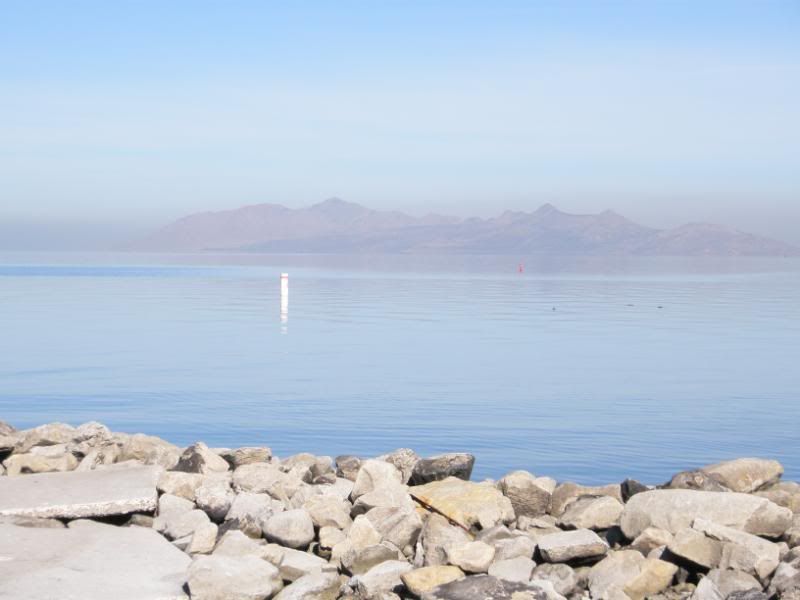 We then went to the Kennecott Copper Mine, something I had never heard of prior to arriving here. This Copper Mine is the largest and richest mine on Earth. It is only one of two things (The Great Wall of China) on the planet that can be seen from space. This canyon makes the great pyramids look minuscule.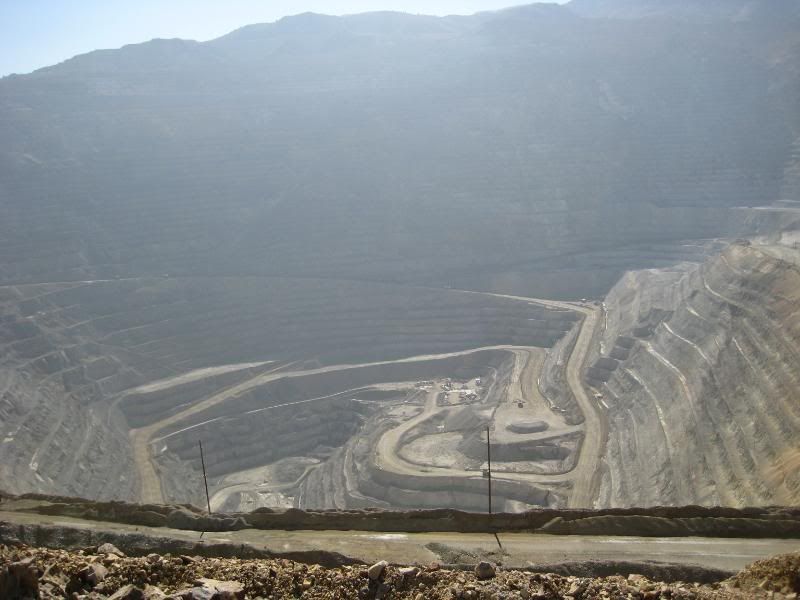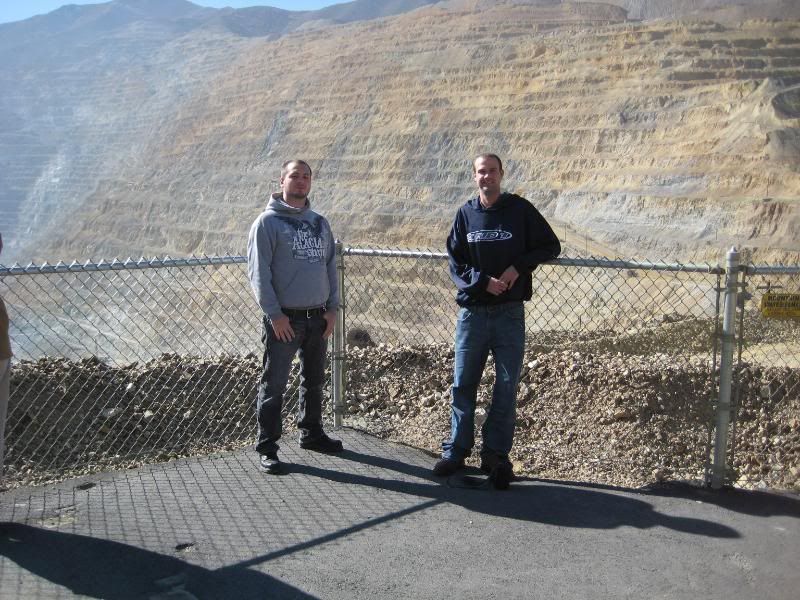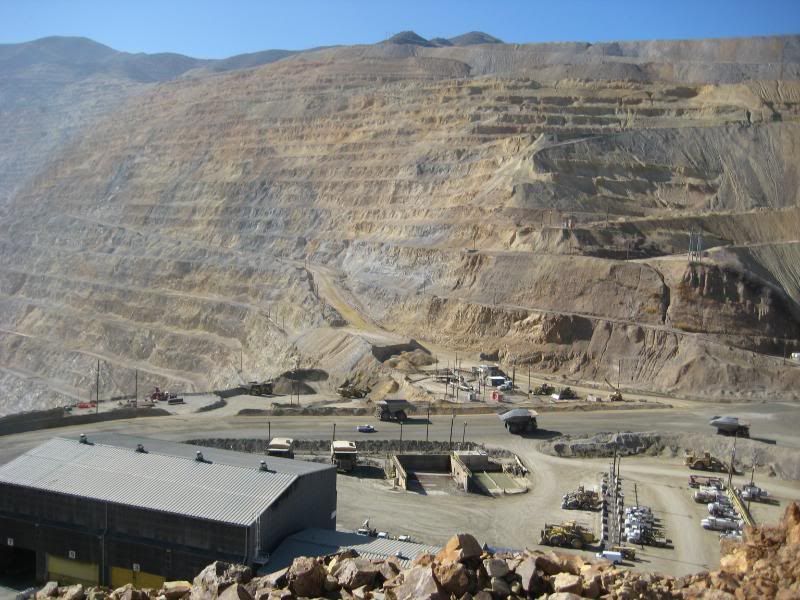 Finally back to the city to prepare for the game. We stopped at the Desert Edge Brewery for lunch. Here, we observed that this was another bar that didn't use any specialty beer handles on their taps. All beers were connected to the same boring black handles.

On the way to the arena, we made two quick stops. One at a downtown ski & snowboard event.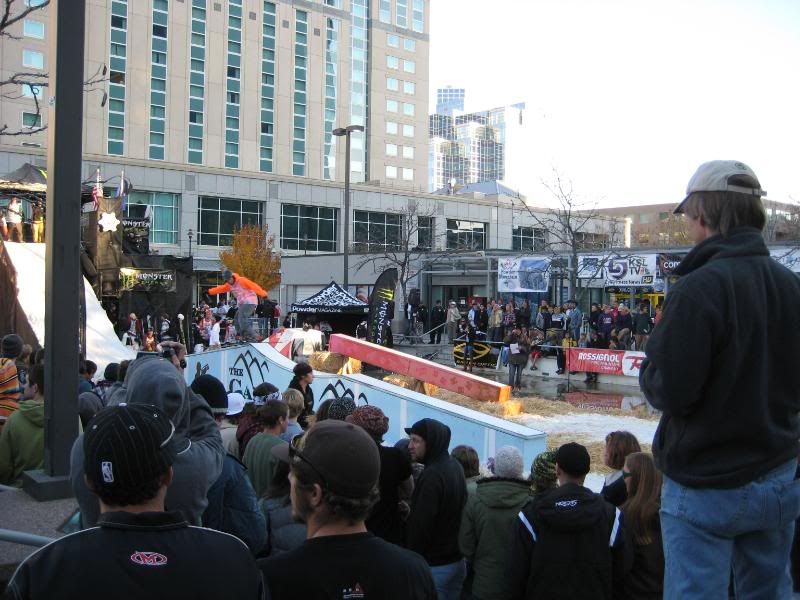 Secondly, at the famous Mormon Temple. I couldn't go too long without mentioning this spot as Salt Lake City revolves around it...literally. 1 block North is 100 N. 3 blocks west of the Temple is 300 W. I learned a lot about the Mormons during my stay here, which I'll mention a bit more later.
SO FINALLY, the game!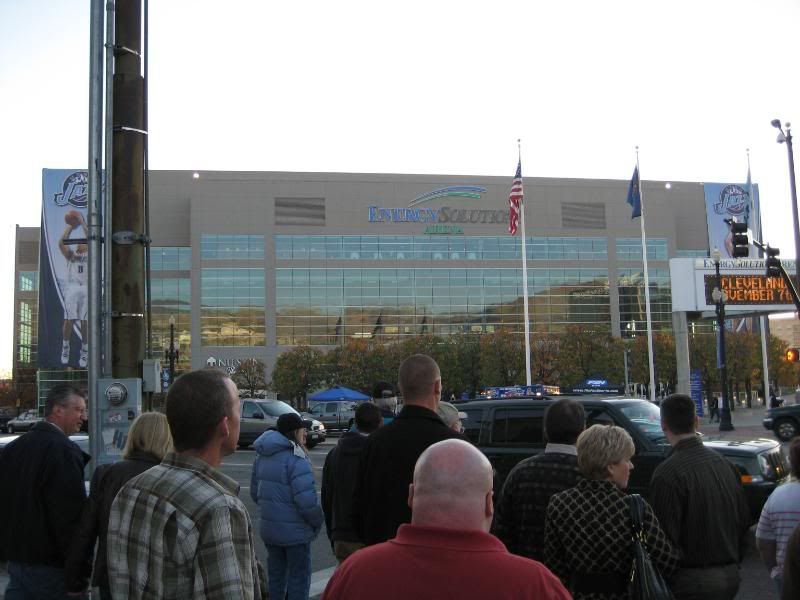 We arrived at the Energy Solutions Center at about . Yes, it is no longer the Delta Center as of approximately December 2006. Here we were greeted by Marketing Manager Meikle LaHue & intern Jared Bell. They first took us up to the "100 Club."
This club is at the top of the arena and even owner Larry Miller was eating there. The club has a beautiful view of the arena on one side and a view of the Rocky Mountains on the other. When the club was originally formed, members paid $100,000 for a lifetime membership. This was aimed to generate money to keep the team in Salt Lake.
Meikle, Myself, and Shea (who apparently wants to be a cheerleader)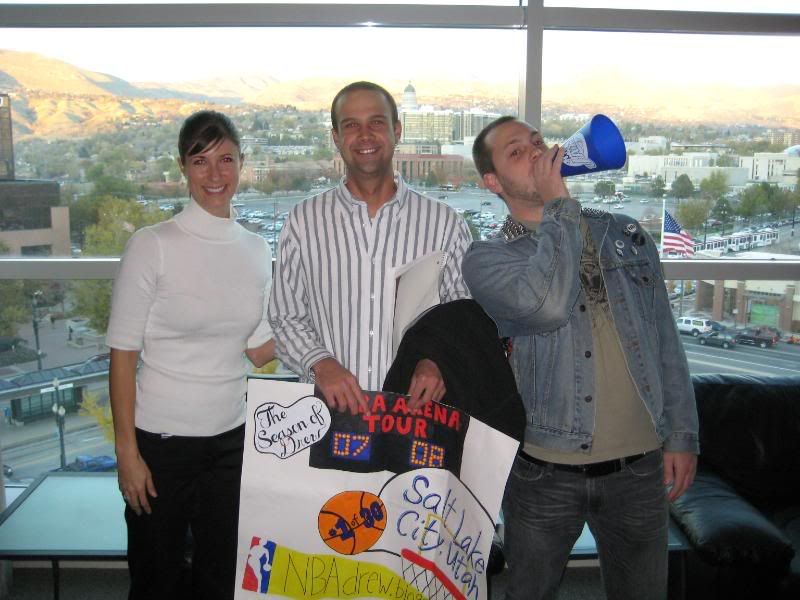 Inside the 100 Club, where Larry Miller was eating dinner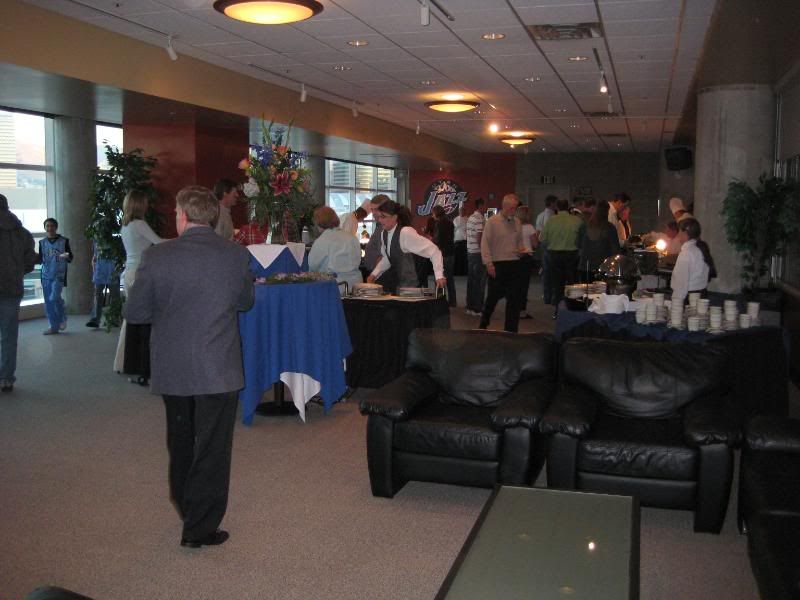 View of court from 100 Club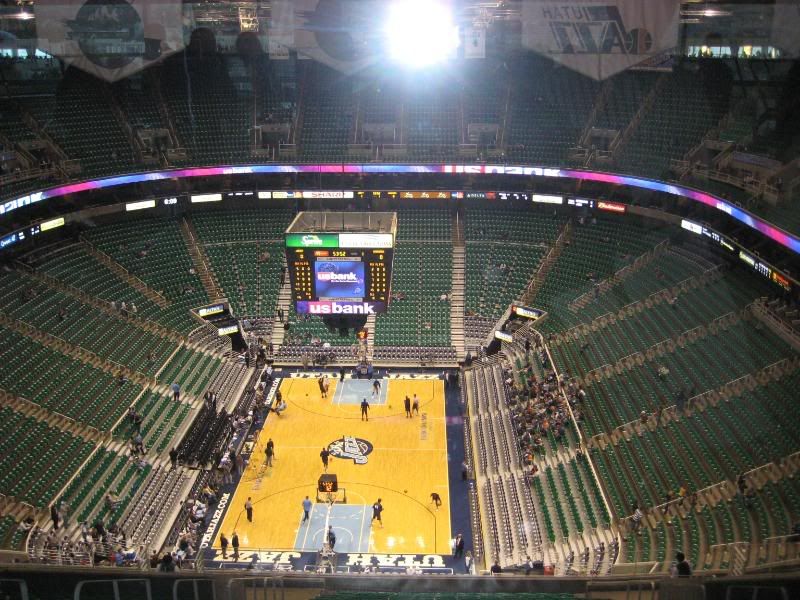 Next we went to the third floor and got to go into some of the luxury suites. Very impressive! We were also prevlidged enough to see the "Lexus Club" and the "Players Wives Area."

Inside the "all-star" Luxury suite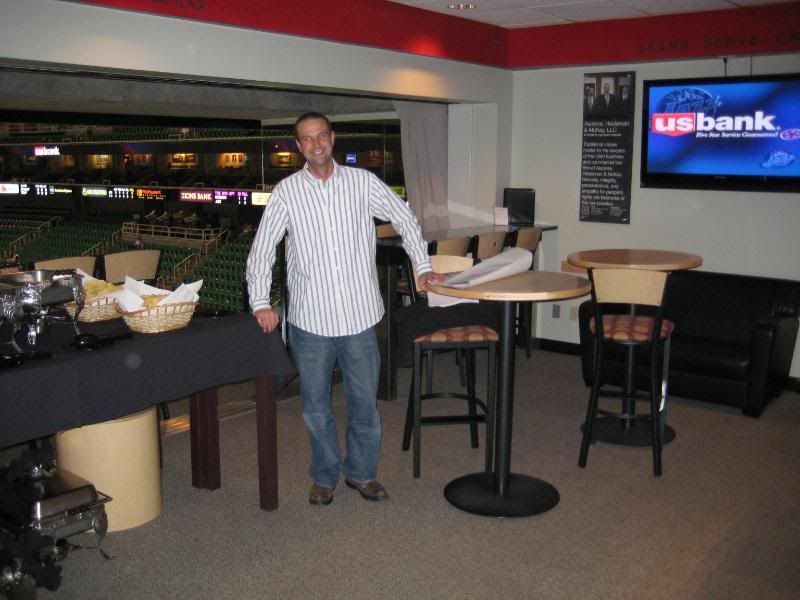 View from Luxury Suite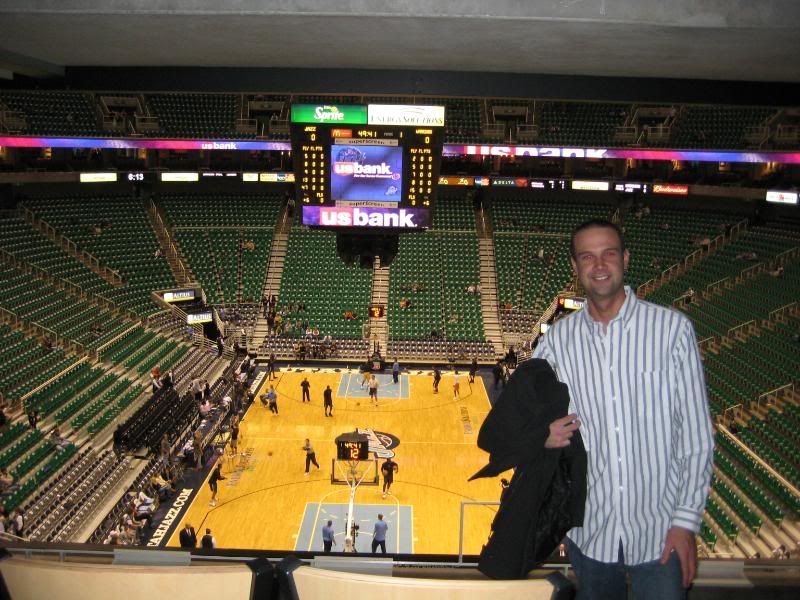 They were even kind enough to allow me to sit in the "board room." Then we got to go inside the television truck to see some of the behind the scenes action. Shea and I got to stand on the court and have a photo taken and we could tell that everyone was reading our sign and Meikle got requests to forward the web address.
Utah Jazz Executive Offices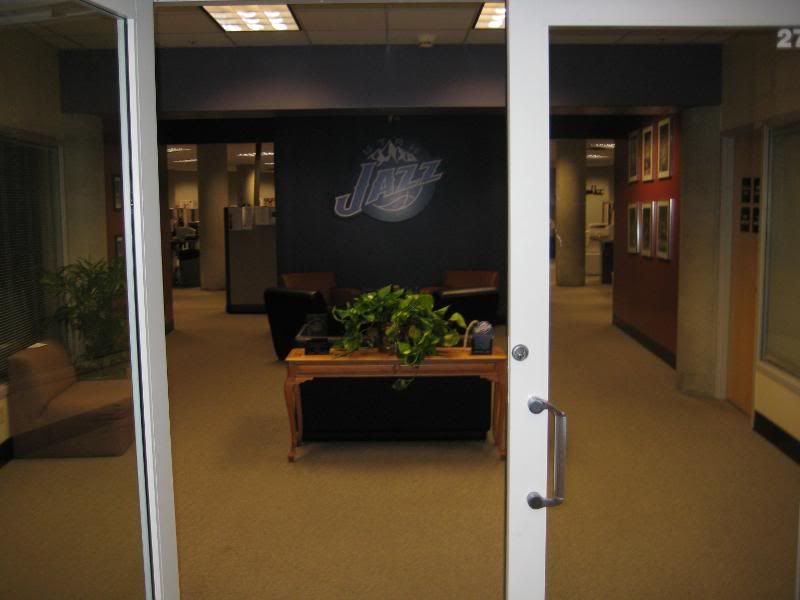 In the BoardRoom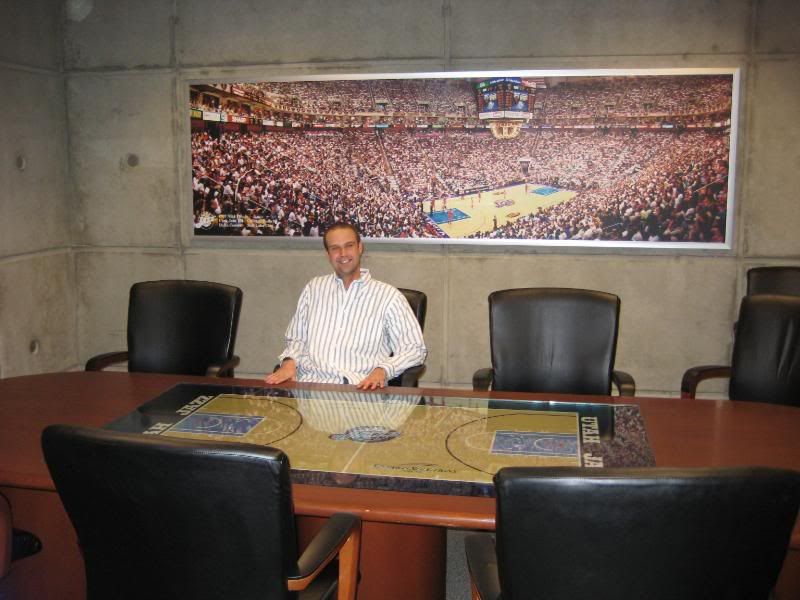 & oh Yes, on the Court! Thanks for negotiating that Meikle.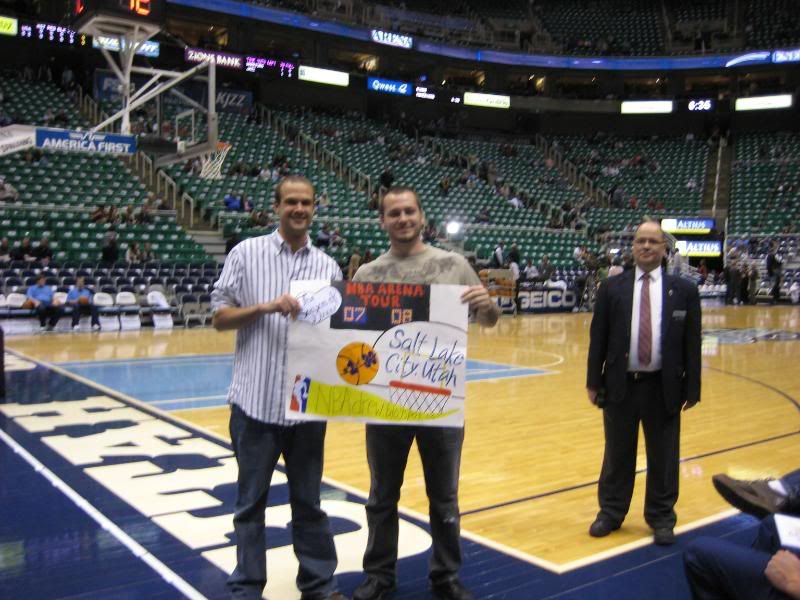 Behind the scenes for Utah Jazz TV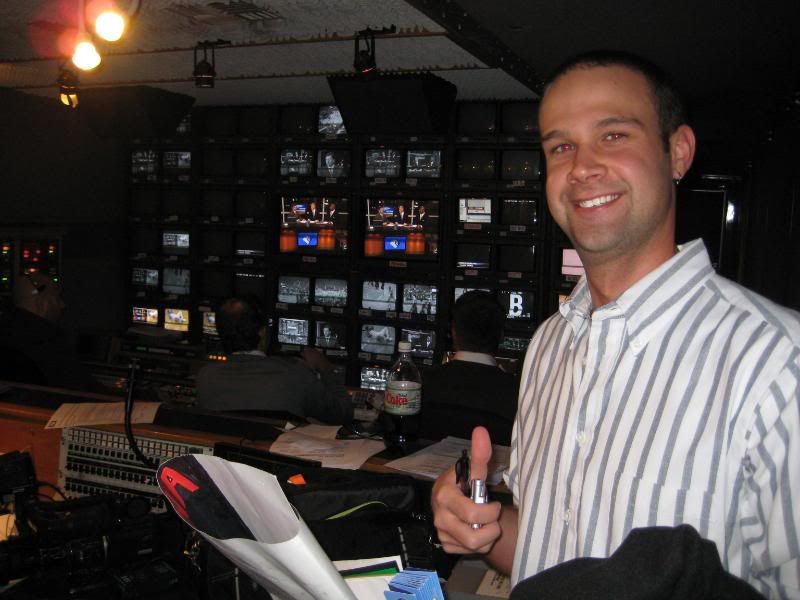 And finally came the most exciting part. We were allowed to stand outside of the Jazz locker room. Within minutes the team came storming out. Deron Williams, Andre Kirilenko, Mehmet Okur, Carlos Boozer, all inches away from us. I tried to snap as many pictures as possible. but honestly I was having such a hard time keeping myself together because of the excitement that I couldn't hold the camera still.
The Jazz exit the locker room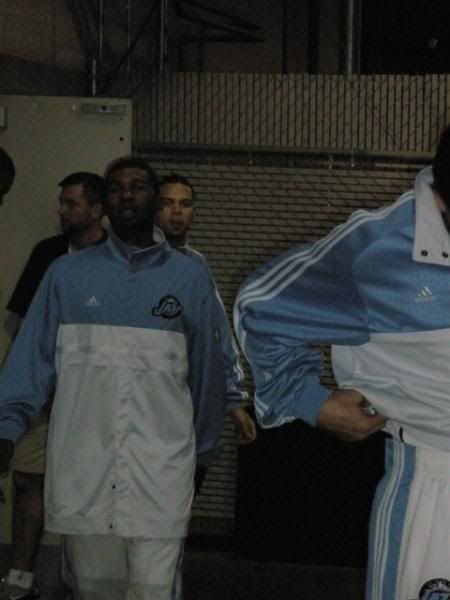 The team hypes each other up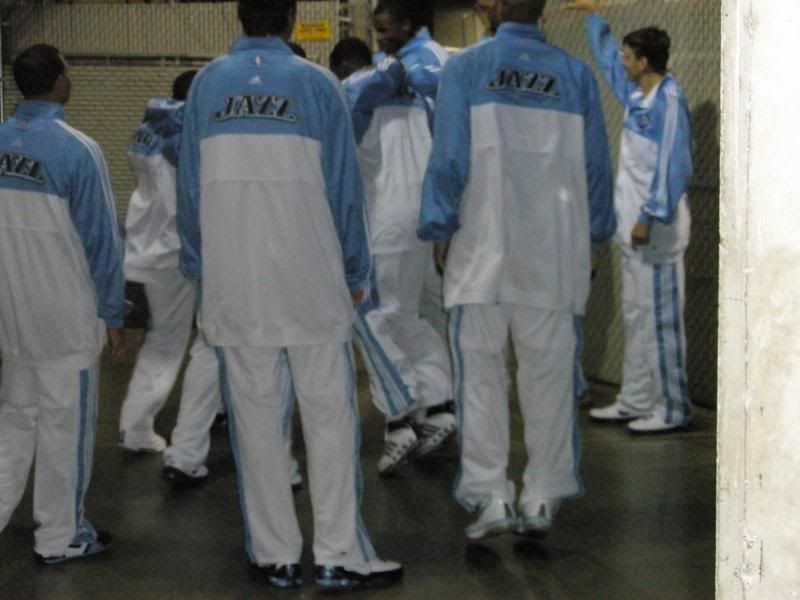 Deron Williams focused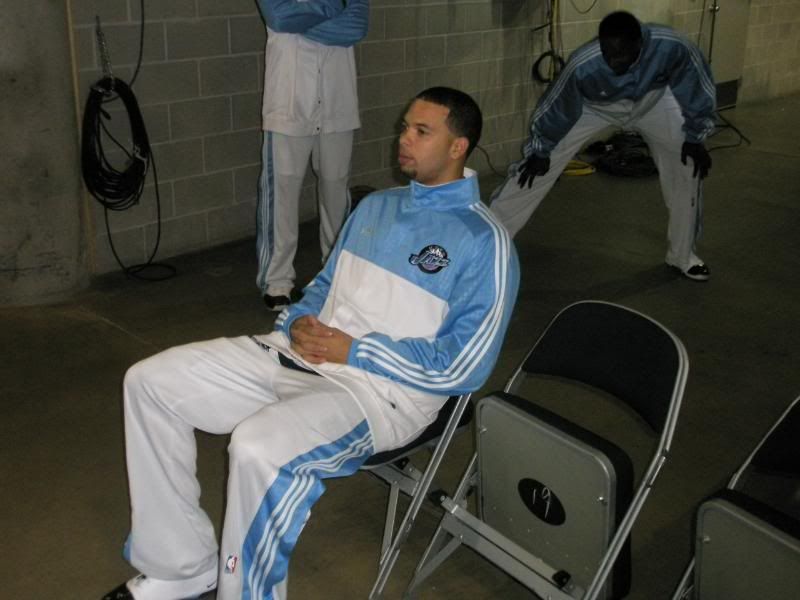 Mehmet Okur smiles for the camera
Deron gets candid for the camera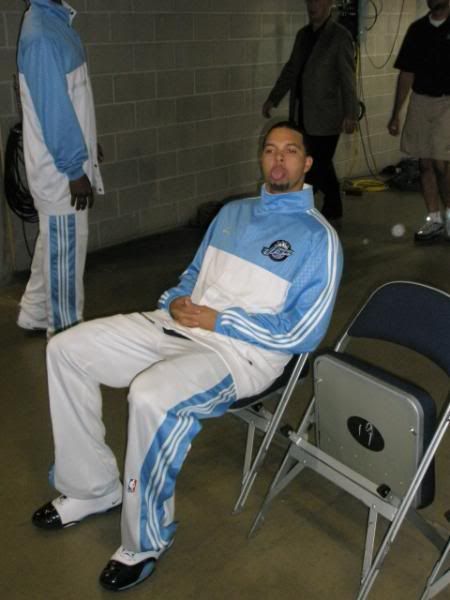 Spotting Ak-47 in the back
The Game Itself
Well, the game wasn't a sell-out, but anyone there didn't know that. The noise level was wild. This town loves their team! Even when the Jazz lead by approximately 20 points, you would think the teams were playing in a playoff game. The fans cheered every Jazz basket with the same enthusiasm as the next. As the Jazz were draining 3 pointer after 3 pointer, few probably knew that the Jazz would go on to set a franchise record for 3-pointers on this very evening.
Deron Williams held Baron Davis in check & the Jazz went on to win 133-110. The score seems like a blow-out, but the crowd made it overly entertaining throughout the entire game.
Retired Jazz Players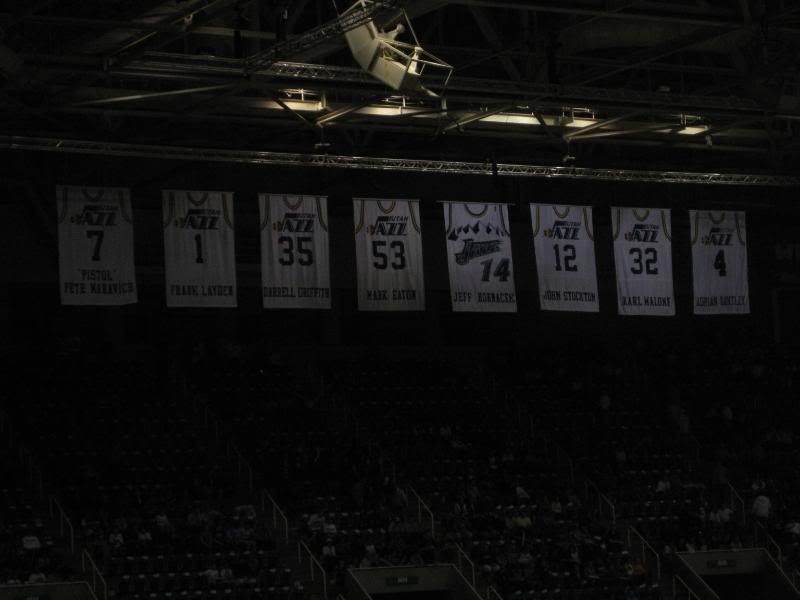 Multiple Division & Western Conference Championship Banners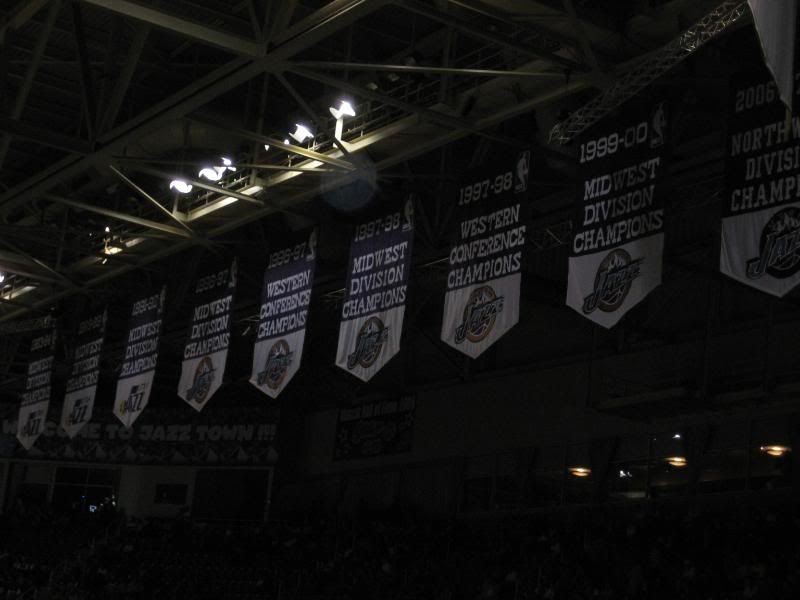 The Bear was sent up to pose w/ NBA Drew & be part of the NBA tour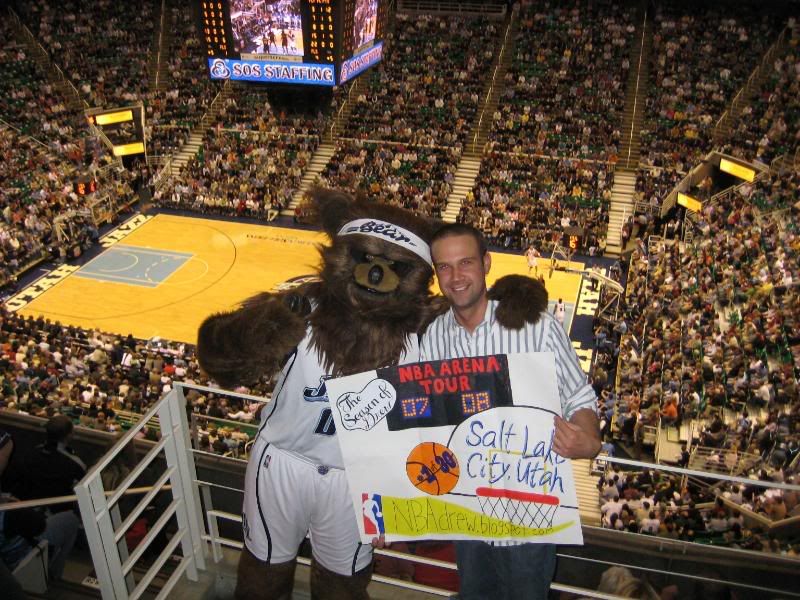 Recording History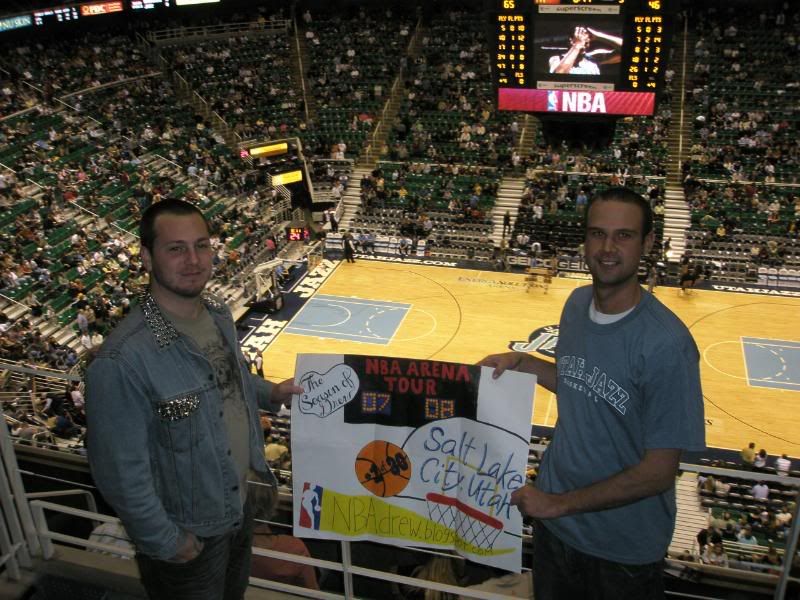 Player intros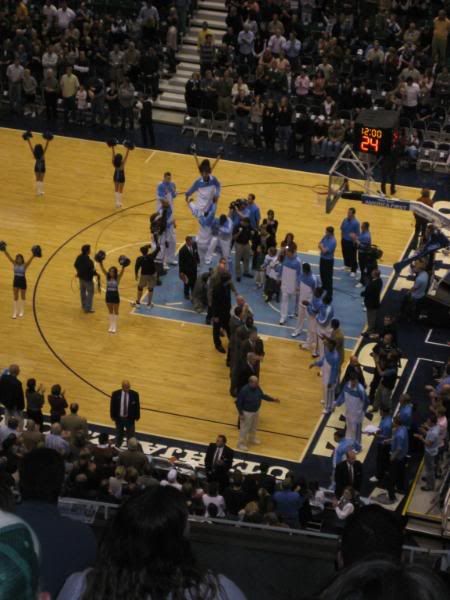 Tip-off
Court Shot
The chosen arena food of the evening: Fire Dog $3.50 (although it was advertised as $3.75). It wasn't all that spicy, I should've went with the ice cream that Meikle recommended.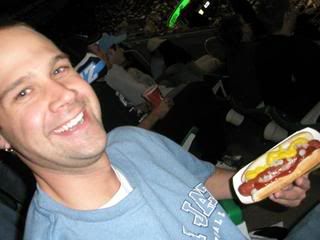 Dance team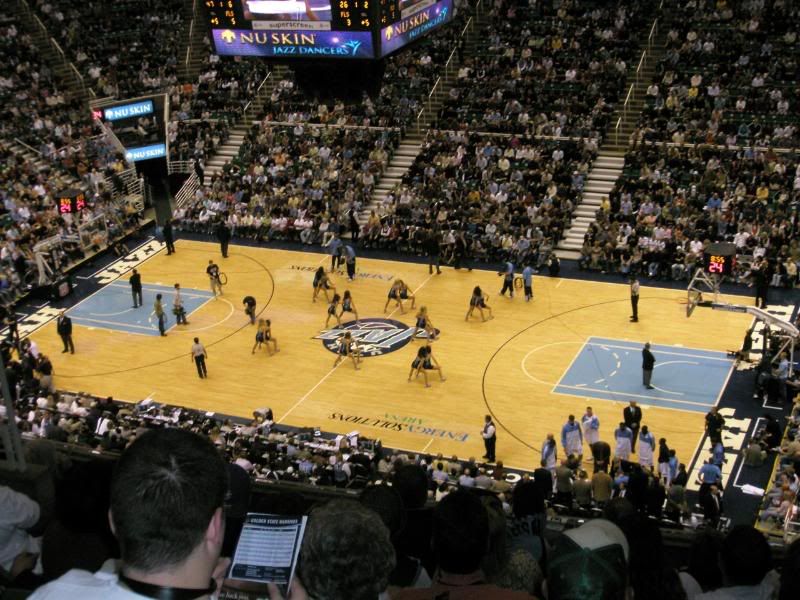 New ink....er, temporary ink...
More Jazz TV
I like this idea...allowing the kids to flavor their own sno-cones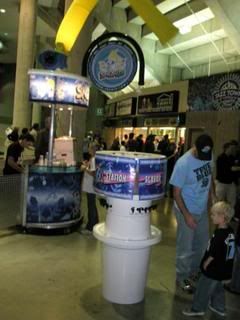 Bronze statues of Stockton & Malone
What a daredevil!
In game action
The Jazz victory w/ ticker-tape.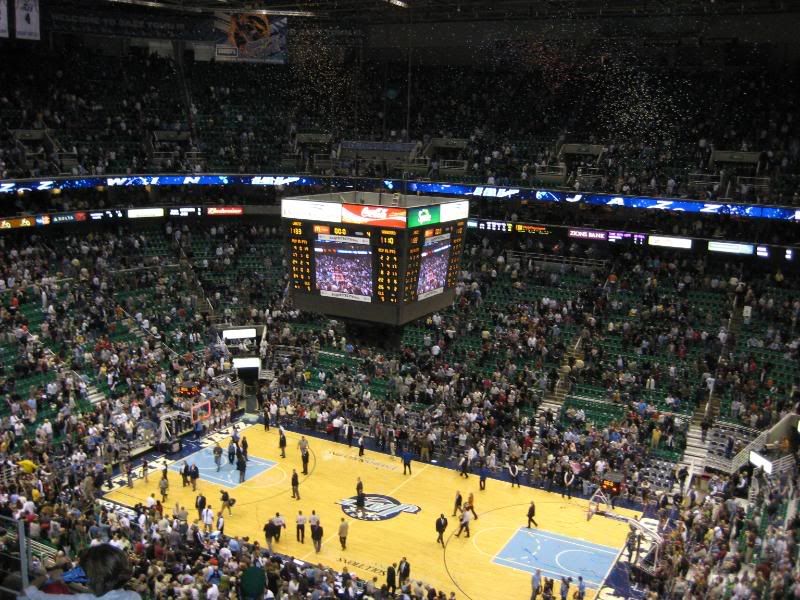 Lastly, I'd like to say THANK YOU to the Utah Jazz organization, providing me with free tickets, a tour, information, and etc.
Their generosity went above and beyond my expectations, showing me that they legitimately care about their fans.
They were in a tough spot, being the first franchise I was to visit and they came through in a huge way. Meikle and Jared also shared their intentions on getting the fans in the "upper-bowl" more involved in the game by creating "JazzTown," which will see it's full-fledged debut shortly at Jazz home games. I urge anyone ever stopping through Utah to take in a Jazz game. My now very positive perceptions of this franchise will clearly be tough to beat.
As I previously mentioned, Jared Bell is an currently intern with the Jazz. This guy knows his stuff and will be seeking permanent employment soon. If any sports franchise is reading this blog, I'd recommend seeking him out & offering him a job before someone else takes advantage of his talent.
Post game
So after the game, we took in more of the downtown area and a couple of more adult beverages were consumed. While we were out, we ran into 4 guys from my home state of Pennsylvania. showing once again that there is no shortness of irony while I'm on these trips.
Sunday
Sunday came and it was time to depart and head back to Milwaukee. Fulfilled by my weekend, I was ready to head home, but I couldn't help but feel disappointed that I didn't get the opportunity to have a discussion with a Mormon. Little did I know, the opportunity would soon present itself. On the plane ride to St. Louis, I sat next to a girl and in typical fashion, started into conversation with her. We talked for about 2 hours and then during the 3rd hour I mentioned how it was such a shame that the world has such negative perceptions about Salt Lake City and the Mormons. I mean, I thought the people were overly friendly and the state itself was the most beautiful landscape I've seen to date. Some of the pics are below: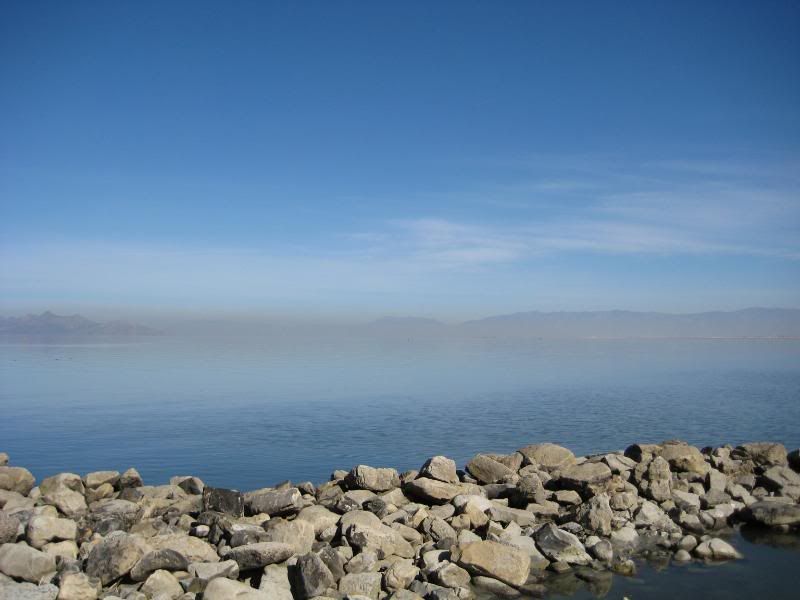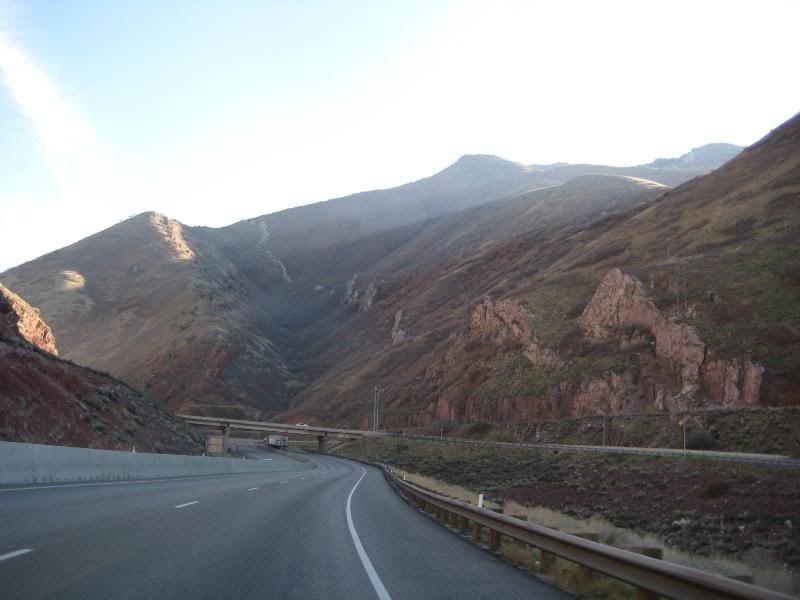 So I was explaining to this girl that I never fully understood the history of the Mormon religion and then she proceeded to give me a detailed history. When I asked, "How do you know all of this so well" she responded, "Well, I'm a Mormon." I had just spoke to her for 2 hours like I would any other individual. & there was nothing odd about that. Seriously people, let's ease off the Mormons and the state of Utah & appreciate the new insights we can gain. Put Utah on your list of places to see before you die.
So I made it home late (thanks Southwest) and wanted to thank "D" for giving me a ride back to Milwaukee.
Honestly, I could detail this particular blog a lot more but I've got to start planning for next weeks games in Seattle, Portland, Golden State (SF, Oakland), and Sacramento. Thanks for reading, and if you can help me accomplish any of the goals below, please contact me!