So after another 5 days at work, I was on the road again. This time I would be taking a flight to Memphis. I would consider the Grizzlies to be another franchise that is probably largely unknown to many NBA fans.
The Fed Ex Forum is located downtown, right off of Beale street.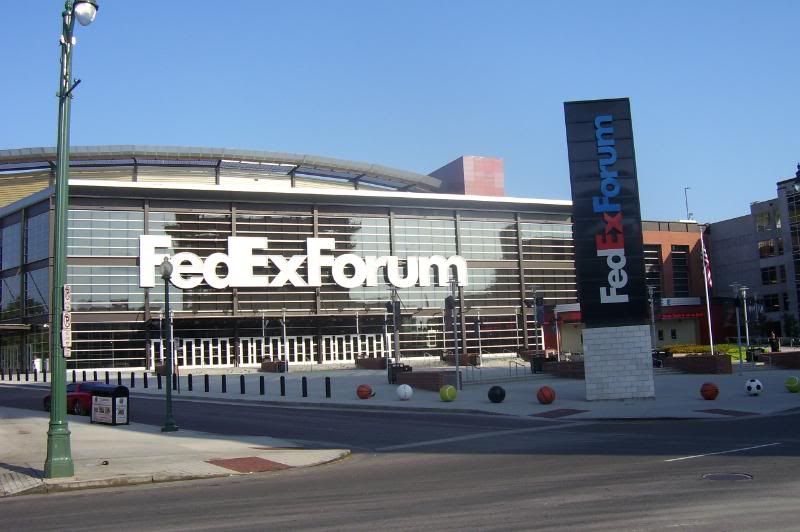 Inside of the lobby
A shot of the full court.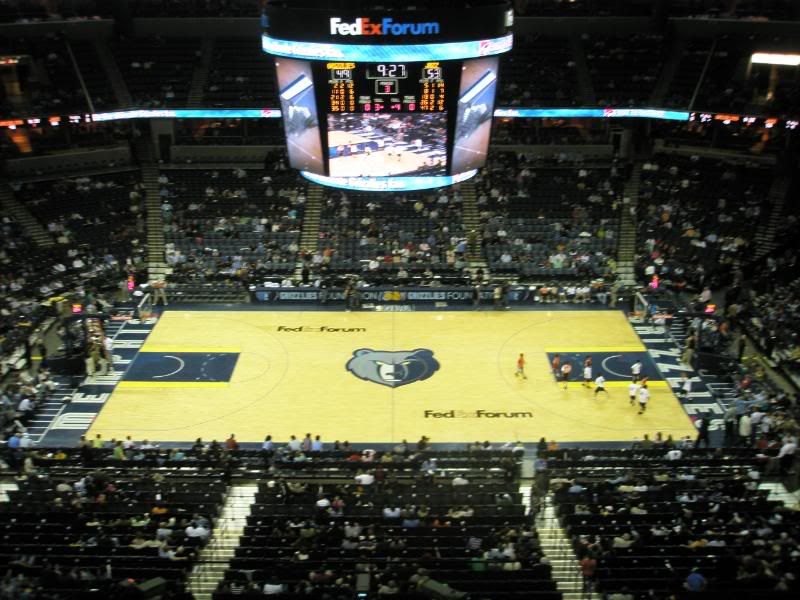 Early on, the jumbotron showed an informative exit plan in the event of an emergency. This was the first time I had seen such a thing shown at an arena, but unfortunately it was shown when about 2 % of the crowd had arrived.
Carly Knight was my contact with the Grizzles. I can't thank her enough because she helped me from the day I contacted her. On several occasions, she followed up with me, rather than forcing me to follow-up with her. Even more, she accommodated all aspects of my visit, even ensuring that parking was taken care of. When I arrived, she greeted me with a bag of Grizzles' merchandise that included a jersey, t-shirt, trading cards, Rudy Gay statuette, and beanie. It seems as if she took the best of all of my other visits and built on that. To date, she might just be my front office MVP.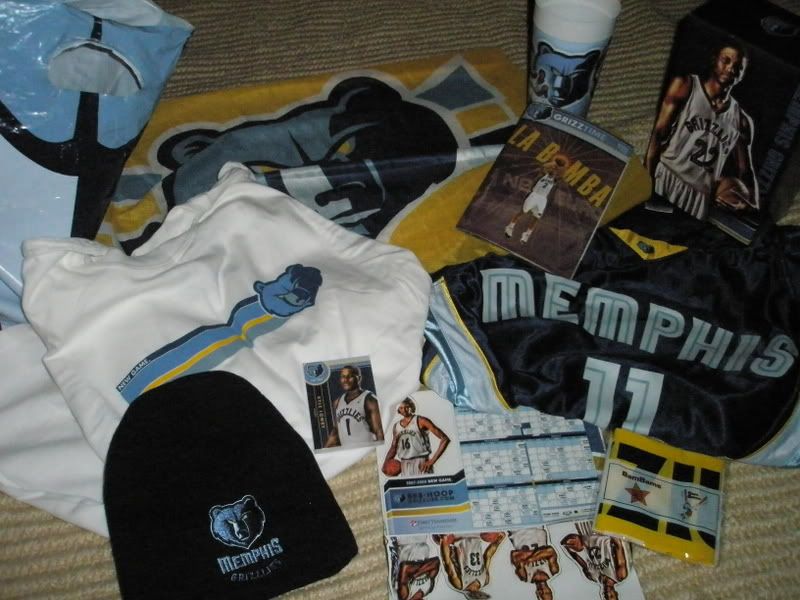 Getting close to Carlos Boozer.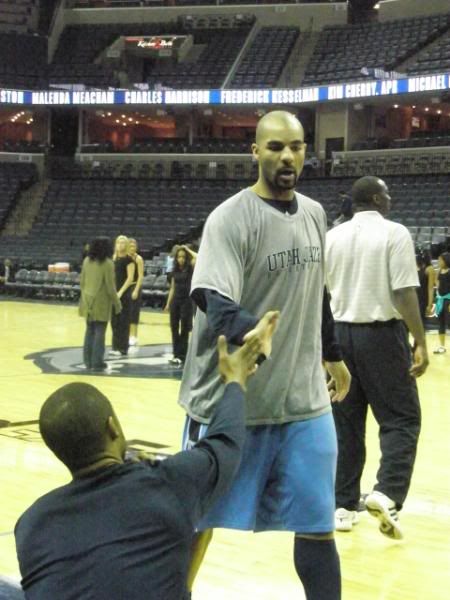 and Deron
This stat board was really informative/useful throughout the night. Every arena should have one.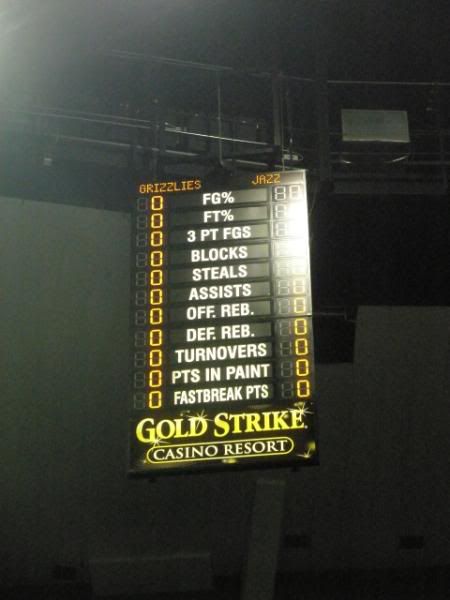 The speakers being lowered and the Jazz players awaiting an opportunity to practice, well at least some of them are waiting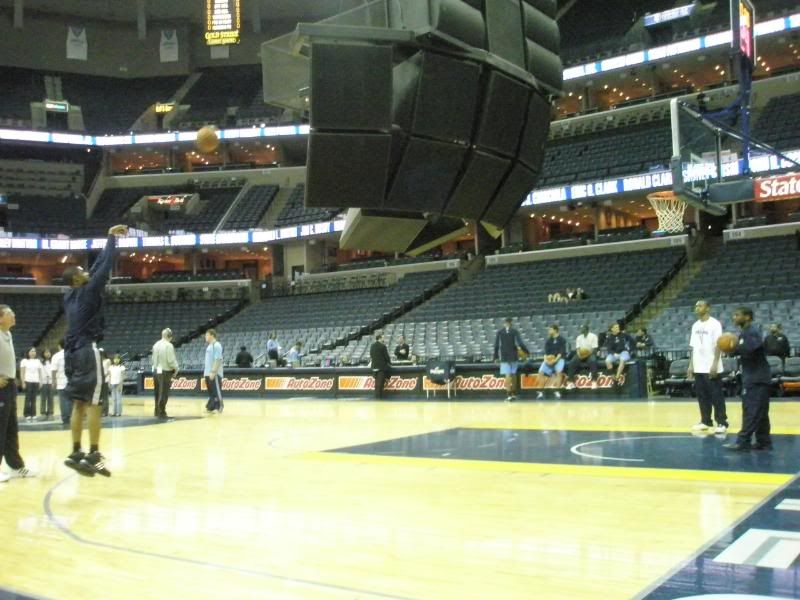 Brad and I courtside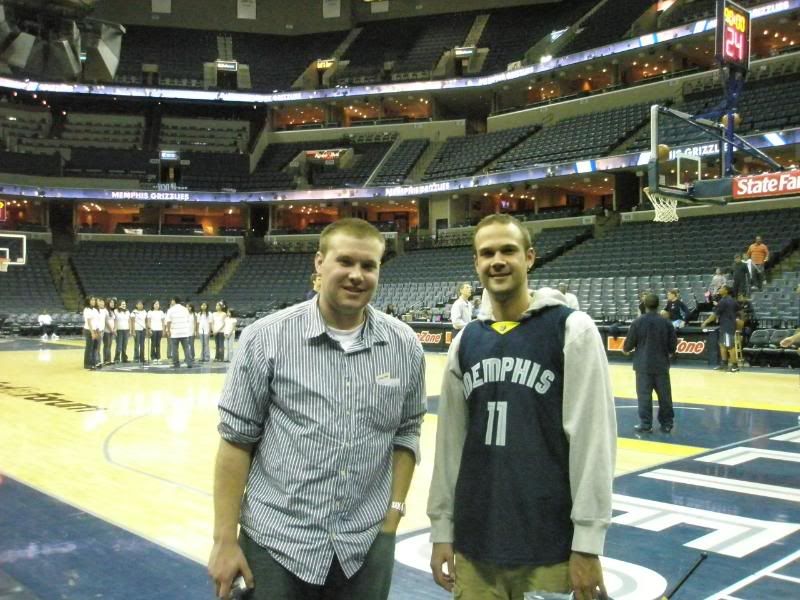 The Grizzles treated us to a dinner. Check out our view
Chefs preparing the dinner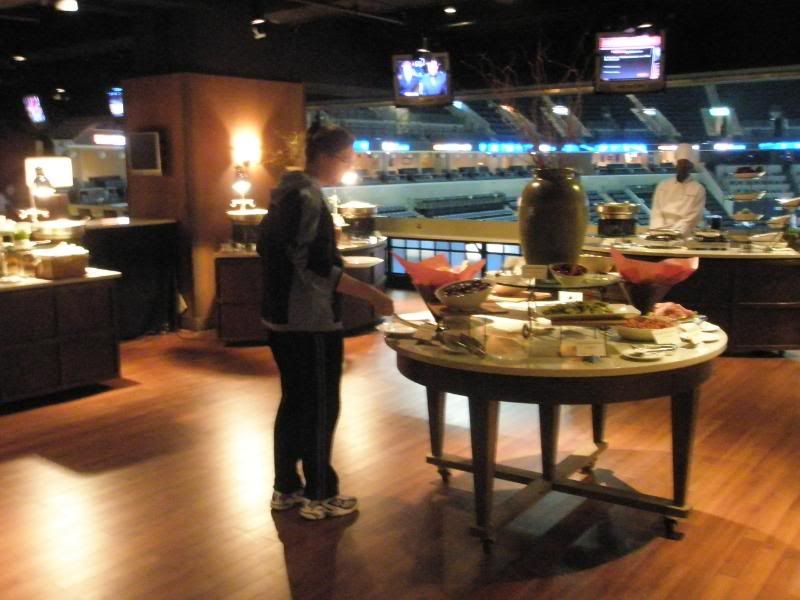 Now, the favorite food I've had at an arena to date. This isn't exactly "arena" food, but damn this impressed me. It contained two chocolate, two vanilla, and two strawberry. I literally ate all of these in about 10 minutes because I had to get down to the floor to watch the Grizzles exit the locker room.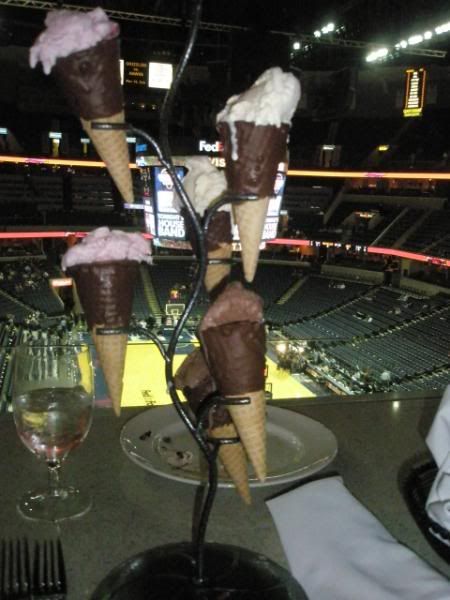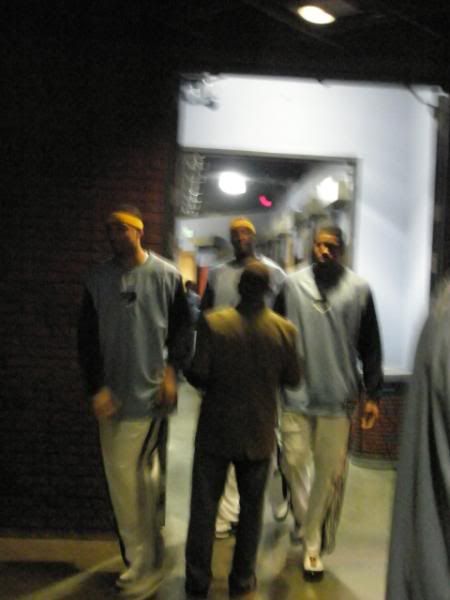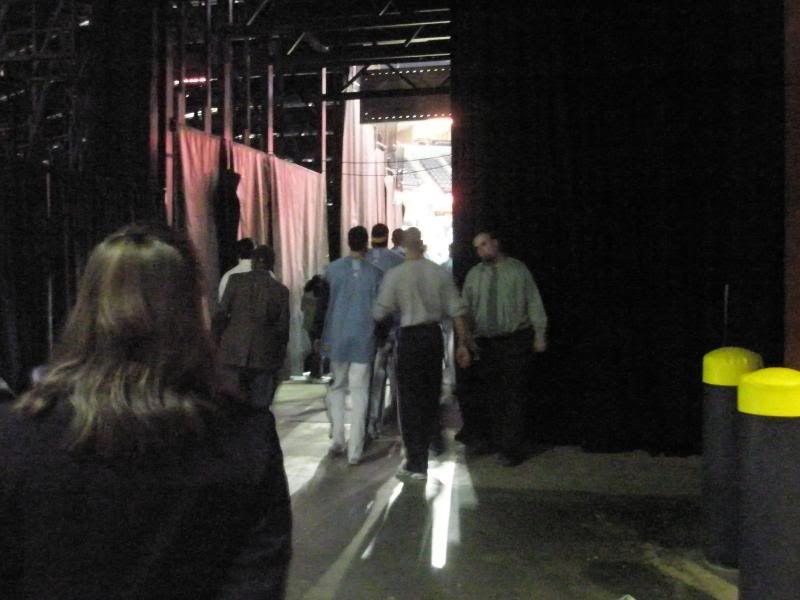 Men's room sign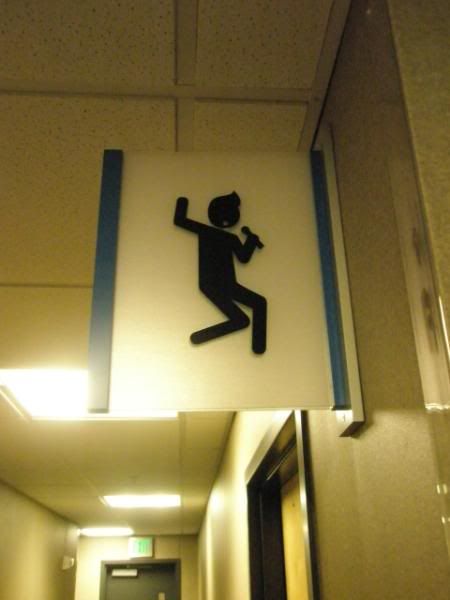 Our seats were in the second row on the floor, closest to the Jazz bench. Not a bad view huh?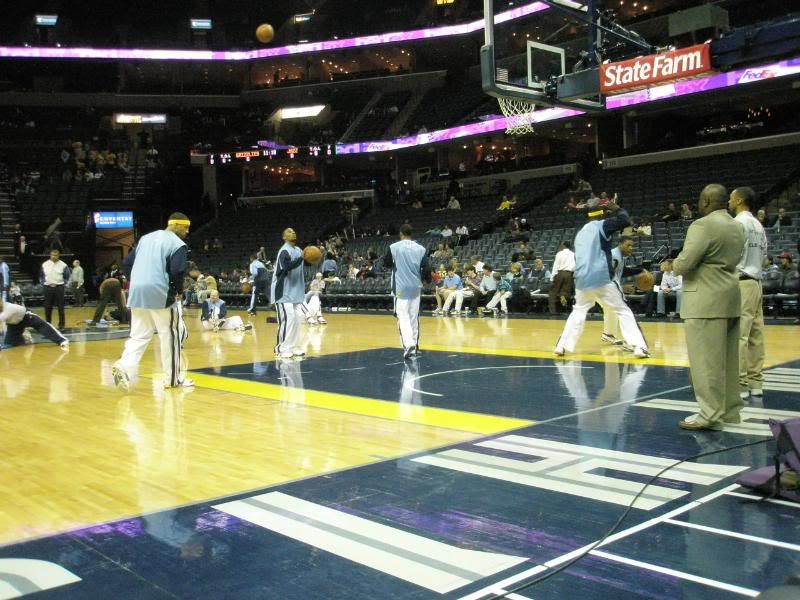 While the players were warming up, I used some time to check out the food and excitement going on away from the game. I'd have to give Neely's BBQ Nachos the cuisine choice of the game.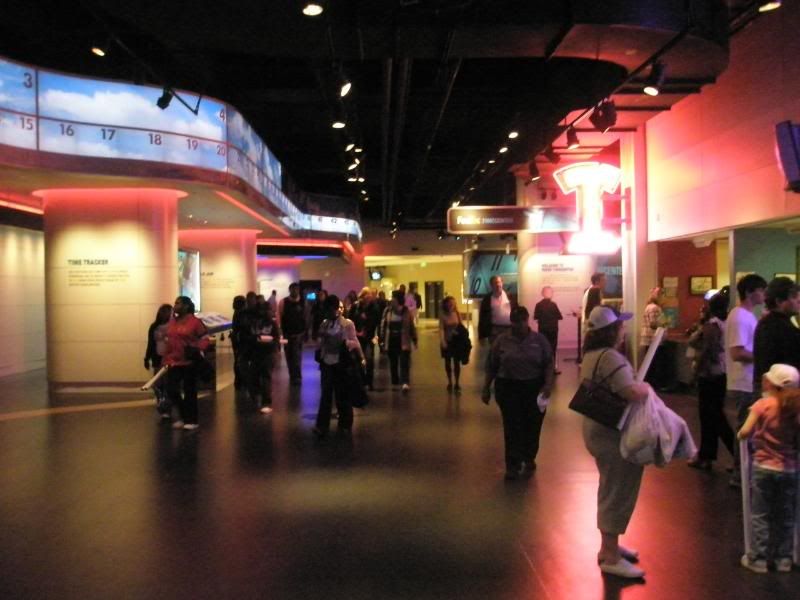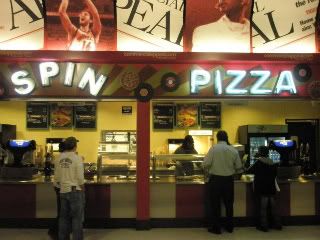 All sorts of video games to play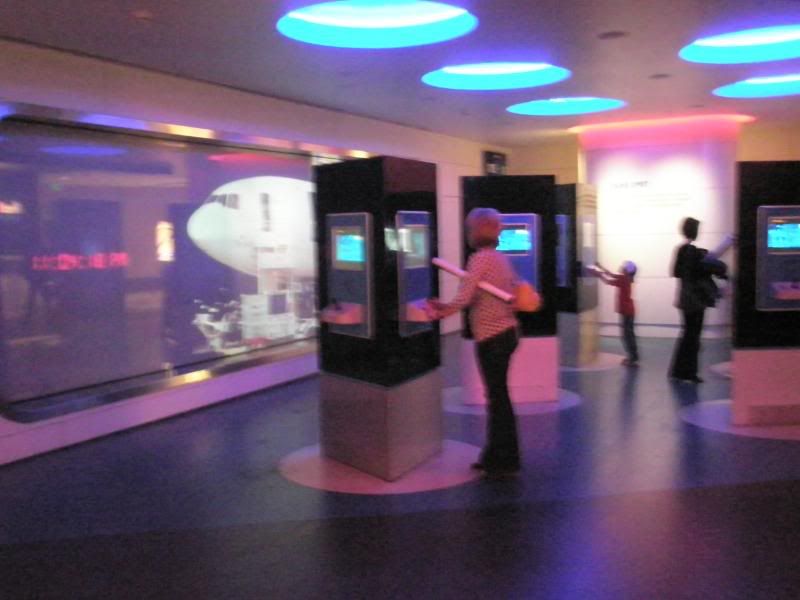 Create a time capsule from the year you were born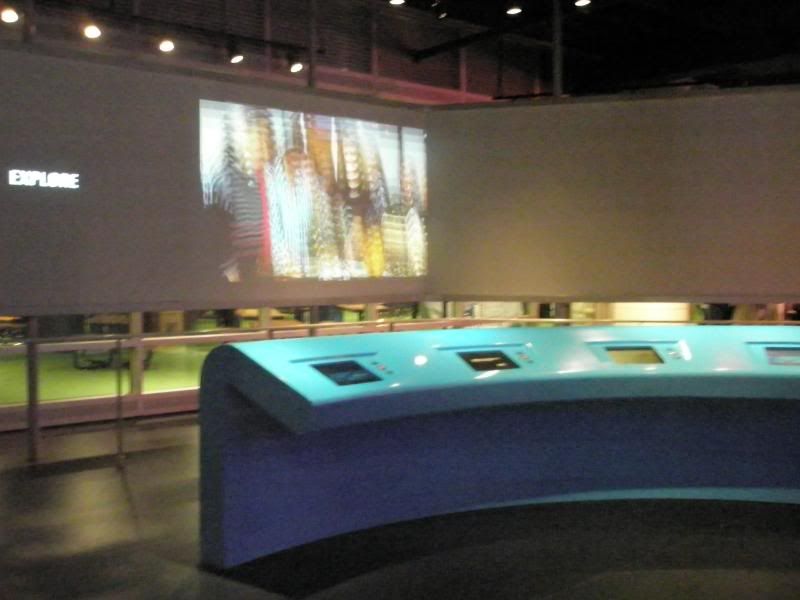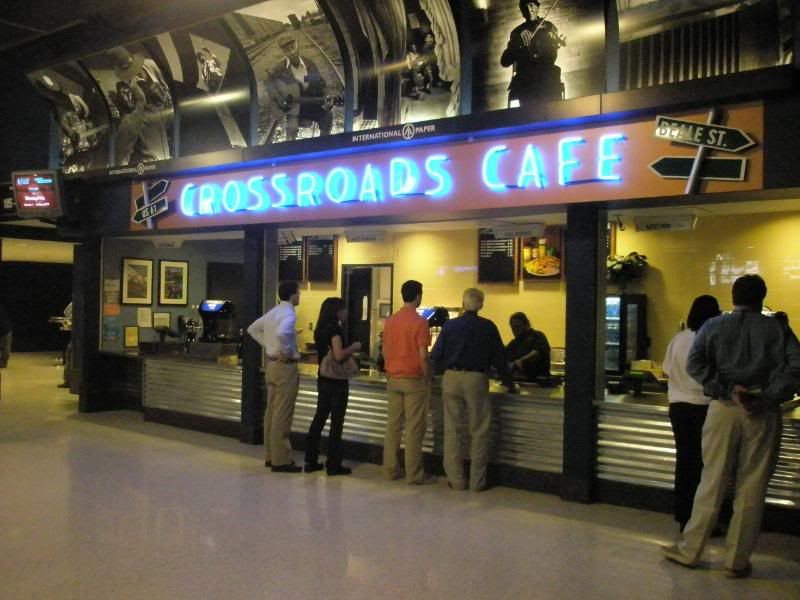 Great designs throughout the arena.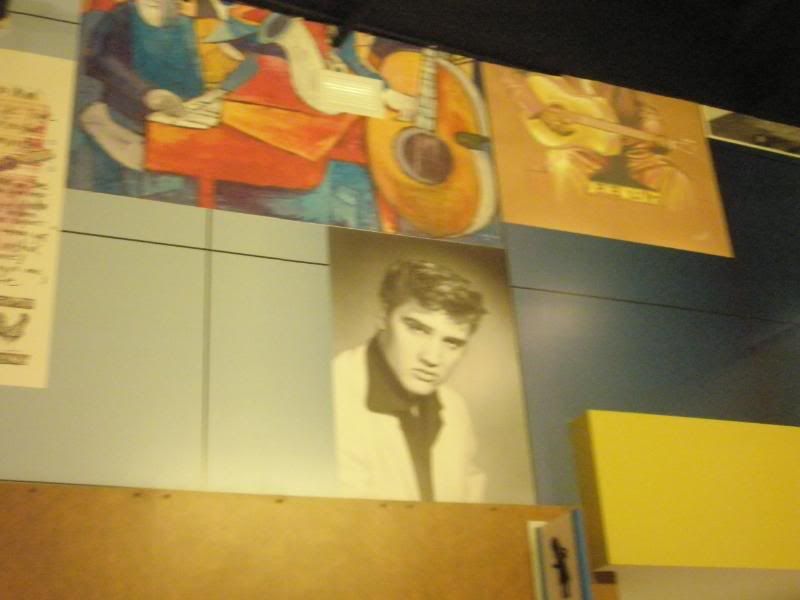 Paul Milsap with the basket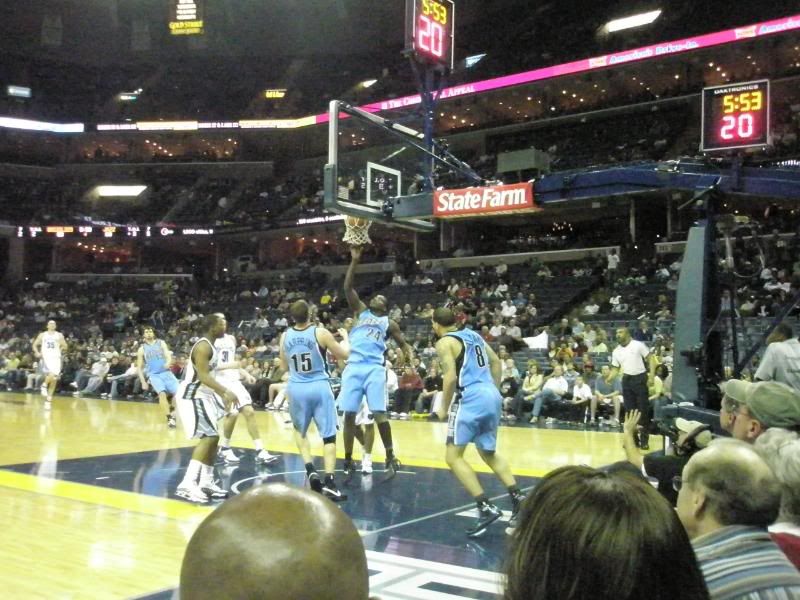 Also away from the action is the FedEx Time Center. Below is a small demonstration on how it works.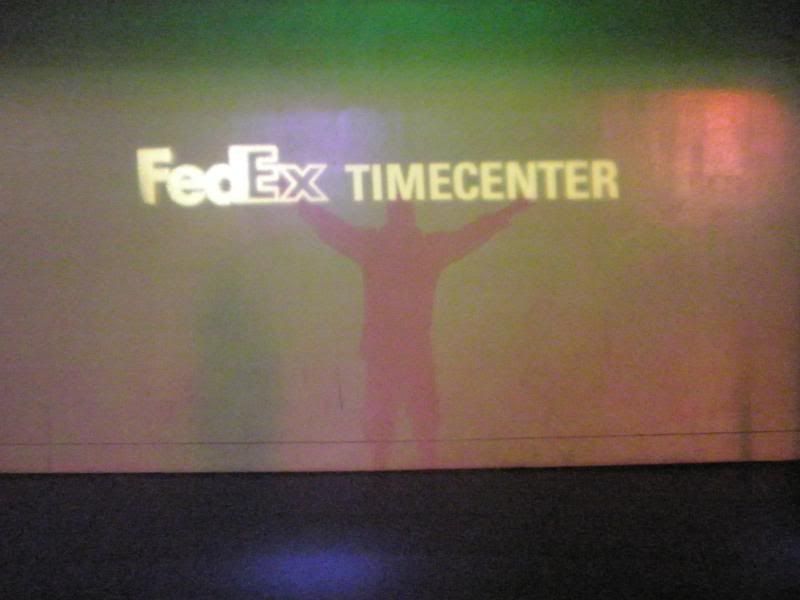 Conley goes up for two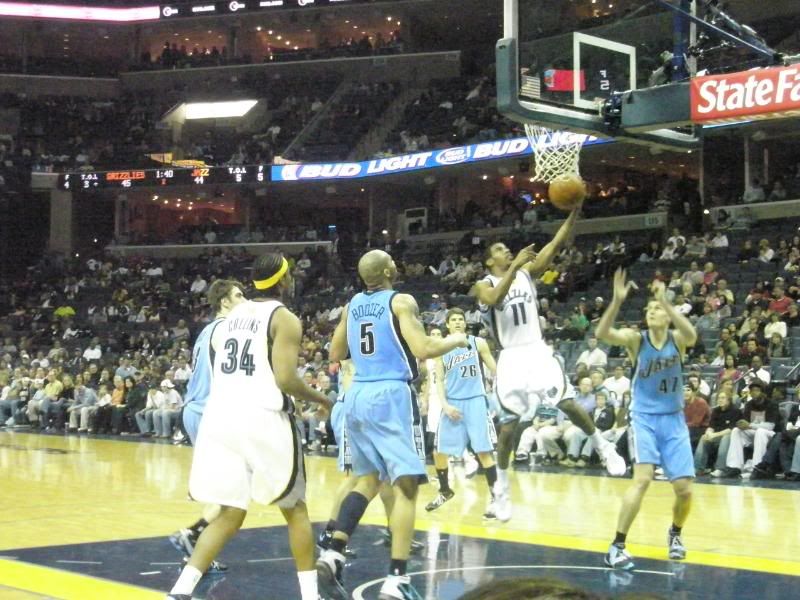 I'm literally sitting feet away from the Jazz bench. Andre Kirilenko seriously looked right at my camera and held a smile for about 5 seconds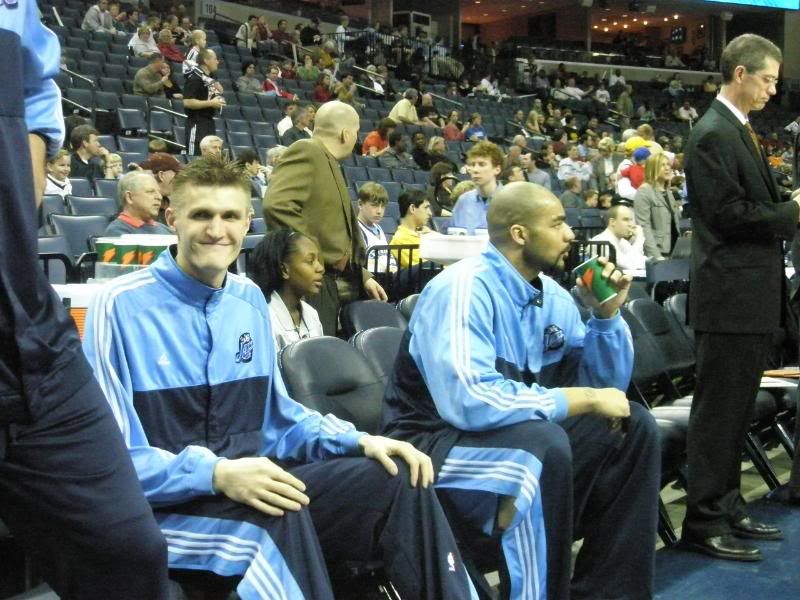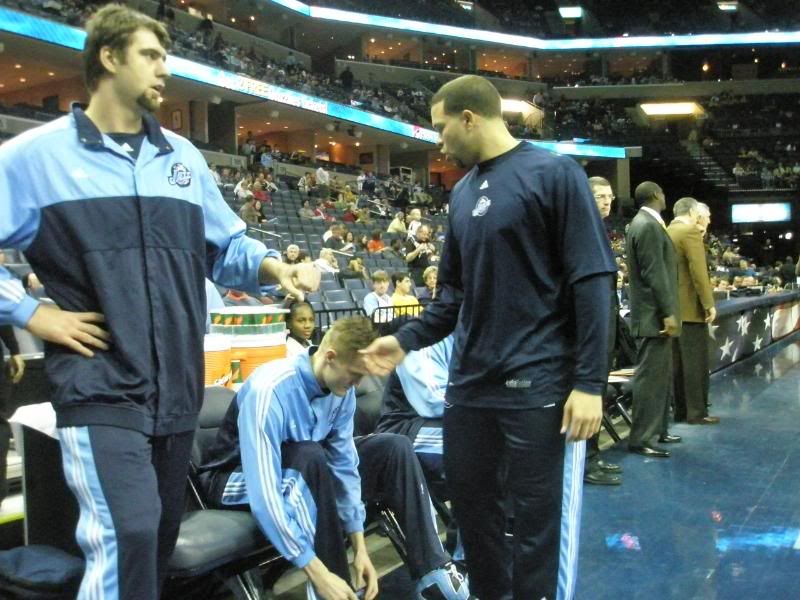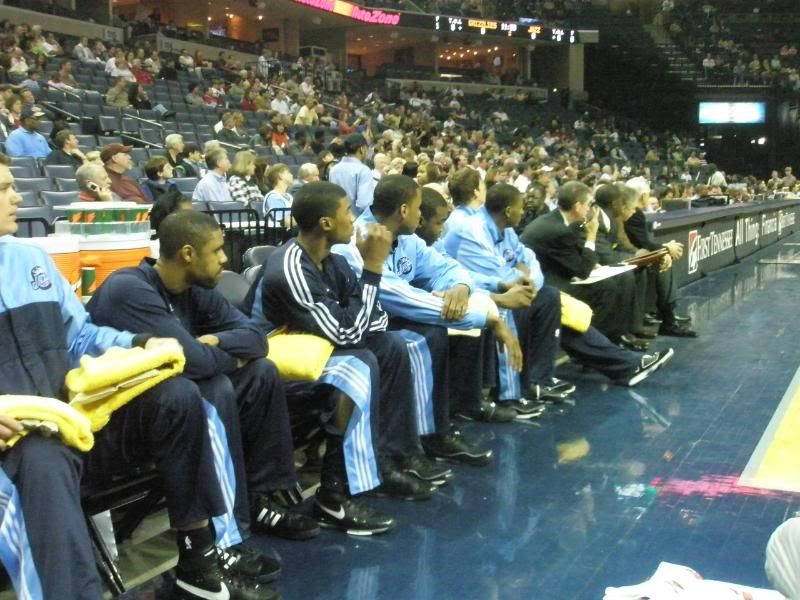 Tip-off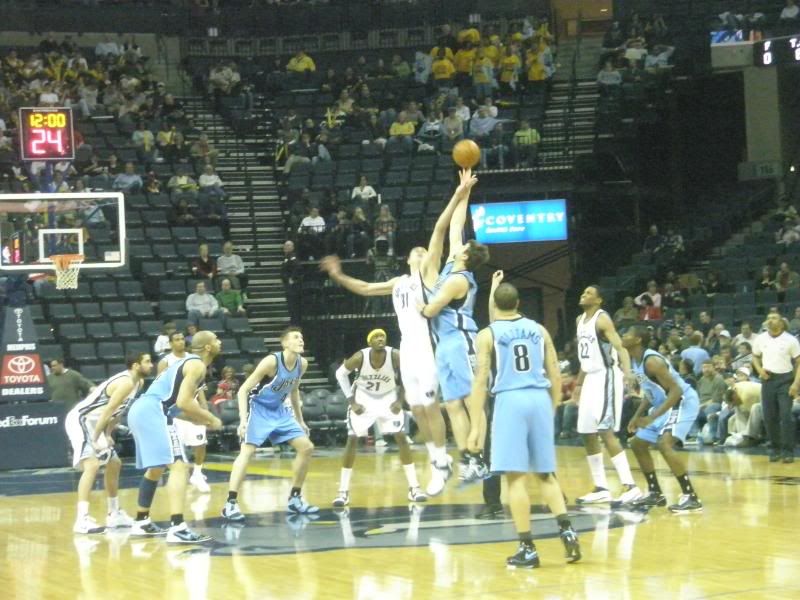 Rudy Gay from downtown
Darko off to the right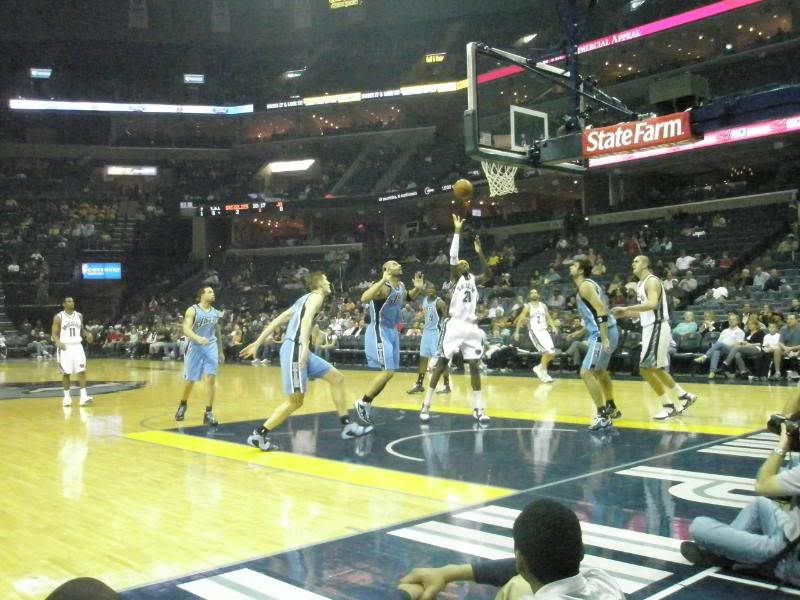 "La Bomba"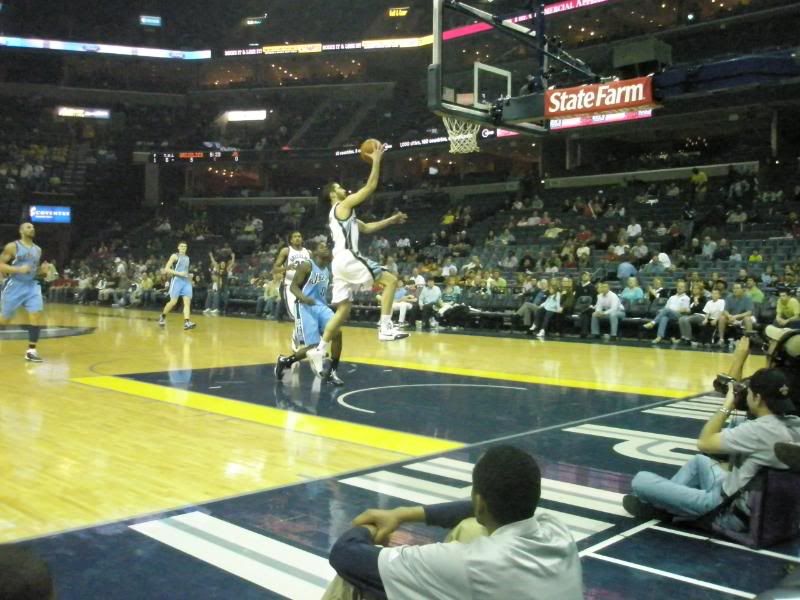 Okur at the line trying to warm up his hands.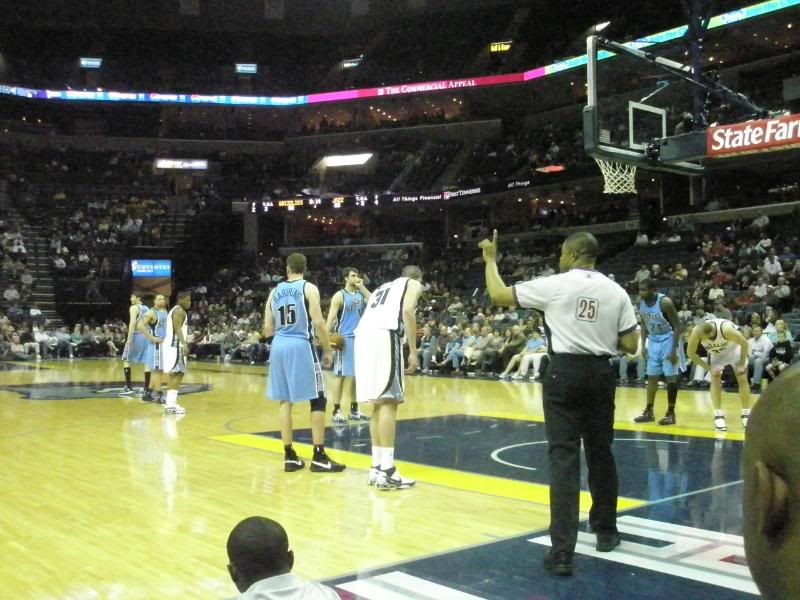 Sitting this close, I noticed many of the player's personalized shoes. Below, you can possibly see "MEMO" on Okur's shoes. Kirilenko had "AK-47," Deron had "D-Will," and Boozer had "C-Booz."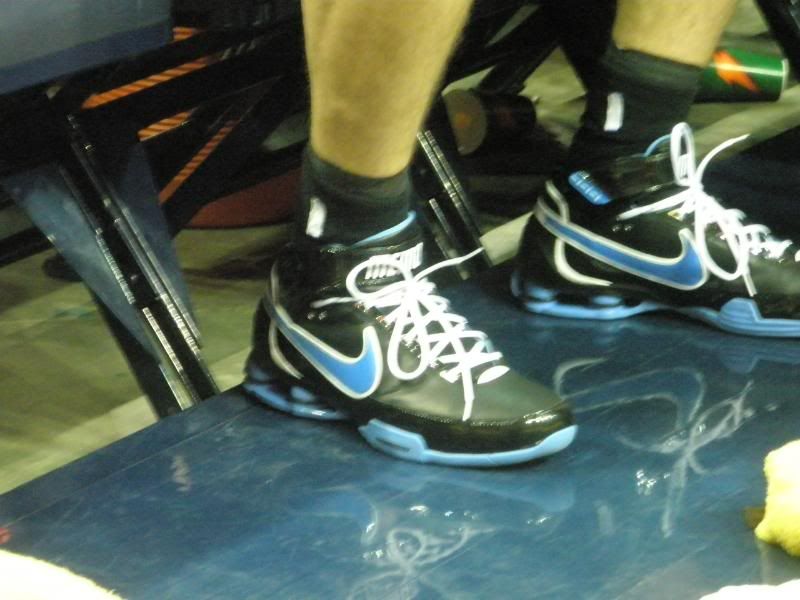 Possibly the most comedic part of the night was a guy sitting near a few rows up behind the basket on the Grizzles bench side. He had an arsenal of signs for all occasions including "AND ONE." My personal favorite was "BC" for Brian Cardinal with a picture of a cardinal.
Good thing Carly mentioned the following to me or I would have been thoroughly confused. Apparently the career of an NBA mascot is more than I thought it would be. The Grizzles' mascot is currently out on medical leave. So rather than to throw some new guy in the suit, the "union" of mascots steps up. Every game, a different mascot from around the league flies into Memphis to substitute for Grizz. This particular game, it was Blaze, from the Portland Trail Blazers.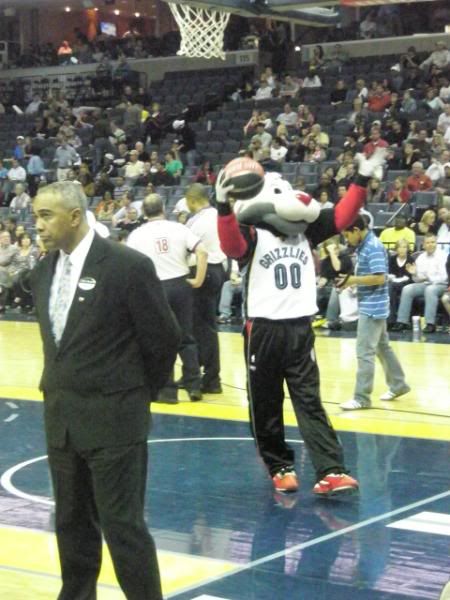 Not only does the following picture show another member of the NBA Trades during this season (Jason Collins for Stromile Swift), but also shows The Collins twins (Jarron for the Jazz)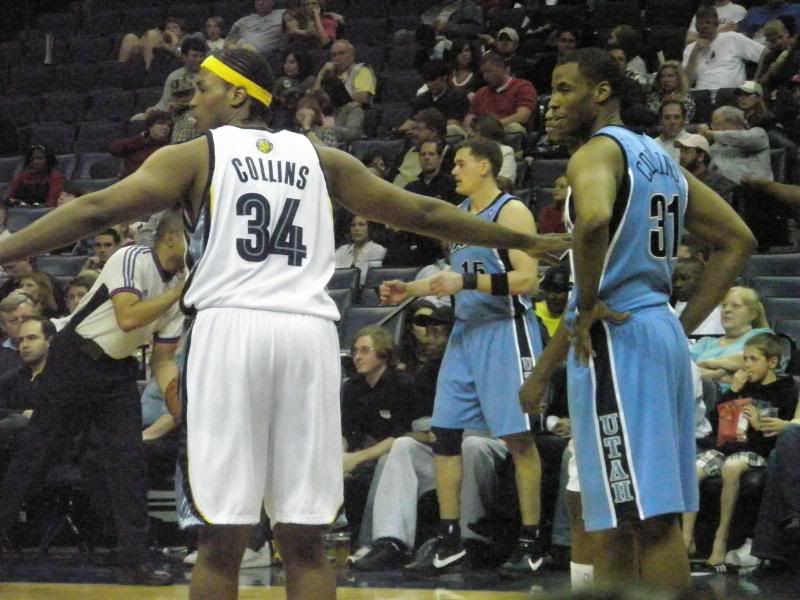 D Will going in for the layup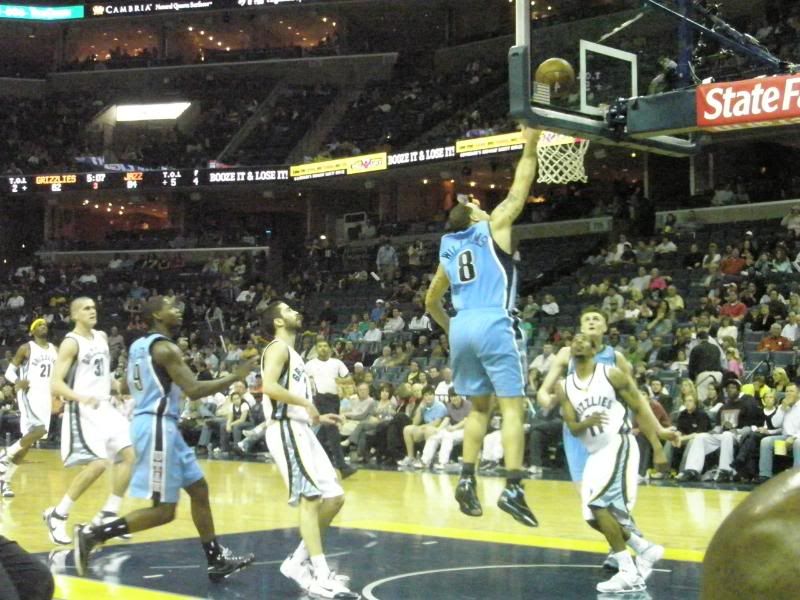 Boozer puts up the shot while knocking down Collins
During one break, funny home videos were shown that had no relation to the Grizzles or basketball, but seemed to work great. Another promotion was to give away t-shirts. I've seen slingshots and single cannons, but never anything like this: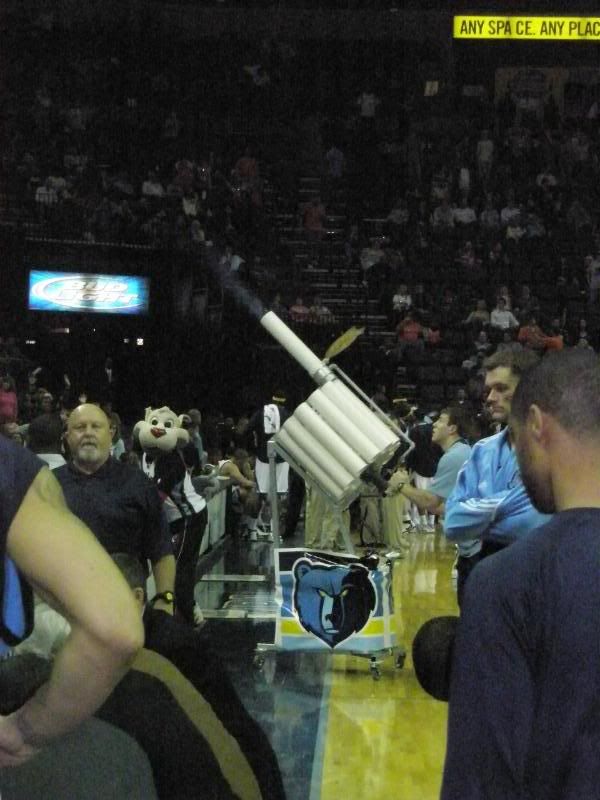 One of the observations that my brother made was that there were no banners whatsoever hanging from the rafters. This is still a young organization, so we'll give it time.
Inside of a suite
One of the concession places, called "SNAX," a clear play off of "STAX," the Museum of American Soul Music.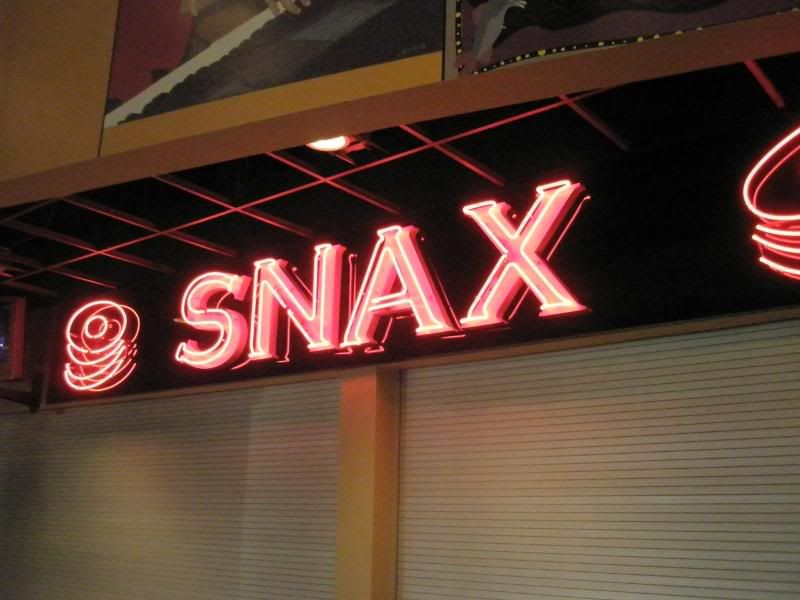 While, the arena did have many references to it's Memphis culture, the music played throughout the game was just like all of the other arenas; hip-hop oriented. This was a bit surprising, as I thought the Memphis music culture would be more prevalent.
Mike Miller missed yet another game due to injury, stacking the odds against Memphis. Even though he was out, the Grizzles jumped out to an early lead and played the Jazz very competitively all game. Unfortunately, it seemed that Ronnie Brewer was constantly left open under the basket and I think recorded 6 dunks/layups. He was one of 7 Jazz players to record double digit scoring. Deron Williams was breaking down the defense and finding his teammates all night, recording 19 assists.
It was great to see Rudy Gay and Lowry play live for the first time as these are two up-and-coming talents. Even with all of the energy that these two brought, the Jazz managed to pull away late and got the win 113-92.
I had some of the most enjoyable food of the tour here. Memphis is clearly known for its barbecued ribs. We stopped by Corky's, a favorite place of NBA stars such as Shane Battier, Dikembe Mutombo, Jermaine O'Neal, and Pau Gasol (many have their pictures on the wall).
Now prepare yourself, below you're going to witness one of the most amazing things you've ever seen. I passed through Memphis 2 years ago and heard of the Bigfoot Lodge. For 2 years I've been craving for a shot at what's inside. My second trip to Memphis; I wouldn't let it pass me by. Take a deep breath, what you're about to see may cause you to fall out of your seat.
First, let's meet the mascot: Bigfoot.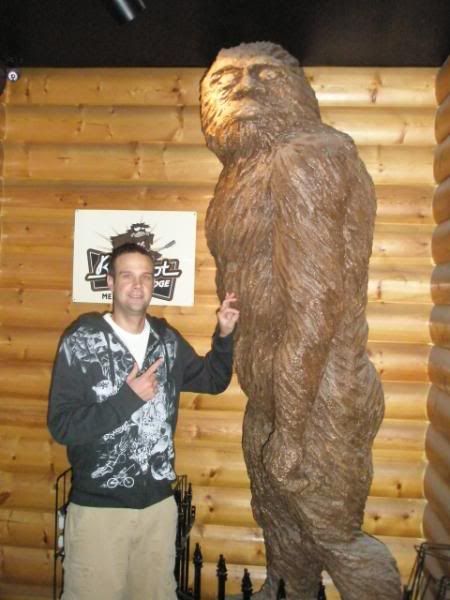 Here's the type of beer that Bigfoot drinks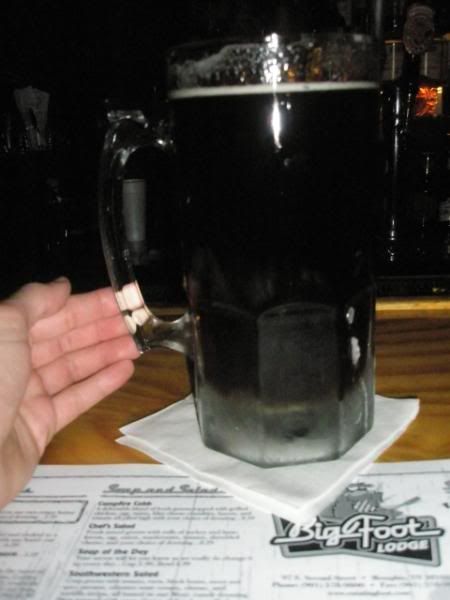 Read carefully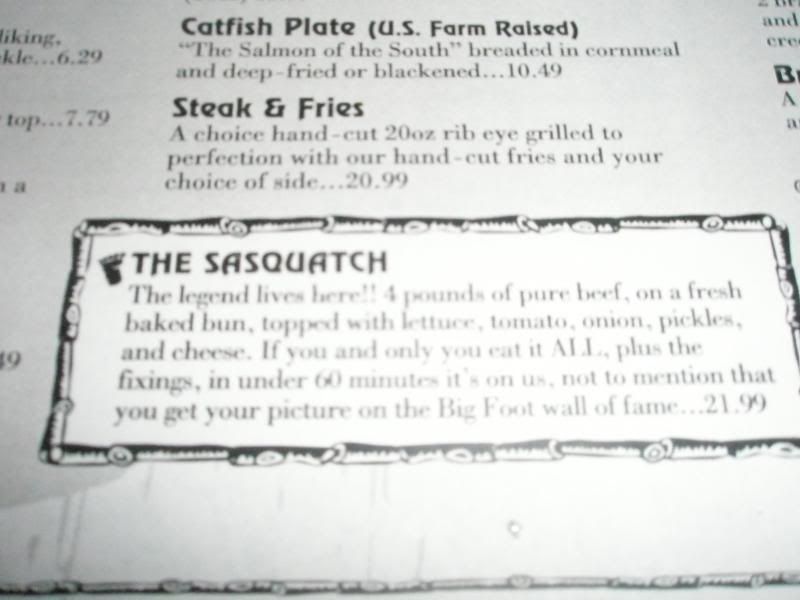 & here it is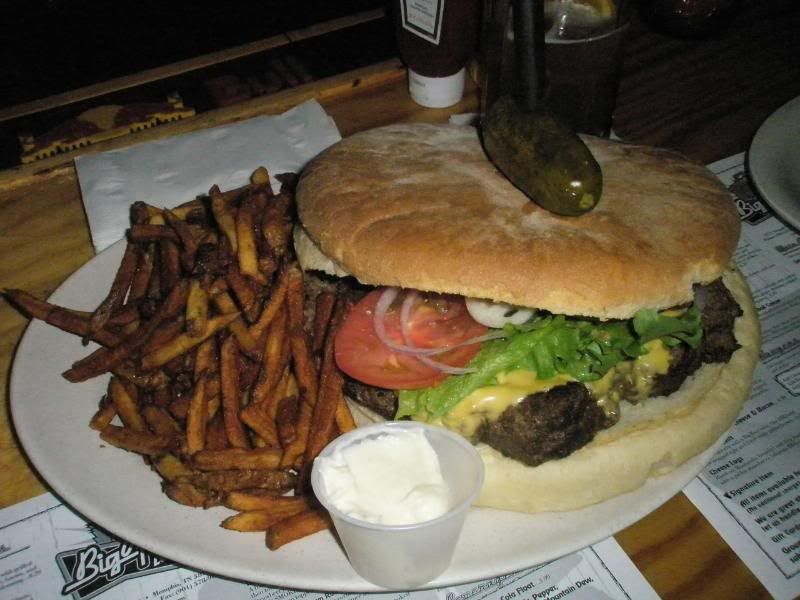 Let's set the record straight; only a single person has EVER eaten the entire thing in under 60 minutes, and he was a professional eater. I'm able to down entire pizzas at a time, but i wasn't even match for 1/4 of it.
FOUR pounds of beef! and that whole pickle adds another touch!
My favorite part of Memphis is Beale street. I love is because they block off 2 blocks of street that have bars/restaurants/etc packed on both sides of the street. You can walk up to windows on the sides of the street to buy your beer and walk around with open containers and they don't clear the crowds out until 3 AM. Most importantly, the crowd is made up of some of the most fun people I've met to date.
I did find it strange however, that every male that was out had a tucked-in button up shirt.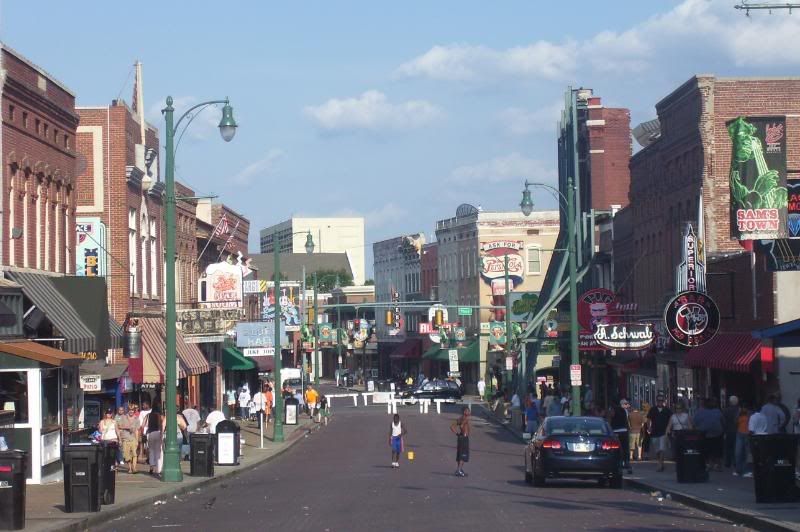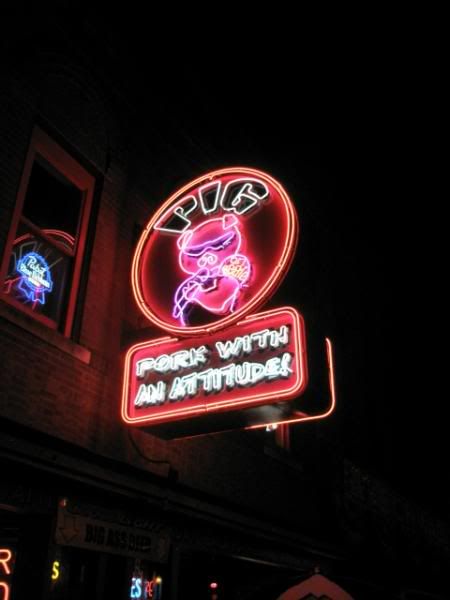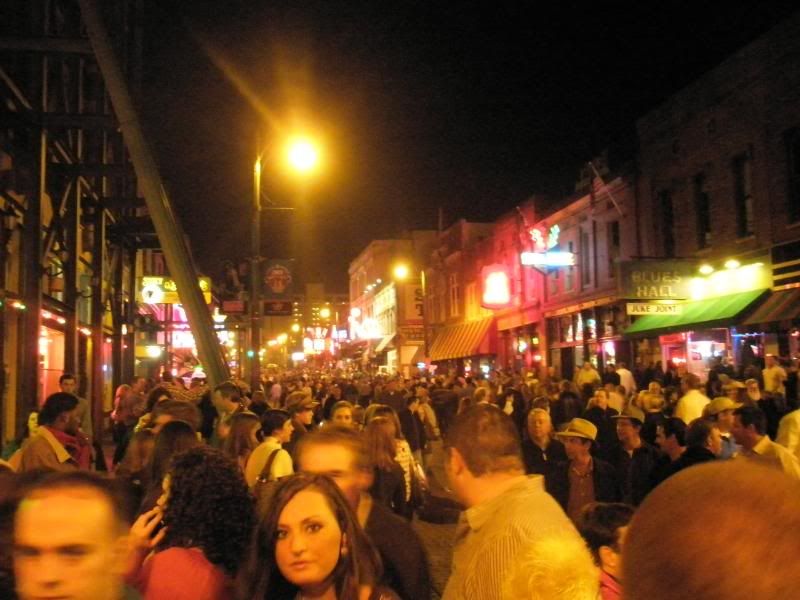 The beers you receive on the street, usually 20 ounces for $5, all say "Big Ass Beer"
The only shortfall of this was that there was constantly "underprivileged" individuals asking you to help them get a cold beer. Also, I found it strange that while in a convenience store, the panel where you swipe your card had options for Credit, Debit, and Food Stamps. Are food stamps used on magnetic cards now too?
He lives on! Apparently he just switched careers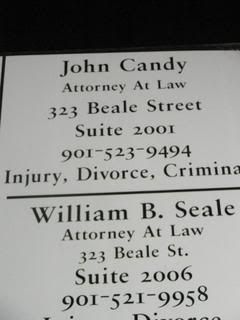 I like to dream of receiving NBA fan of the year.
B.B. King's blues lounge
The Peabody is the most famous hotel in downtown Memphis. It's a very nice hotel, but it has something else that truly differentiates it from other hotels. That difference is the Peabody ducks. Every day at 11 AM and 5 PM, a group of ducks take the elevator down to the main lobby from their habitat on the roof with the "duckmaster." They then march down a red carpet to the hotel fountain. While the "duckmaster" gives a short history lesson, the ducks swim around the fountain until he instructs them to march back down the carpet, into the elevator, and back to their home.
The red carpet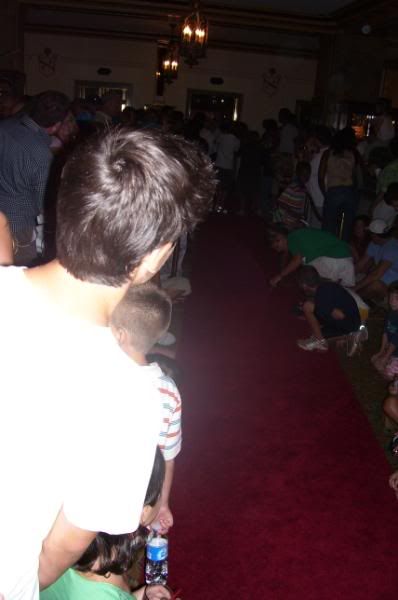 Swimming in the fountain
Leaving the fountain
The ducks going home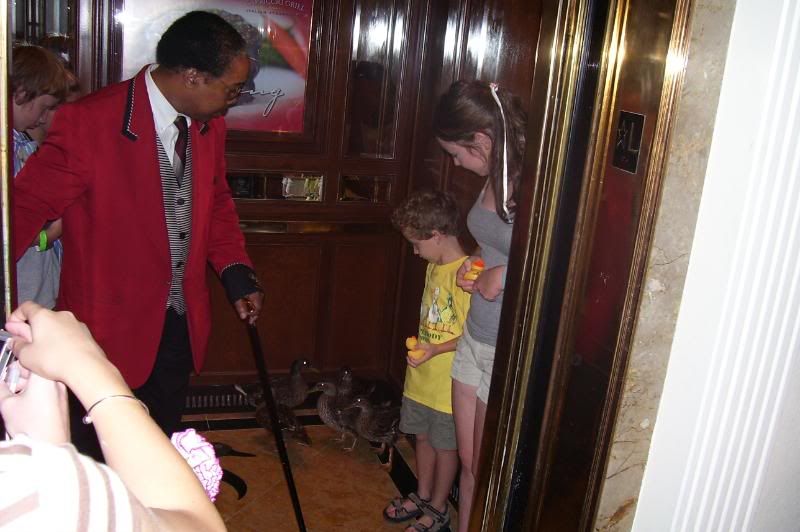 Autozone Park, also downtown, home of the Memphis Redbirds (Cardinals AAA)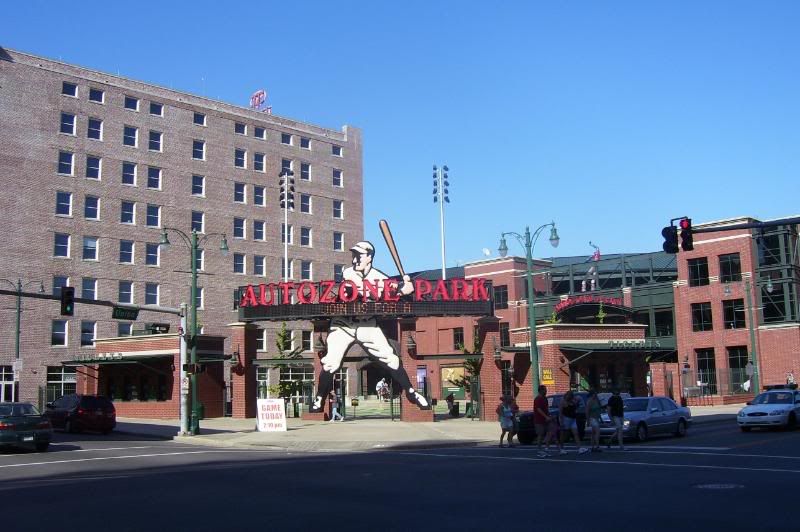 The Gibson Guitar factory. Tour is very inexpensive, only $10 or less. It even has a store inside where you can try out all sorts of guitars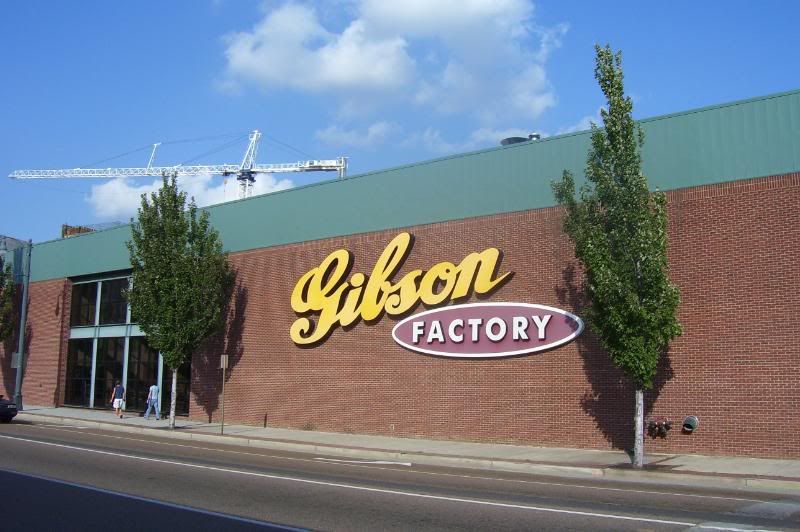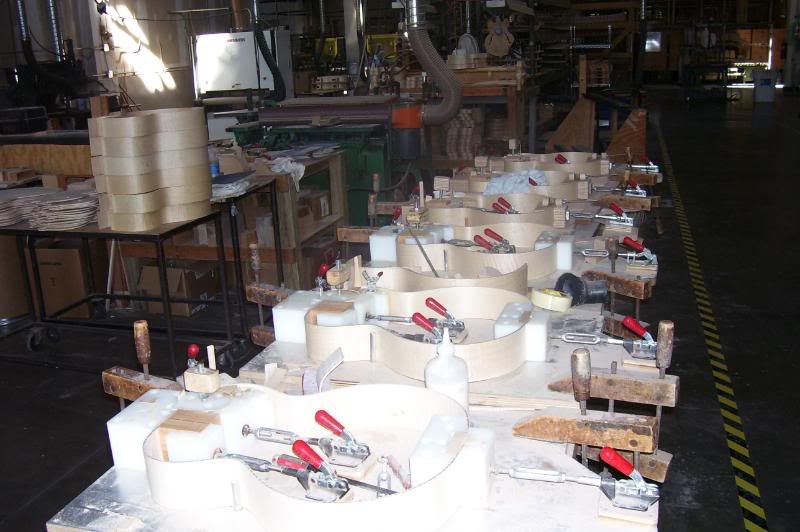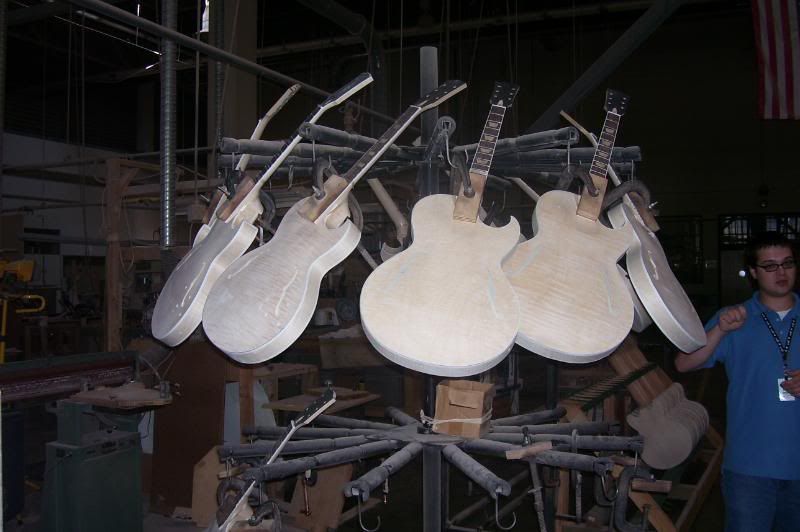 While all of this is great, the true calling of Memphis is Graceland, home of Elvis Presley. If you haven't been there, you can't even fathom the popularity of this place.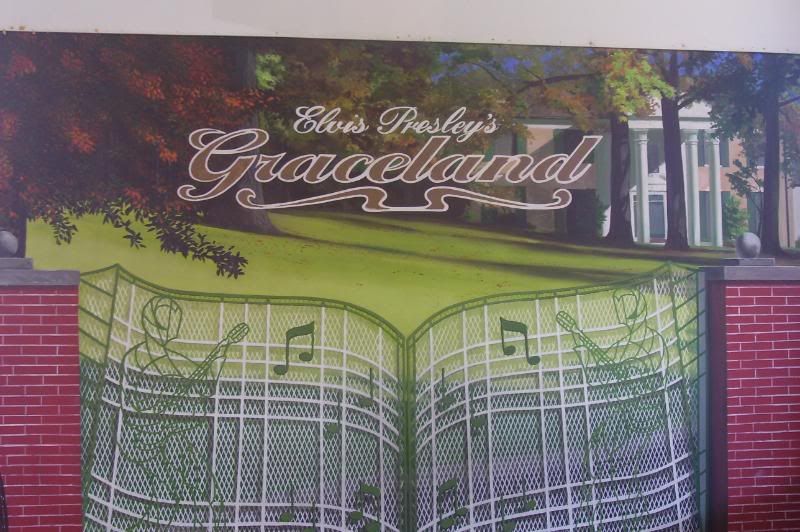 You have to sign the wall out in front of the house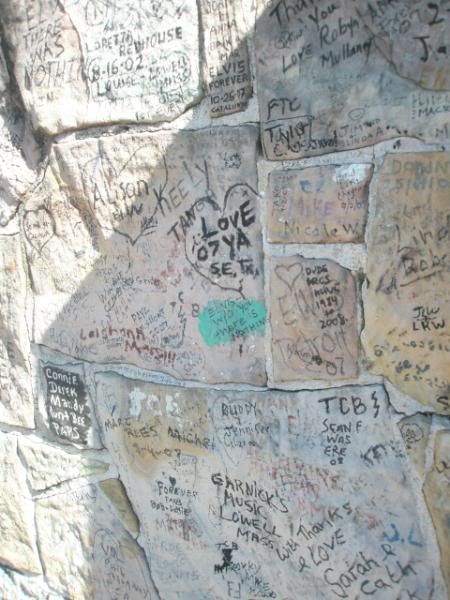 I'm sure we all know this place from the song...
Parents bedroom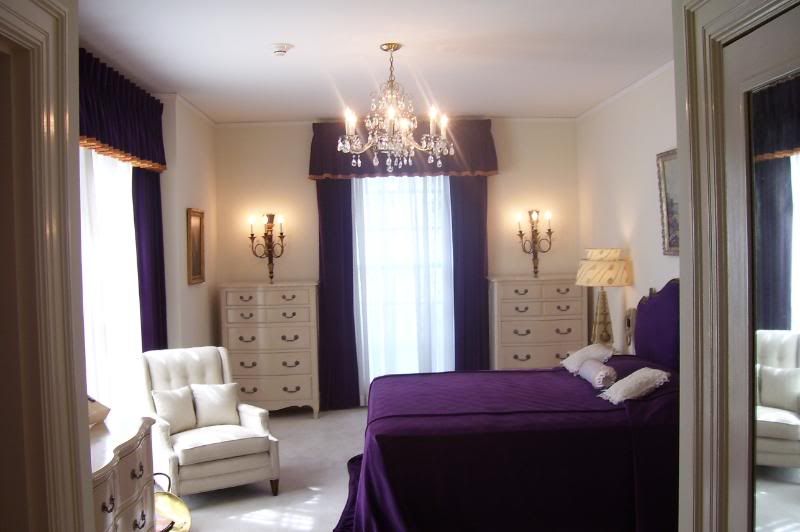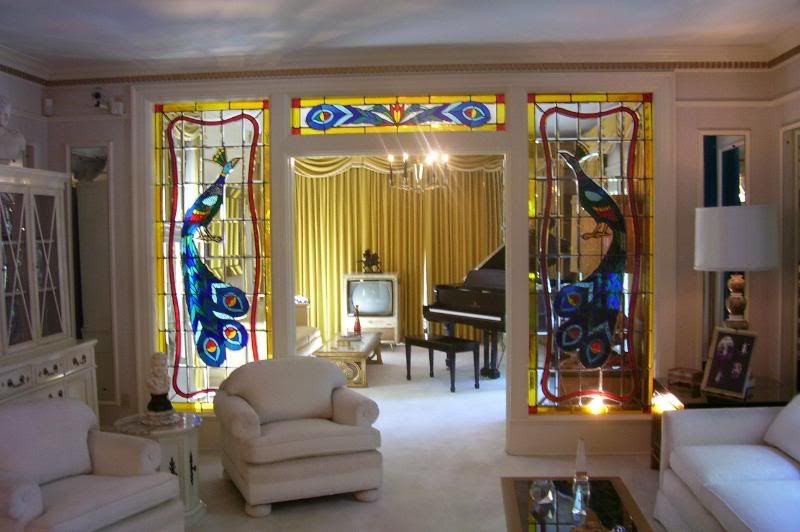 "The Jungle" room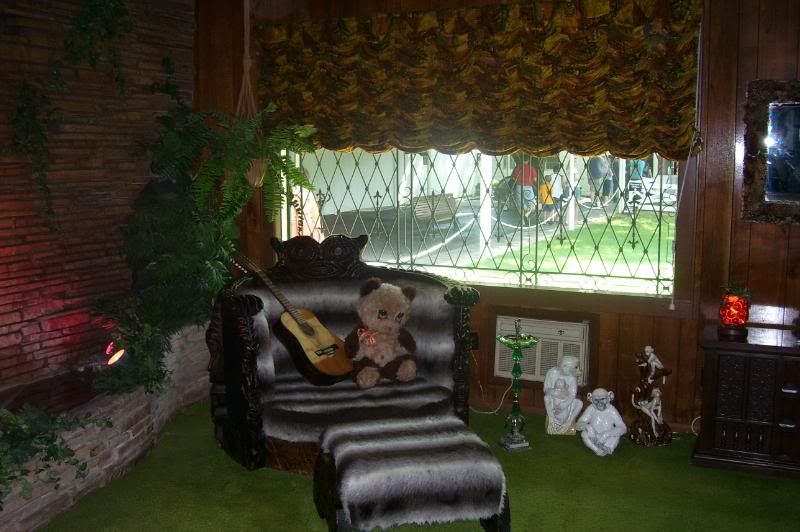 The Grave
Tourist extraordinarie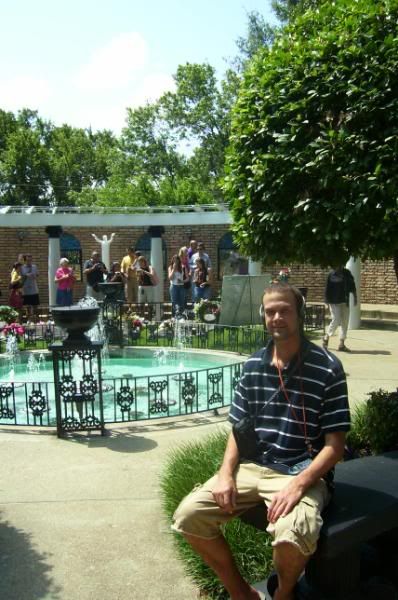 I enjoyed this place also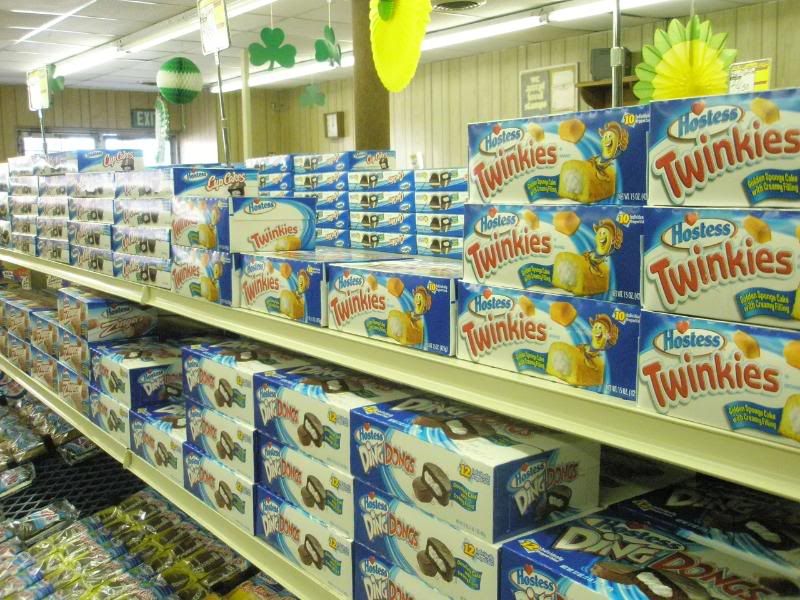 The Pyramid still stands by the river. If you didn't already know, Memphis is based off of a city with the same name in Egypt.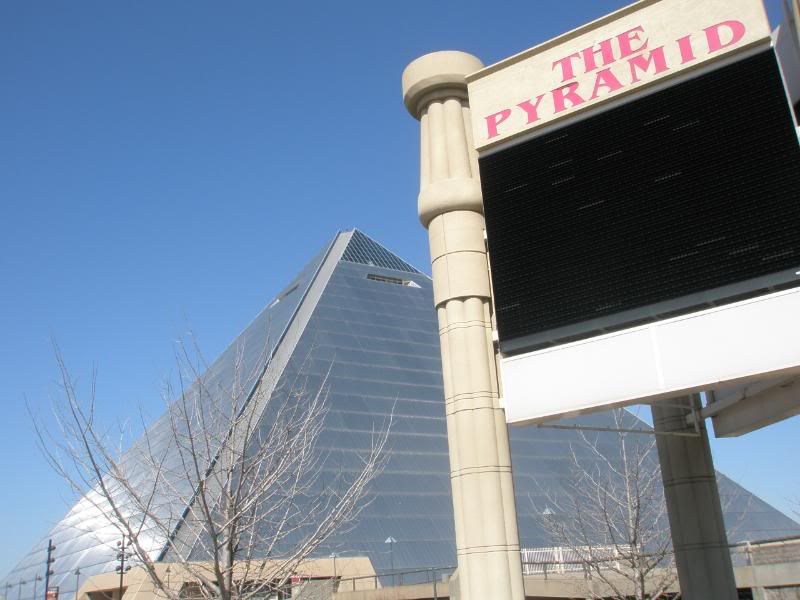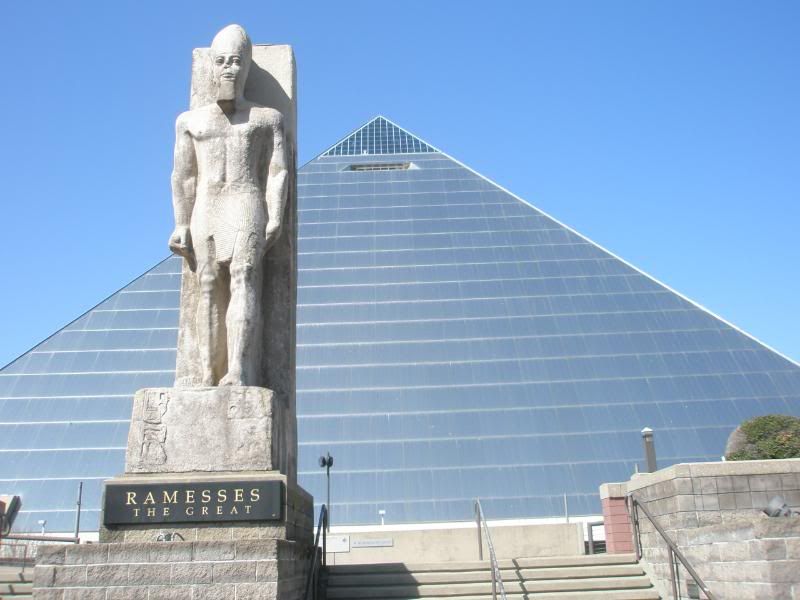 Sun studio, where Elvis and Johnny Cash got their starts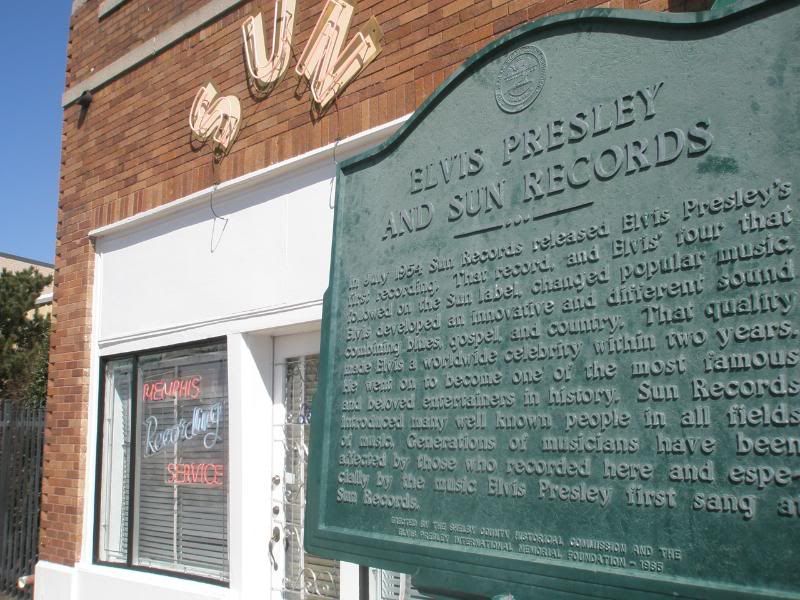 I loved Memphis, well at least the downtown, and I can't wait to go back - Dan, this is a callout for you in May!
Thanks to Pam Landis, Carly Knight, Brad Cieszynski.