This is what I was waiting for...
What happened on this day in New York was what I was in search of during my tour.
I'm not going to get into my interactions with the Knicks media/public relations dept, but rather just say thank you to my cousin Jennifer and James Polsky for getting me great seats for the game.
The game that fell into my lap for the Knicks was versus the Lakers on Christmas eve eve. A Sunday afternoon game. Kobe Bryant missed his last game at Madison Square Garden due to suspension, so the stakes were raised for this particular competition.
Madison Square Garden, or "the Garden," or MSG is located in downtown Manhattan, just a few blocks from Times Square. Dave & I once again took the train from NJ Penn Station to Manhattan. Once we were off the train, we simply had to walk upstairs and we were there. Strangely enough, Circ de Soleil was performing the same day, giving you a sense for how big this arena actually. is.
There were many Lakers fans in attendance, including my boys who flew out from LA for the game. That's an "L" for Lakers although I would be a Knicks fan today.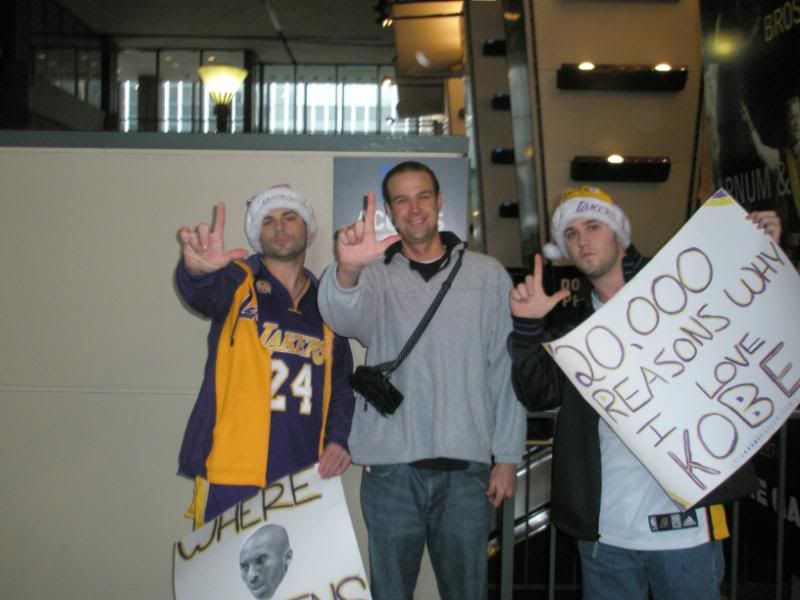 We walked around a bit, taking in the sites of the hallways before going into the arena.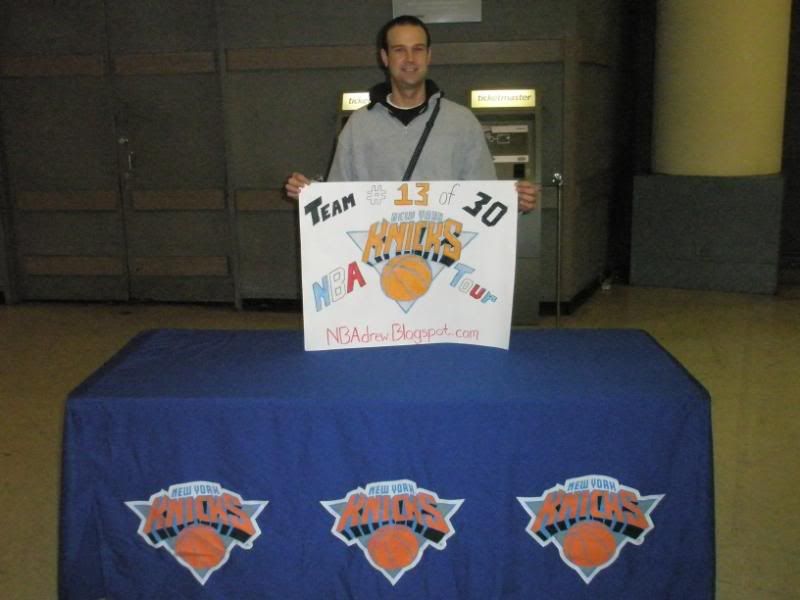 Sushi at a basketball game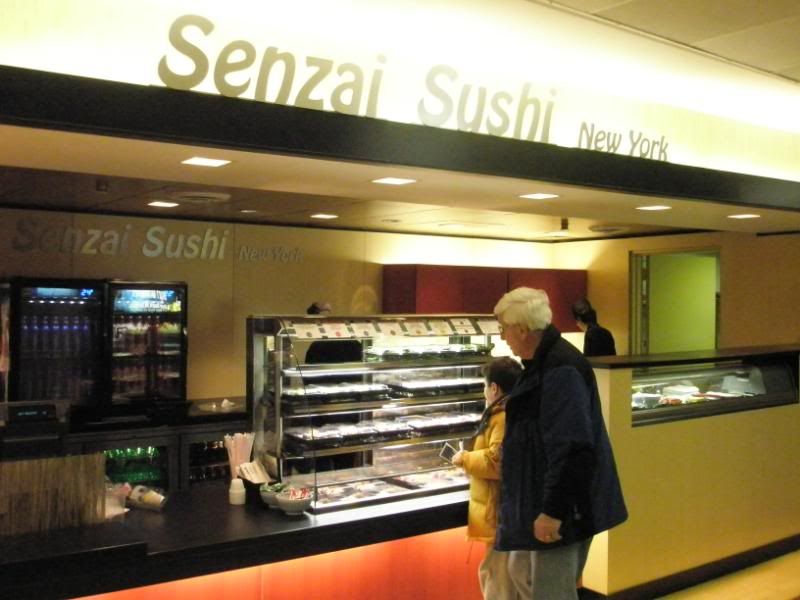 It was here that I learned what a knish was and to be honest, I wasn't thrilled with it.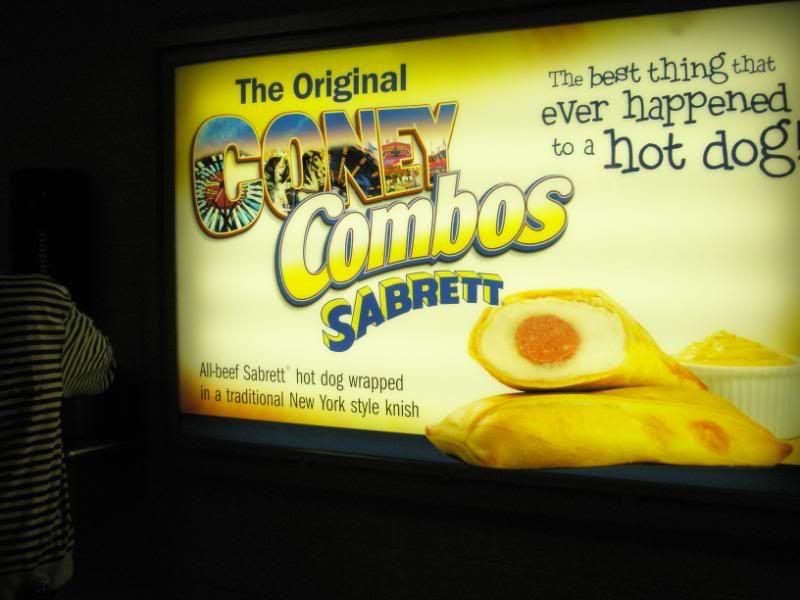 "Live at the Garden" commemorating some of the events over the years
Pre-made martinis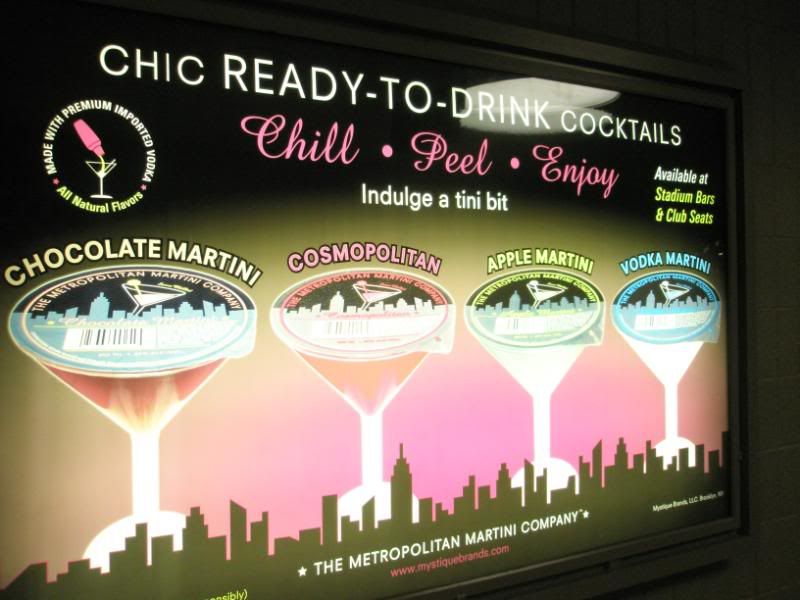 The Rangers also play here. I found myself wondering if they switch out the gift shop before each game.
The arena surprised with with it's colored seats and how good of shape it was still in all of these years later.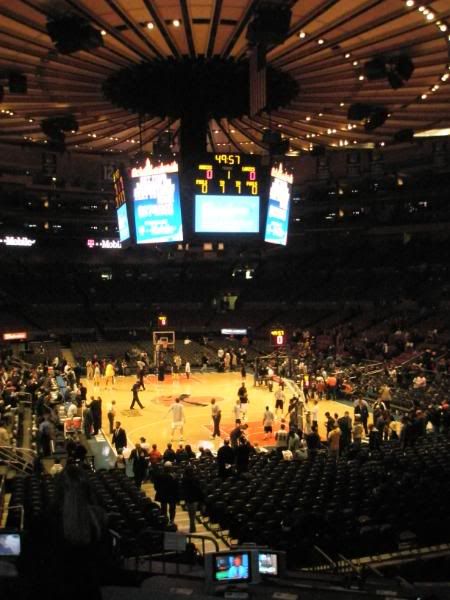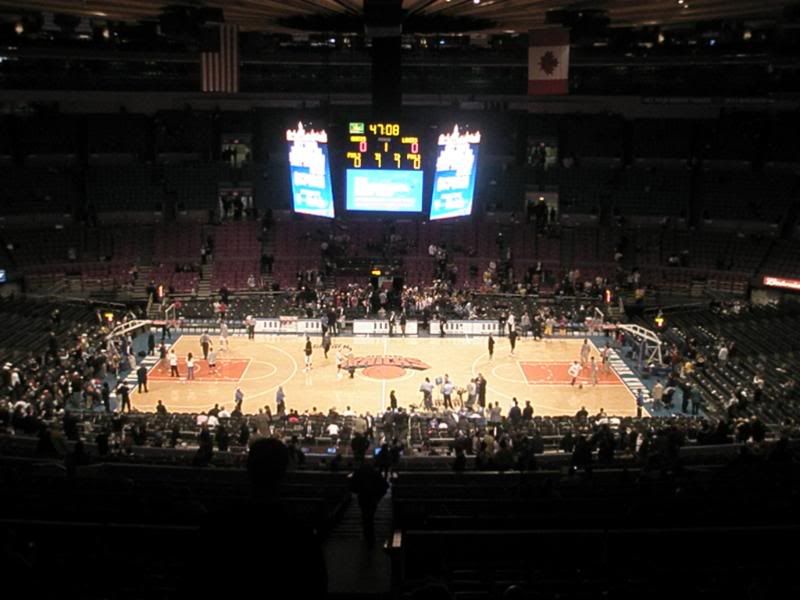 Here was a first. Daren Jenkins, from the Wizards game on Friday night actually called and hung out with us at the game.
Documenting History.
Knicks Legends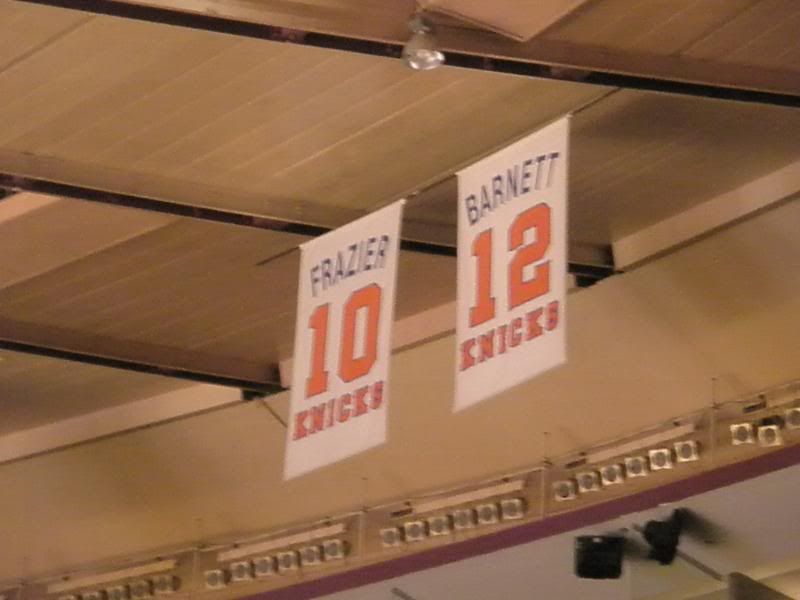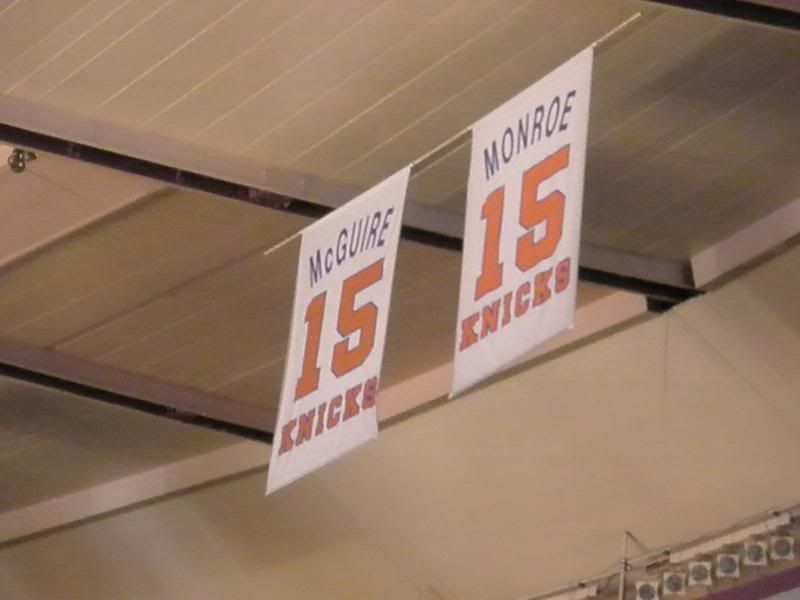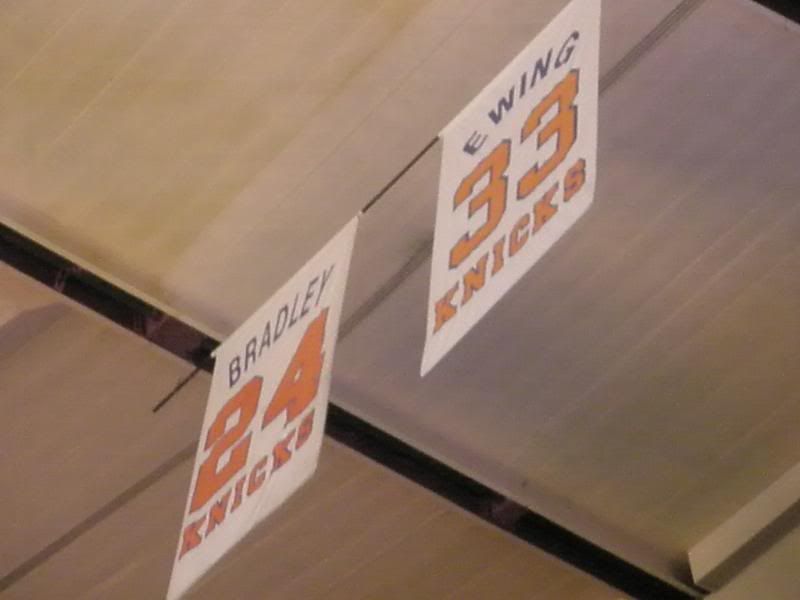 Again, Kanye West's "Stronger" was the introduction music, making it 3 for 3 on the weekend.
I thought that Kobe would get resounding "boos," but every time he touched the ball, he seemed to get more cheers than boos.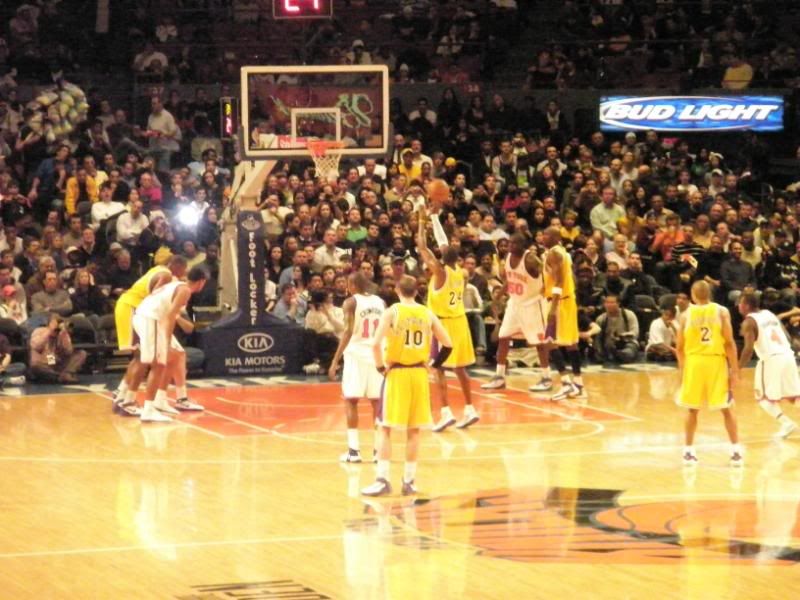 Odom goes up for the block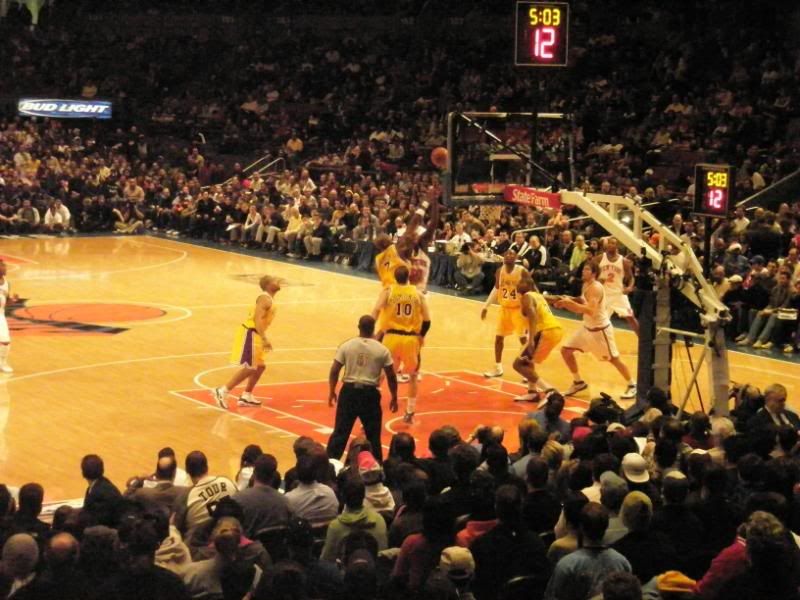 The Lakers quickly took a commanding lead and the Knicks fans seemed very displeased with the play of Zach Randolph and Eddy Curry. David Lee seemed to be a fan favorite.
During halftime, some jump-roping experts performed, but no one seemed to care as everyone was trying to spot the celebrities in attendance. While I didn't have a view of most of them, see if you can spot them in my poorly taken photographs.
Chris Rock
Spike Lee in the middle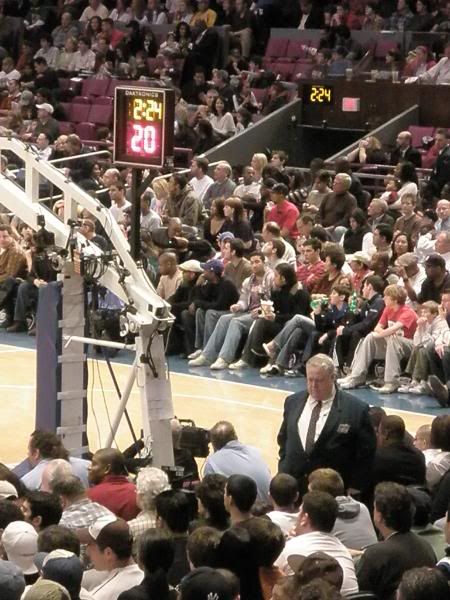 "The Coach"
Into the game, Daren advised us that Kobe was a mere 20 points from 20,000 for his career. Added Bonus! During the third quarter, Kobe was at 17 points, and right in front of us drained a 3 pointer. I was somehow magically able to photograph the very shot making Kobe Bryant the youngest player ever to reach 20,000 points. The Knicks failed to even acknowledge this achievement. Disappointing.
Full house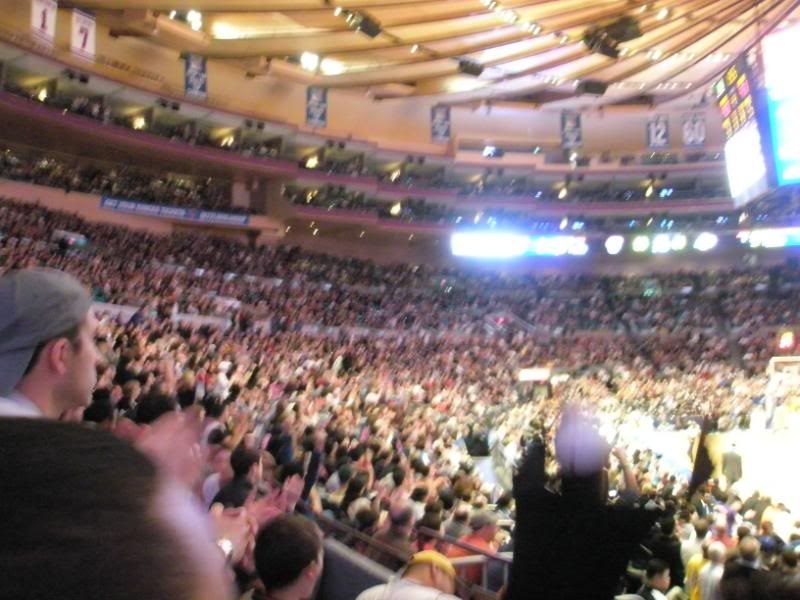 Nate Robinson seemed to be pestering Kobe throughout the game. Shortly after 20,000, a timeout was called and Nate seemed to be purposely obstructing Kobe's walk to the bench. It appearing the the two were jawing at each other quite a bit. The next Lakers possession, Kobe brought the ball down to the corner with Nate guarding him, pulled straight up and drained a 3 pointer in Nate's face. Immediately after doing so, Kobe reared back with his hand and slapped Nate hard on his butt as he ran up court.
Nate Robinson bringing the ball up court
The Lakers were leading by about 22 points and fans started chanting "Fire Isiah."
James Dolan watched a few feet away at his courtside seat (to the left of the bald guy in the paint).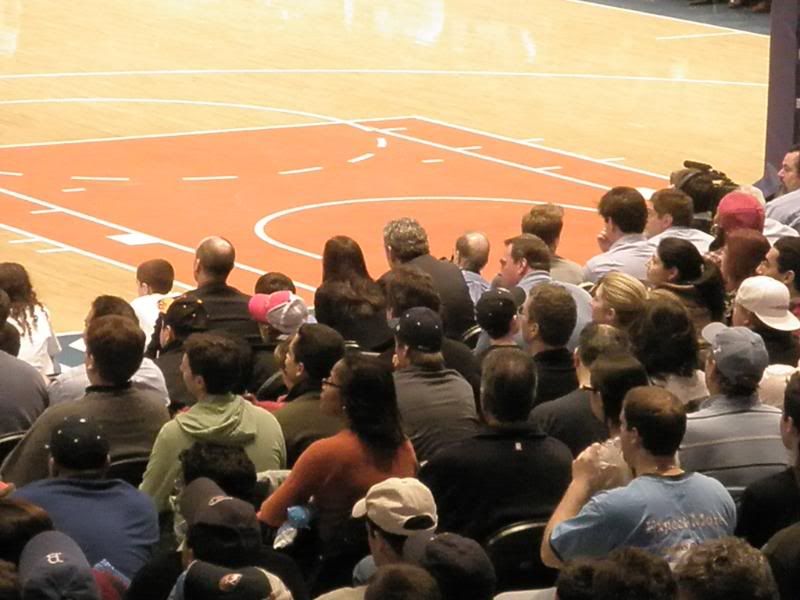 Jamal Crawford went nuts in the 2nd half, bring the Knicks all the way back to within 3 points, darn near single-handedly. He ended with 31 after scoring only 3 in the 1st half.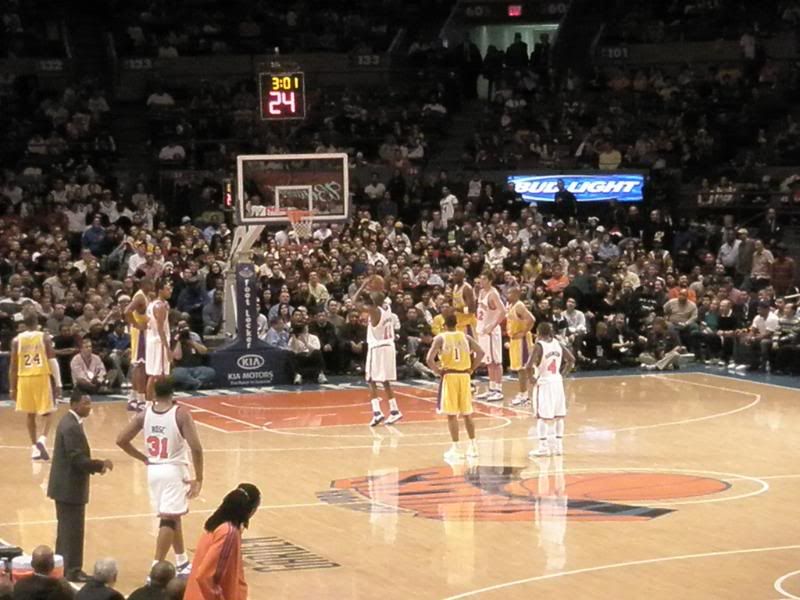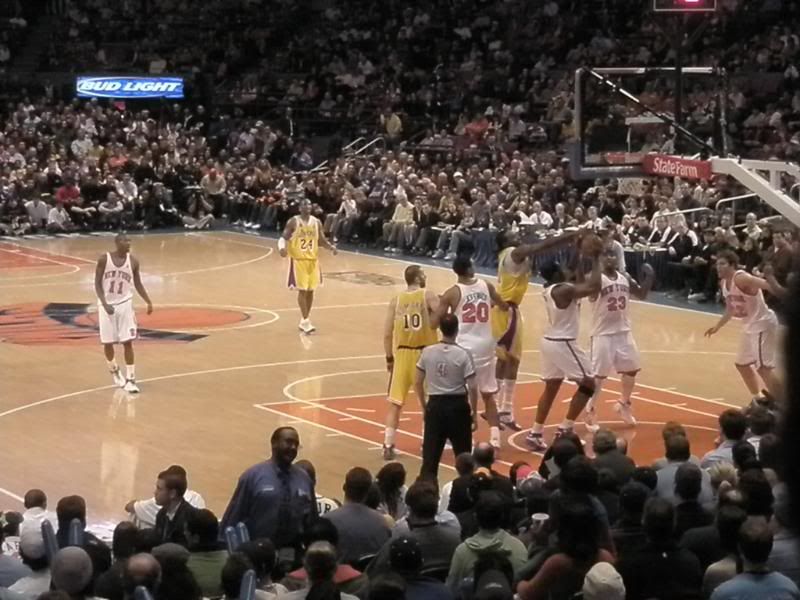 And finally came that moment. That sweet NBA moment I was looking for. Madison Square Garden Christmas Eve Eve. Knicks vs Lakers. David Lee is fouled and makes both free throws to put the Knicks up 91-90, their first lead after being down by as many as 25 points. Kobe then makes a jumper to make it 93-90. A turnover by the Knicks allows Kobe another shot with 11 seconds left, but he misses and the Knicks rebound and call timeout. The Garden is rocking! This one will come down to the last play. Lee threw the inbound pass by it was stolen by Jordan Farmer and he took it down court for the dunk, sucking the air out of the Garden. Lakers win 95-90.
Penn station NJ
and the city:
just a few cabs
Empire state building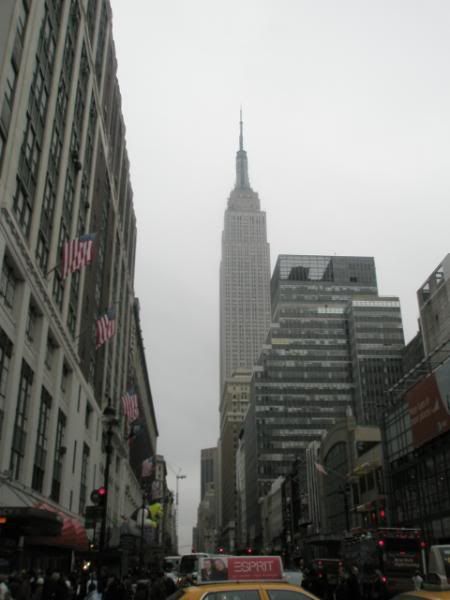 The fashion district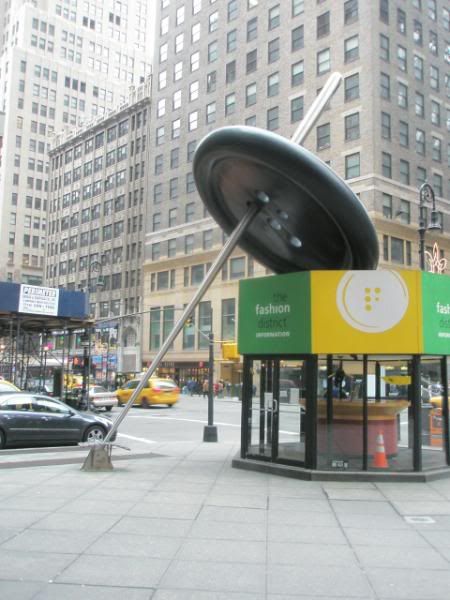 Times Square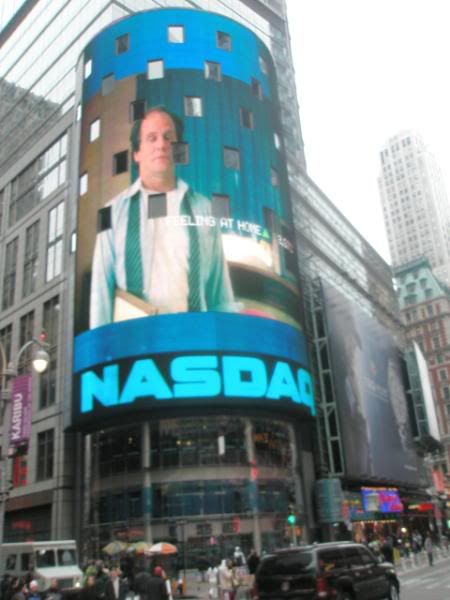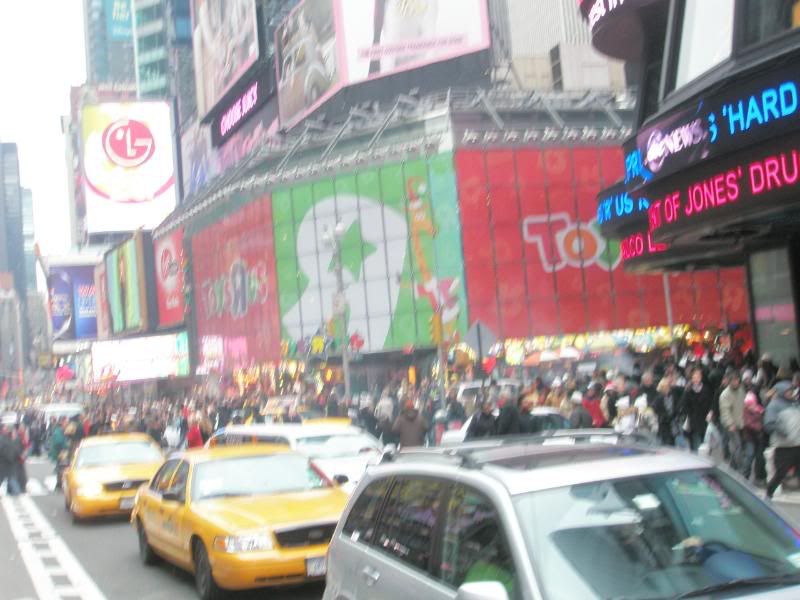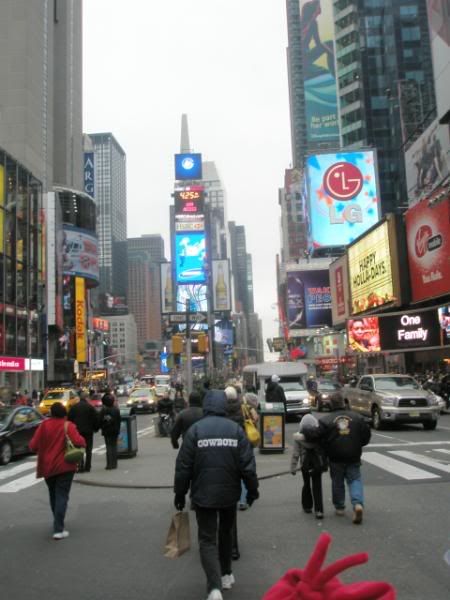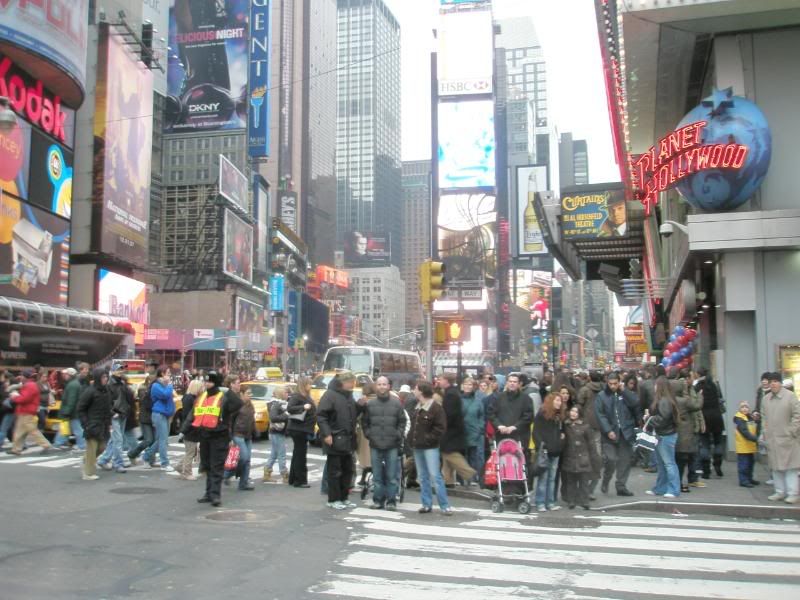 Ornaments in a fountain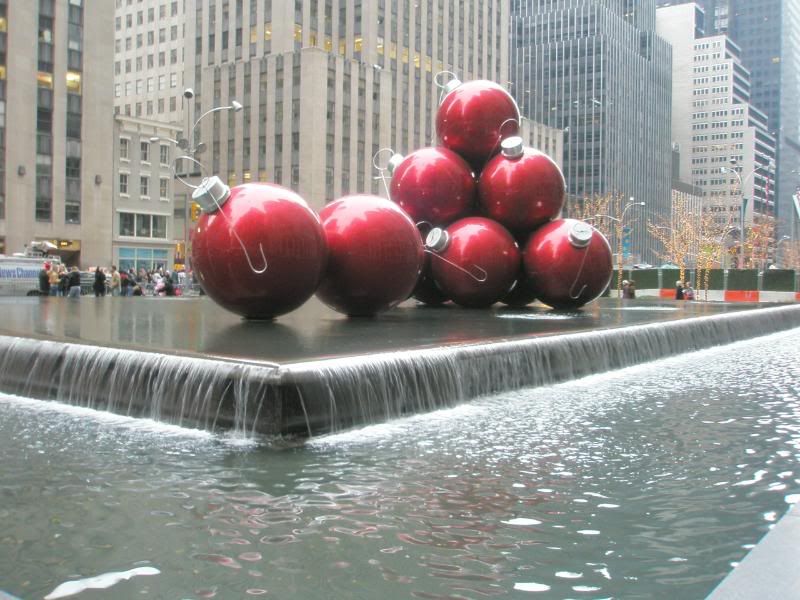 Radio City Music Hall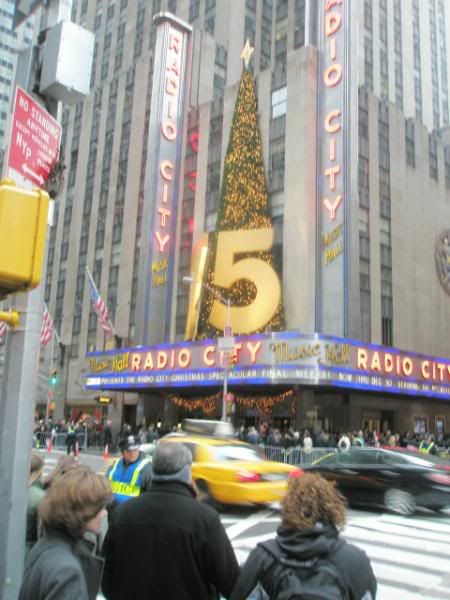 The NBC Rainbow Room
Rockefeller Center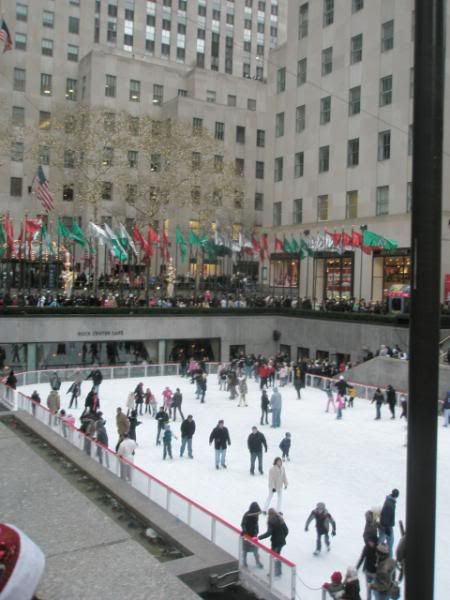 The Penny Harvest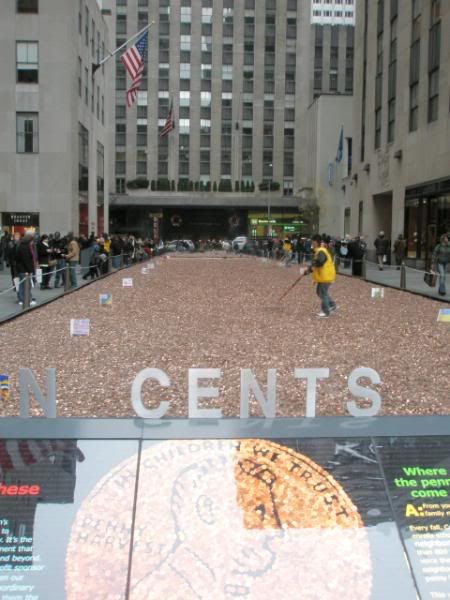 The Late Show with David Letterman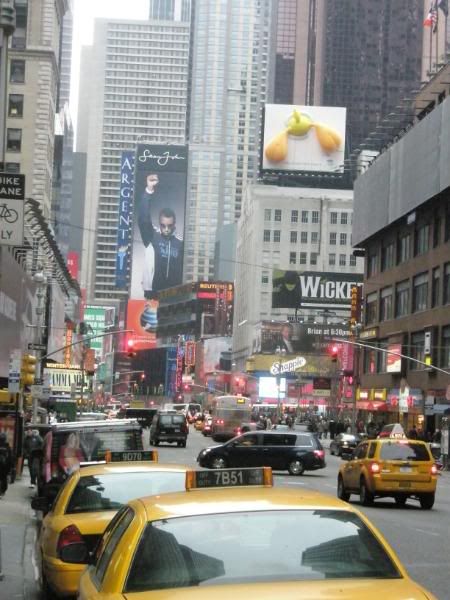 My food of the day, New York Falafel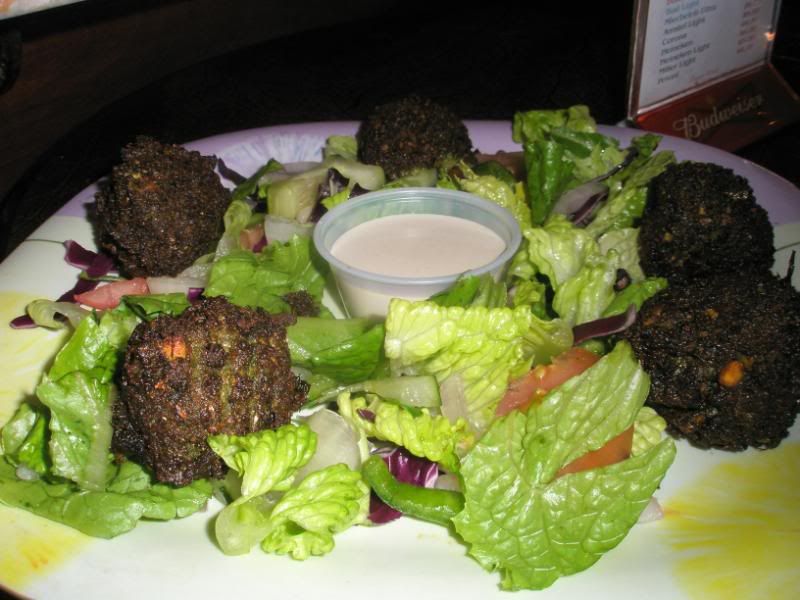 Street performers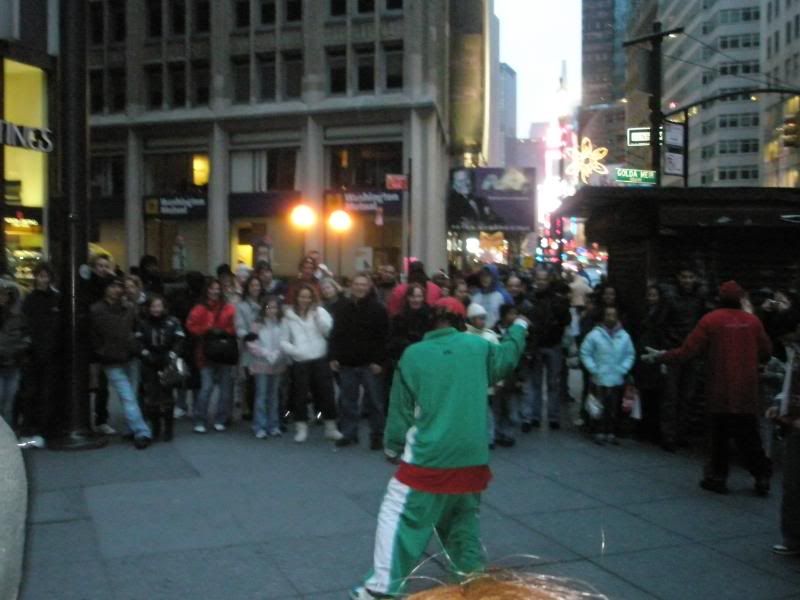 Weather that caused me to arrive home several hours late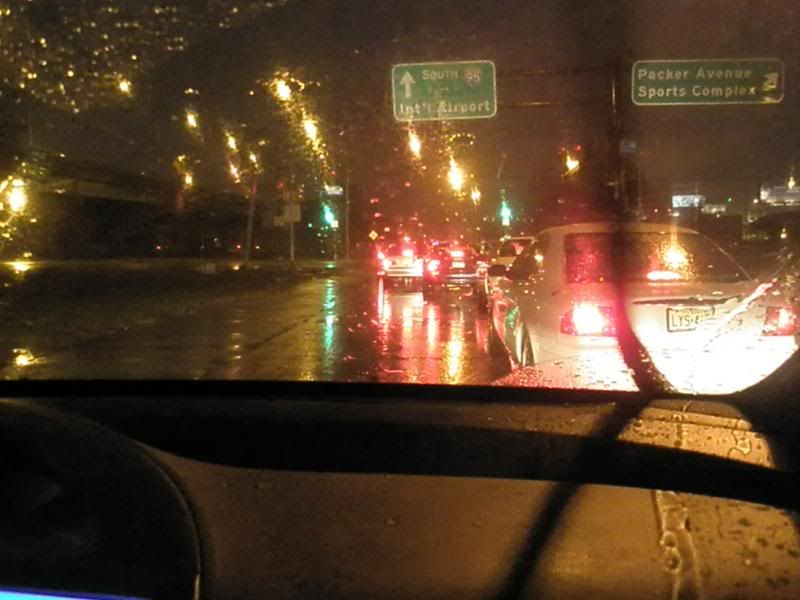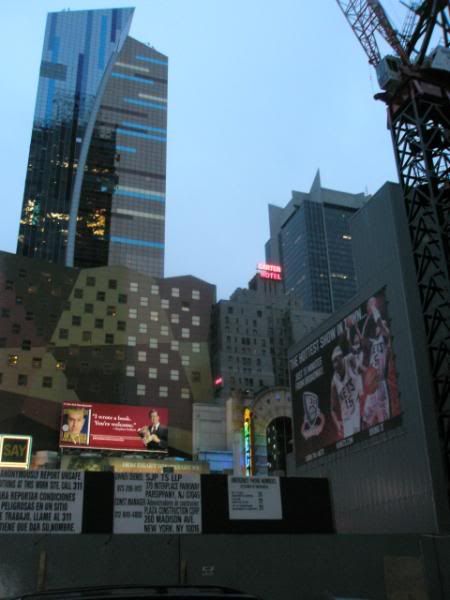 Thanks to Dave Morrow, Jennifer O'Rourke, and James Polsky.
Next stop - Hollywood!