Here it was...the culmination of the NBA Tour. As I previously mentioned, the Los Angeles Lakers gave me the opportunity to purchase 2 tickets at face value for Game 3 of the NBA FINALS. 10 months ago, the thought of seeing a game outside of Milwaukee or Chicago didn't even cross my mind; now I had not only seen 30 arenas, but I was achieving my dream and watching the NBA Finals.
LA was pretty ramped up for the Finals, despite being down 0-2.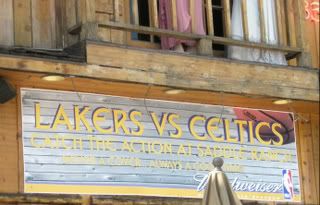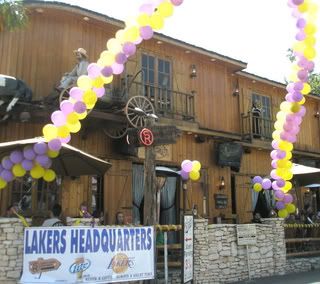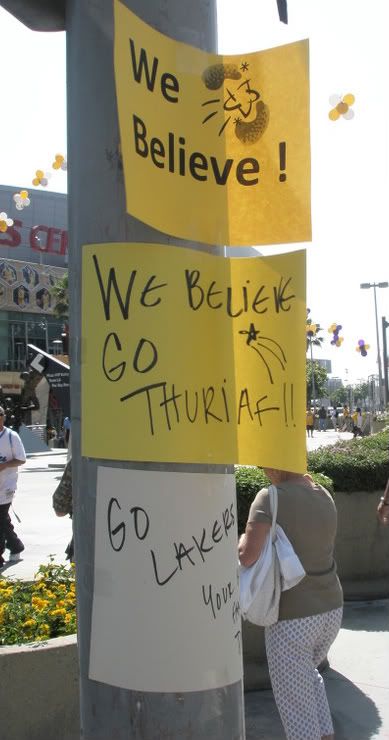 As soon as I stepped off of the metro, I saw that the arena had been ramped up for their presentation of the NBA Finals.
A fan-fest going on outside where you could shoot hoops, sample free
Craisins
, or even watch people walk around with TV's built into their outfits.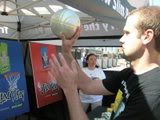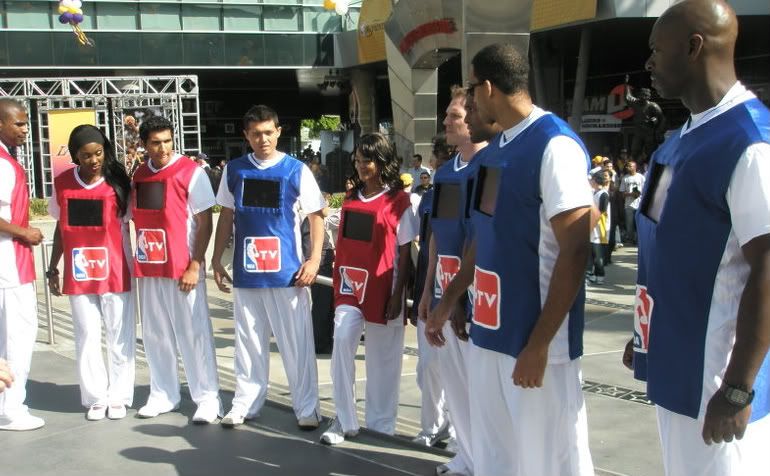 There were plenty of photo opportunities to let people know you were there.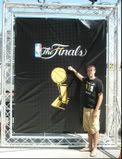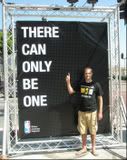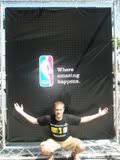 I can't believe the NBA would let people walk all over its trophy.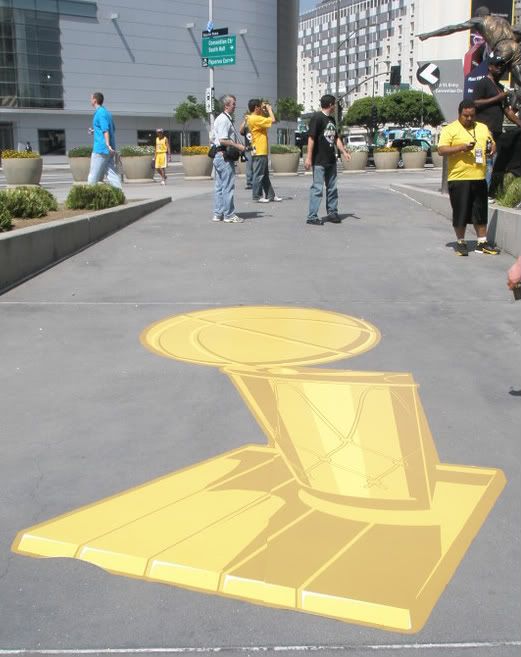 There were a variety of entertaining T-shirts to be found around the arena.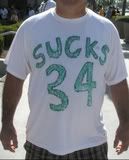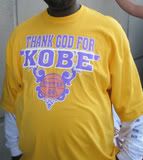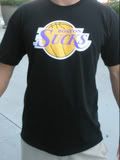 The gentleman below was waiting in a line that wrapped around the building, just hoping for an opportunity to purchase a ticket that had opened up. He kept himself entertained with a Celtics jersey.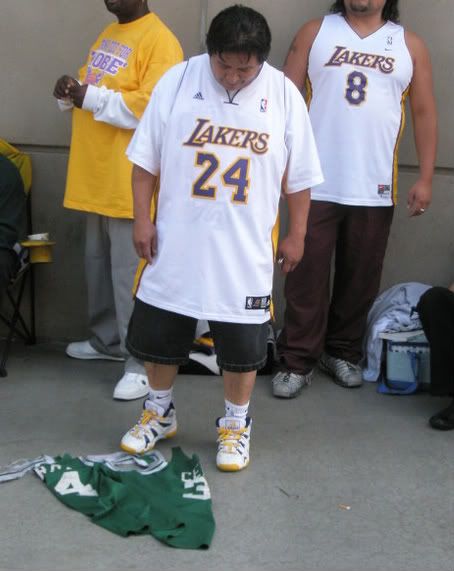 Even this trophy was guarded by security.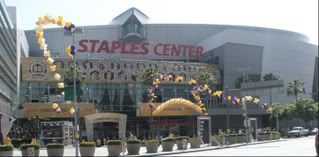 The outside patio was a pretty lively crowd - especially when someone wearing green showed up.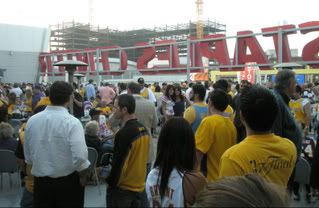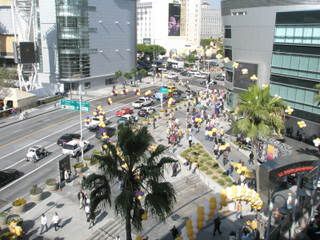 In an effort to promote the new Disney movie
W.A.L. - E
, they had this robot out front heading down the read carpet into the STAPLES Center. This segment aired at 8:30 EST on ABC during & what do you know - I made it on.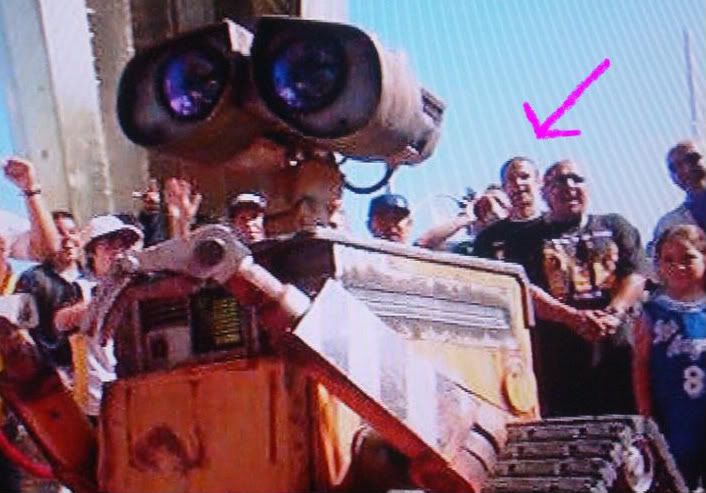 Here's to another banner being raised shortly...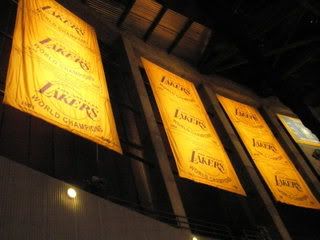 & of course Jack Nicholson was there in his customary seats.
Player introductions.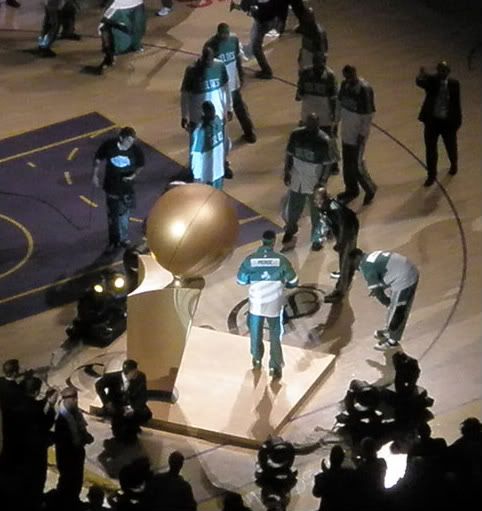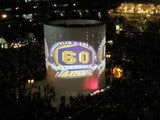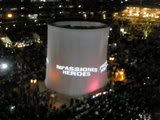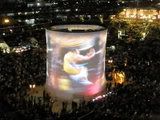 American Idol winner
David Cook
signs the national anthem.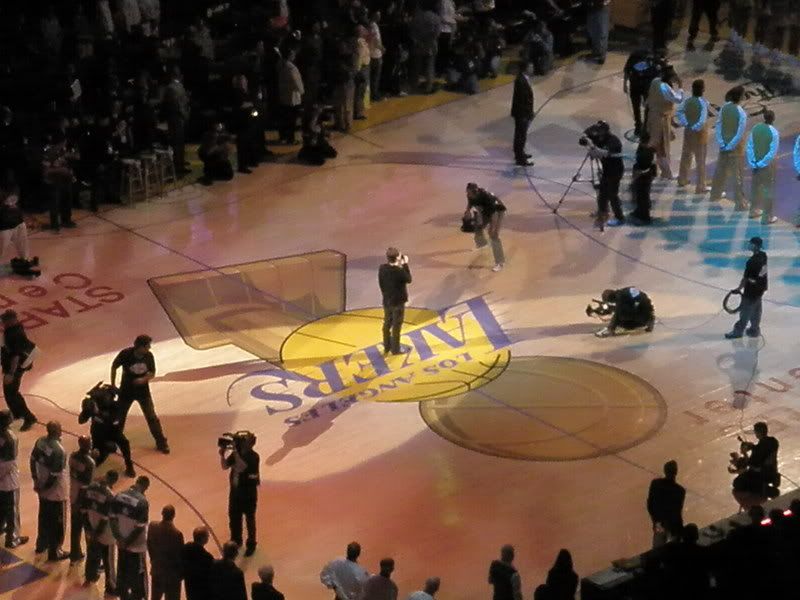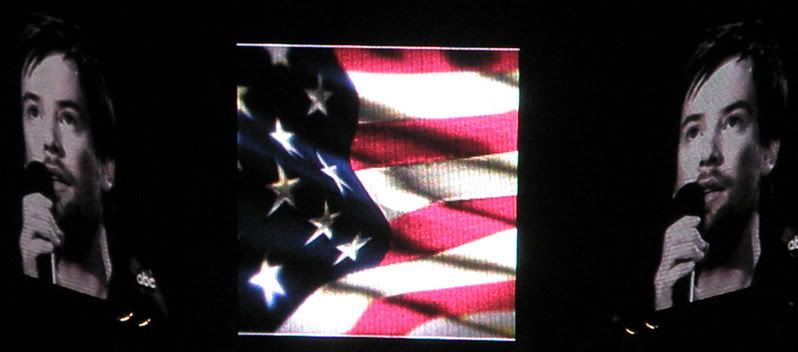 Delivery of game ball from Hall-of-Famer Magic Johnson.
Is that Joe Crawford doing the tipoff and
not bickering with Tim Duncan
?
Odom bringing the ball down the court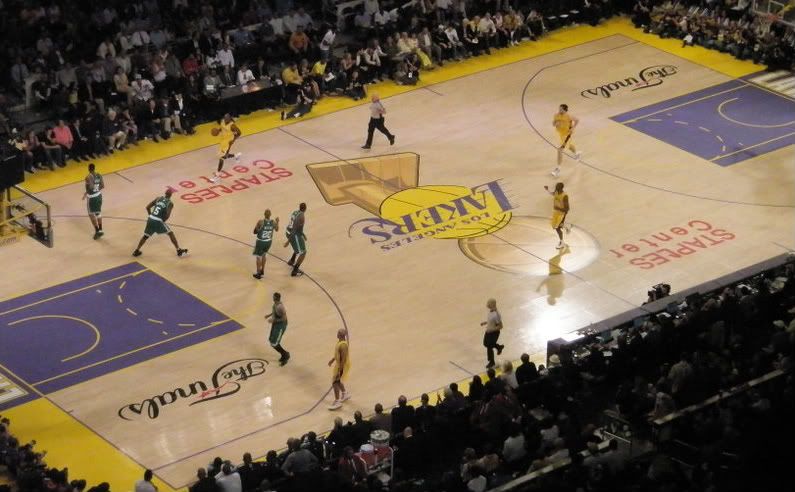 Eddie House putting up a jumper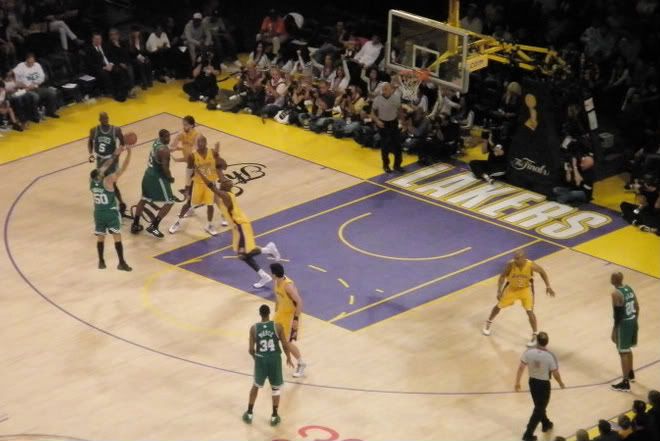 After a Ray Allen jumper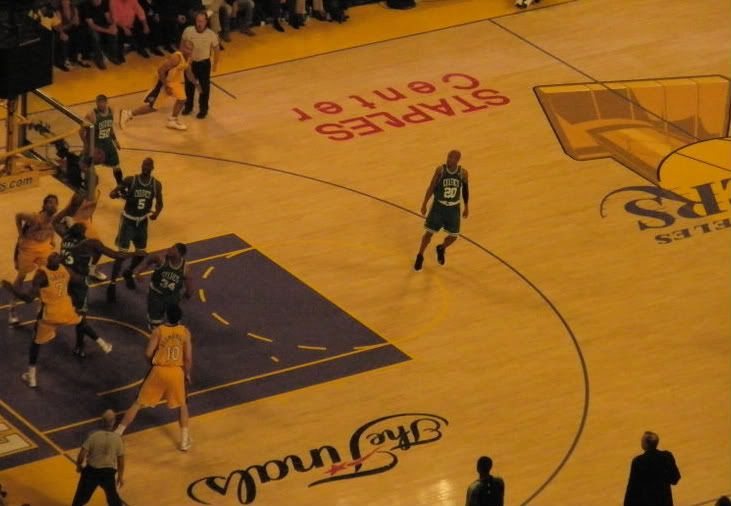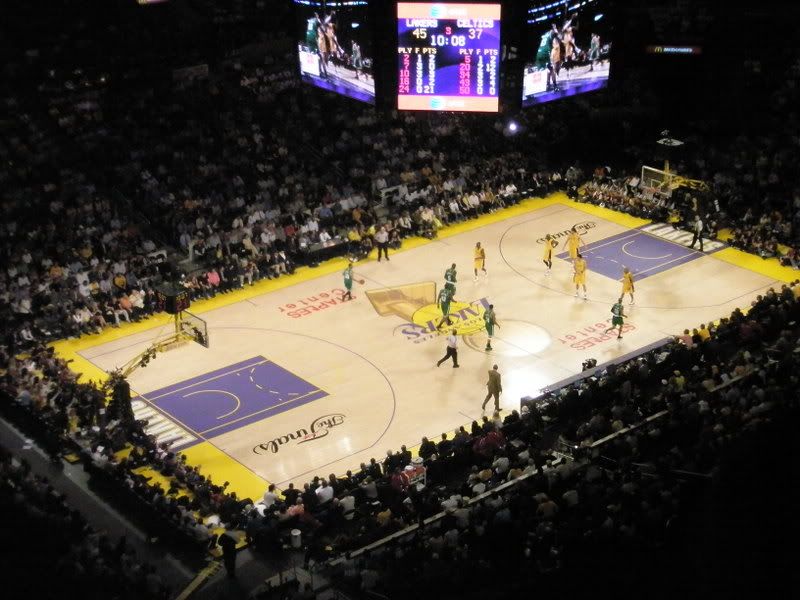 KG on the post
The best dance team in the NBA
Sasha Vujacic,
resigned recently
, shooting a jumper.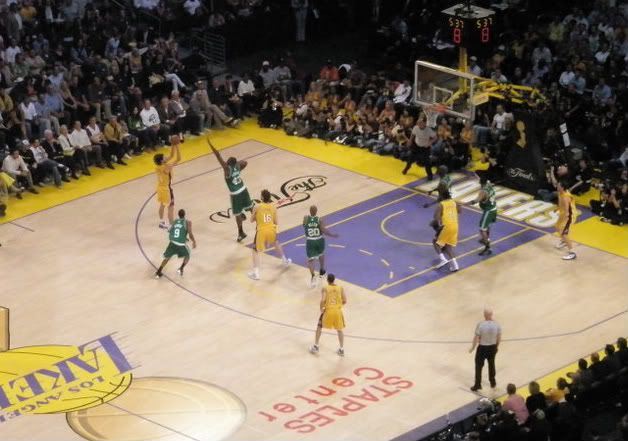 The celebrities were out in full force
Hugh Hefner
and the girls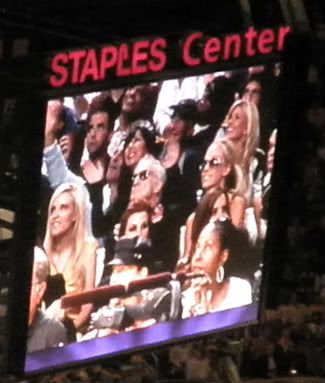 Hillary Duff
Steven Spielberg
Flea, of the
Red Hot Chili Peppers
Slyvester Stallone
and
Eddie Murphy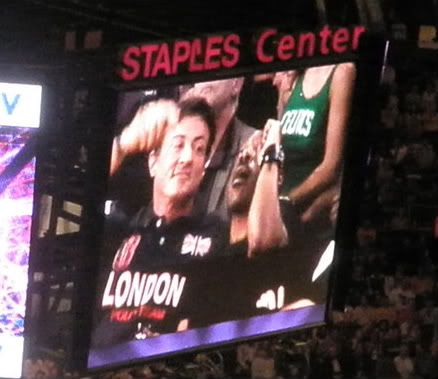 Dustin Hoffman
and finally
JACK
!...not to be confused with
Jack
...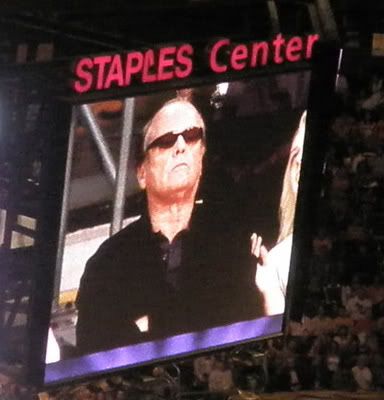 But these are my people...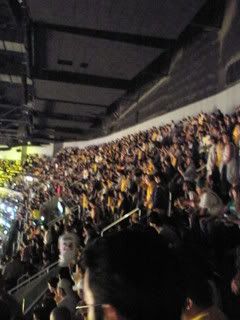 Don't know if you can tell or not, but the basket was loaded with A/V equipment.
How bittersweet!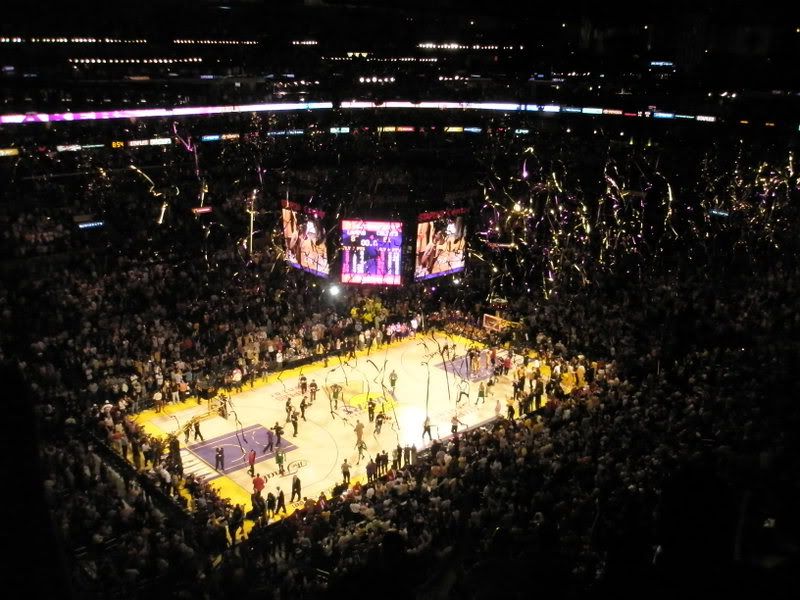 Leaving the Staples Center after a great night!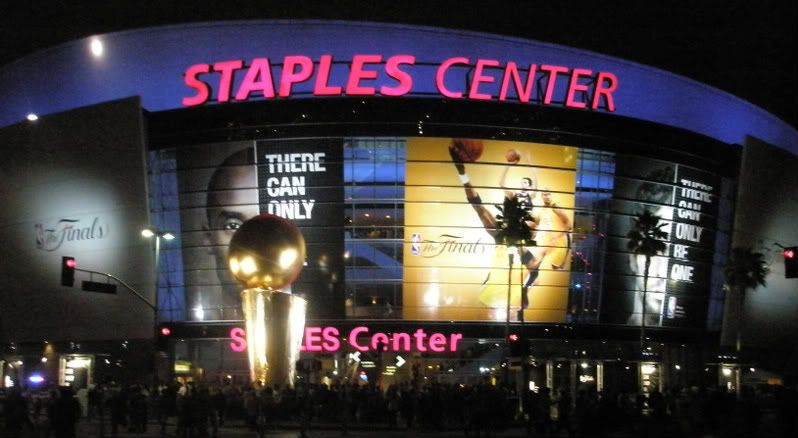 Despite the risk of having anyone who reads this call me a pussy and endless mocking from my friends that will ensue, I must say that when I heard the Laker's Public Address Announcer,
Lawerence Tanter
, say "Welcome to Game 3 of the NBA Finals," I started to tear up a bit. Very emotional for me as I achieved what was my most desired goal of the season & this being the culmination of it all. Wow, I made it to the NBA Finals.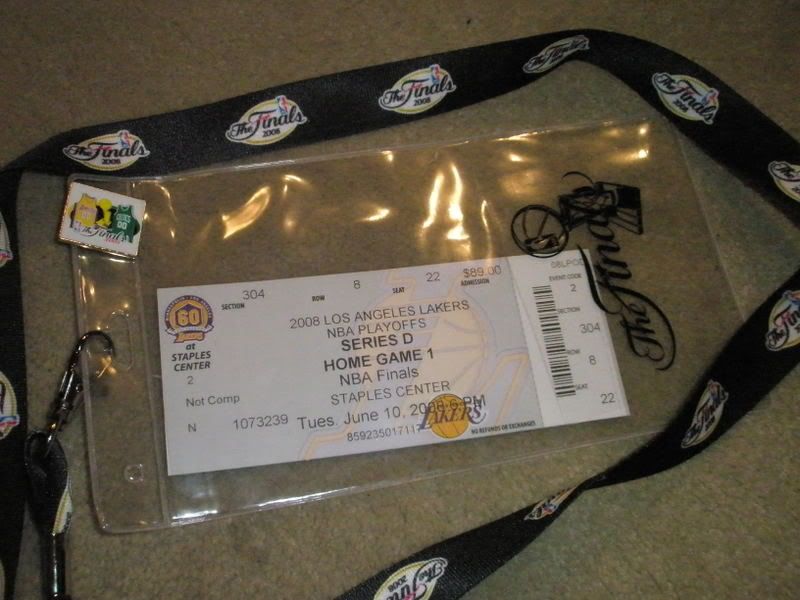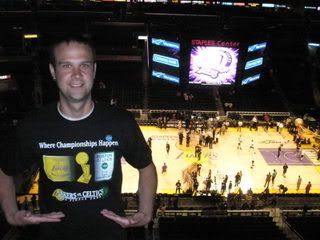 So I guess that's it - the tour is over. Back to watching games on TV and sitting in the upper level like everyone else. But allow me one last attempt to show you what type of person I am. I live for now, I seize today, and I regret nothing. Thus, I commemorated my travels on my back.
The Great
Dan Lins
, who motivated me to become the person I am today, was kind enough to tattoo the design I created for me. His home base is at Hollywood Ink, but he travels all over the world to tattoo. Click the link on over his name if you'd like to set up an appointment.
The tattoo took 5 straight hours, with a 5 minute break halfway through. The theme was to create a skyline of everywhere I've been. Difficult to see in a picture, but from left to right:
Tower of the Americas - San Antonio
One PPG Place - Pittsburgh
225 South Sixth - Minneapolis
Bell South building - Nashville
Wells Fargo building (cash register) - Denver
Excalibur Hotel - Las Vegas
Empire State Building - New York
Bank of America Center - Houston
Washington Monument - Washington DC
Emerald Plaza - San Diego
Prudential Center- Boston
Fountain Place - Dallas
One Liberty Place- Philadelphia
The Pyramid - Memphis
CN Tower - Toronto
Fassion Building - Milwaukee
Chrysler Building - New York
Gateway Arch - St. Louis
Chase Tower - Indianapolis
Transamerica Pyramid - San Francisco
Legg Mason building - Baltimore
Hancock Tower - Chicago
Peachtree place - Atlanta
Space Needle - Seattle
Thanks to John Black and the Los Angeles Lakers for making my dream come true!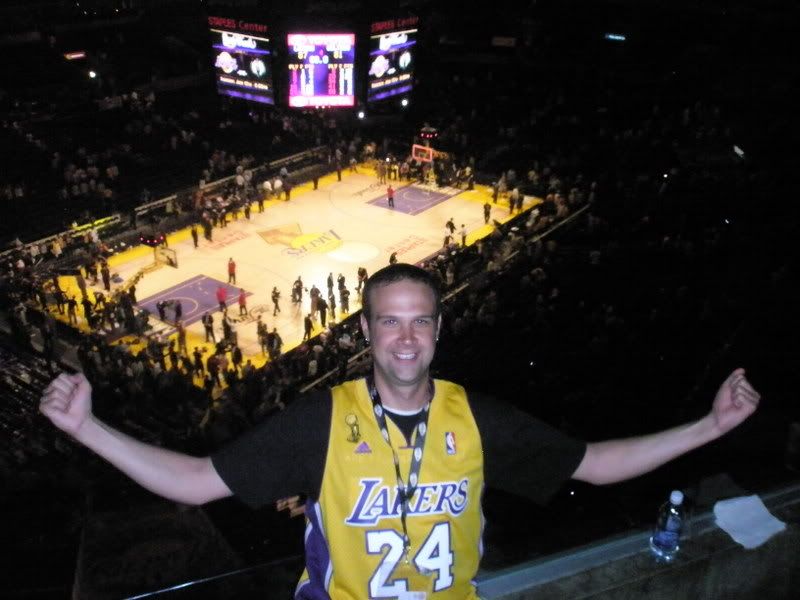 Randy Newman - I Love L.A.
from
http://intrepid856.vox.com/