Despite my inability to get in contact with the Utah Jazz, I'm going to roll the dice and start the tour out there. As I've previously mentioned, I want my friends to share this experience with me. However, Salt Lake City is not a well-known city and the sheer expense of getting there makes it difficult for 99% of my friends to go. Its literally an airfare black-hole and despite searching over a month in advance, it will likely be my most expensive weekend trip.
So I decided that I would pay the way for ONE of my friends to go with me. The basis I would use to choose this individual would be the following:
One of my worries when moving 12 hours from home was that I would likely lose touch with many of my friends. I have lost touch with many of them, but one particular individual has made the 12 hour drive (24 roundtrip) on Three occasions in a 7 month period.
Mr. Shea Sterner, you've won a free trip to Salt Lake City: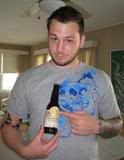 Initial costs:
Drew's airfare: Chicago Midway to SLC via Southwest Airlines: $279.20
Shea's airfare: Baltimore to SLC via Delta: $396.00
Hotel: $102.00
Expenses for the tour have now climbed over $1,000 (including expenses such as passport, AAA membership, postage, and other expenses used to generate money on eBay).