The trip to New Orleans would be a challenging one...
As I left Dallas, I went out to the rent-a-car...only to find snow.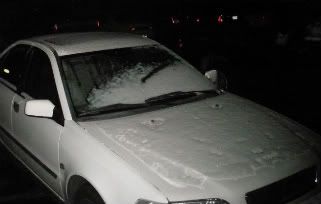 The 8 hour drive was brutal as the precipitation did not stop.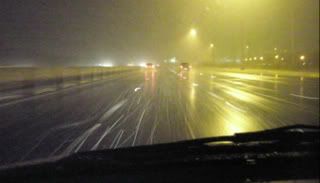 But eventually, I arrived to the swamp.

Our view from the hotel in New Orleans.
The St. Charles avenue streetcar is the oldest running street railway in the world.
Now as I get into the "city" portion, we stray from the conservative side a bit, but I'll still try and keep it clean as the little brothers and little sisters out there are reading.
When you hear New Orleans, you first think "Bourbon Street." All kinds of places on Bourbon & the French Quarter. Let's start with some of the touristy spots:
Margaritaville w/ an Island Lager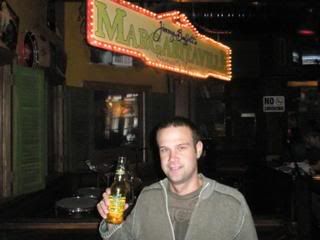 A stop at Pat O'Briens w/ Jason Cobaugh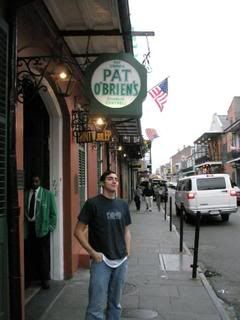 You've got to stop and have a Hurricane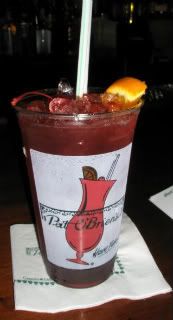 Practically every store is stockpiled with beads & hot sauce. Personally I don't know why people spend a lot of money on extravagant beads. Beads are beads. They will all lead to a bare chest.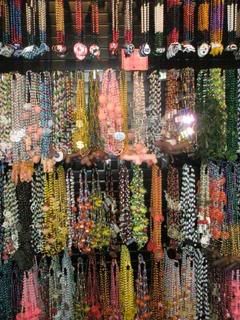 St. Louis Cathedral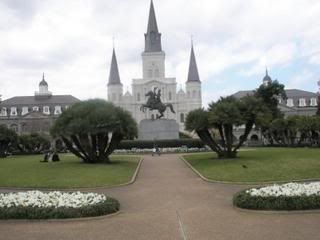 Constant Horse & Carriage rides going on.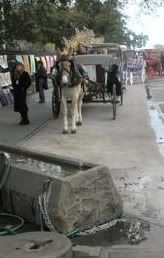 Golden Boy offering a pose. Not to worry, Silver Man is on his way.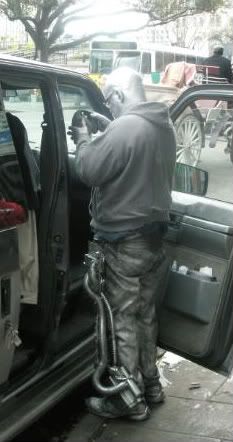 Some images of the famed Bourbon Street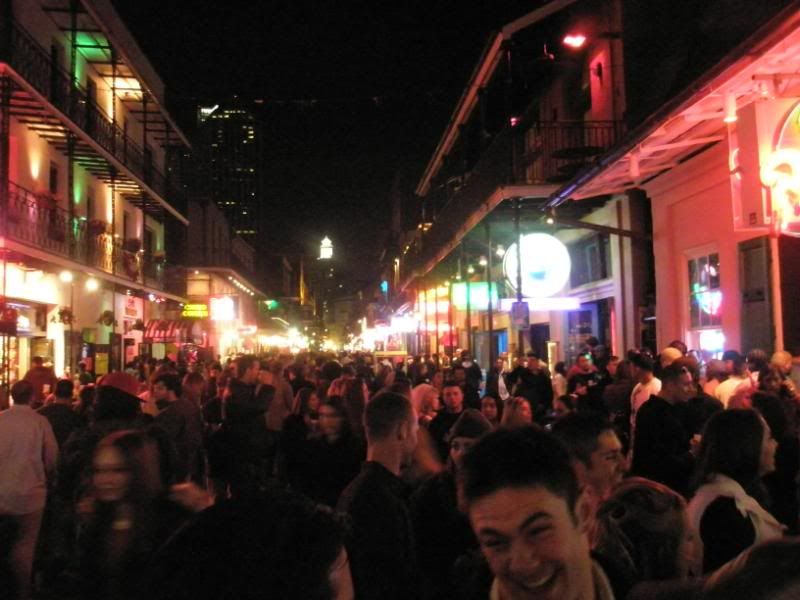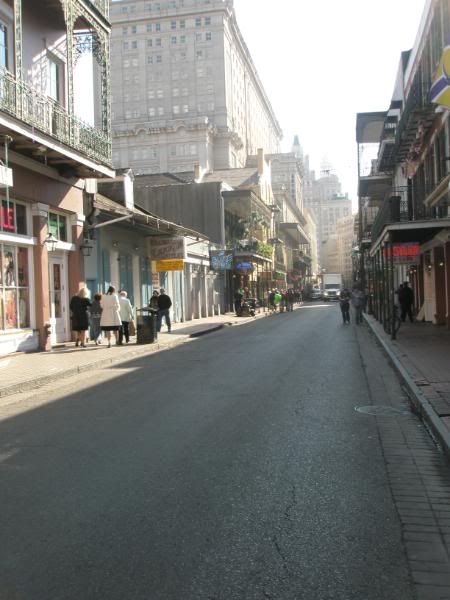 You'll also find these on every block.
Fire meets water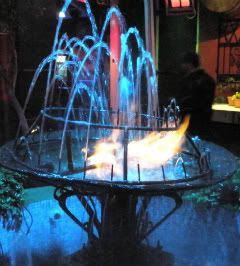 Street Performers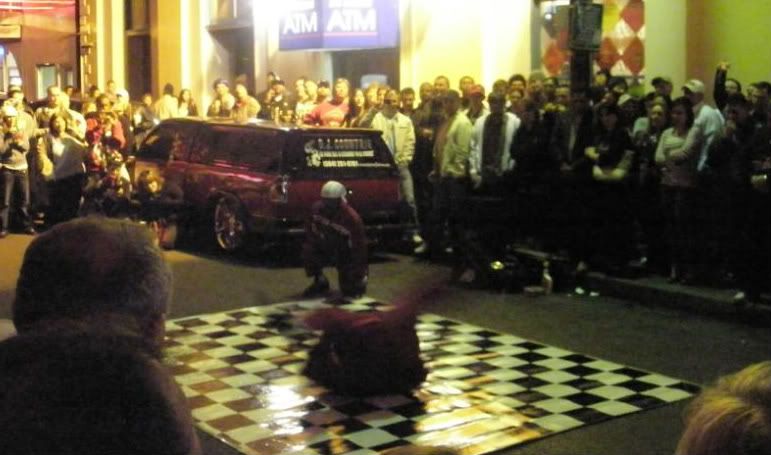 Fats Domino and friends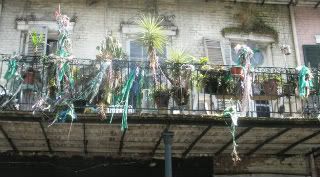 I will warn you that you absolutely want to stay on the mainstream streets during the day and not deviate from St. Charles or Bourbon Street during the night. Be absolutely cautious of where you go because before you know it, you could be stopping in to problematic territory. It's best to keep walking when someone tries to talk to you on the street. If you give them an "in," they'll leech onto you and won't go away until you give them a free ride.
People on Balconies by day and by night.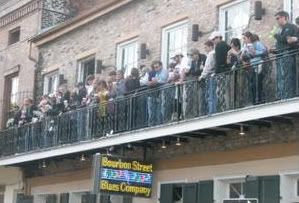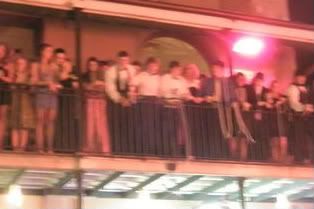 This was pretty hysterical. A "noble savage" (not too flattering of an image) and the child with a bodybuilder body and even funnier is that they have to call out "with grapes!"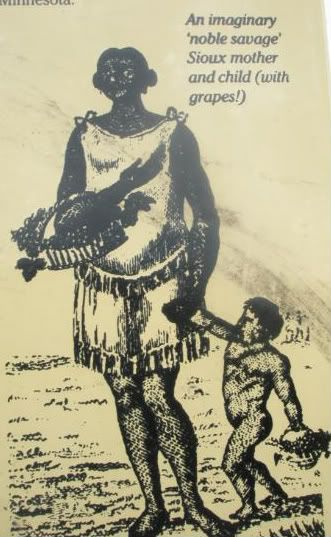 Then there's the Tropical Isle. Wow! This place is fun! Laying all over the streets, you're bound to find little plastic hand grenades as well as tall cups w/ a grenade at the base.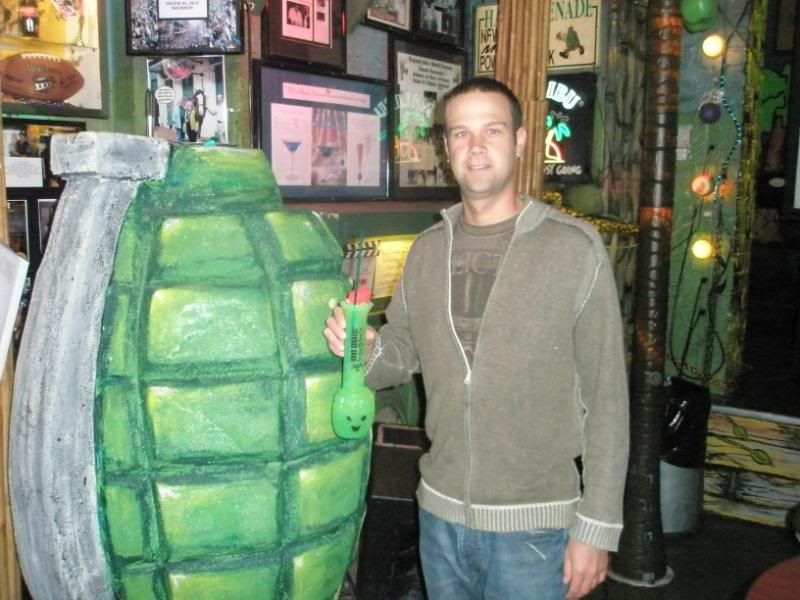 It's a drink...calm down.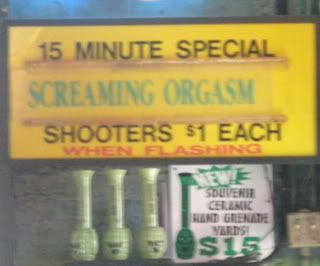 Yes, I realize it's entirely disguisting, but where else can you compete against your friend in a pissing contest?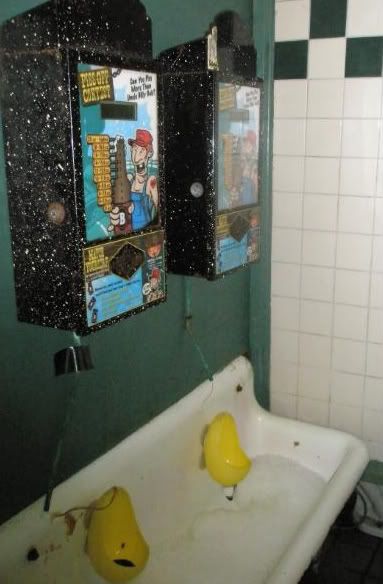 Getting ready to drive home? Grab a straw and try it out?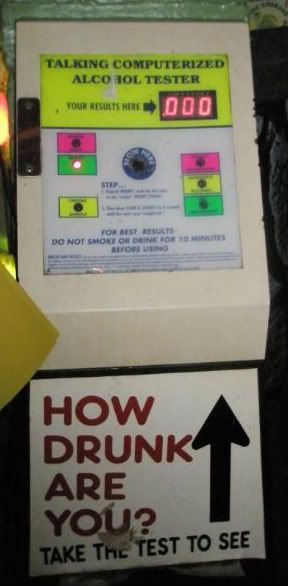 Two things to notice in the picture below. The Beignut Mix (which are similar to doughnuts) and of course, the sign that warns us of all of the dangers of New Orleans.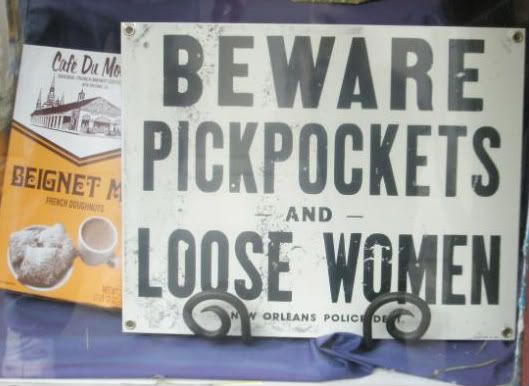 Enjoying some 65 oz Miller Lites with new friends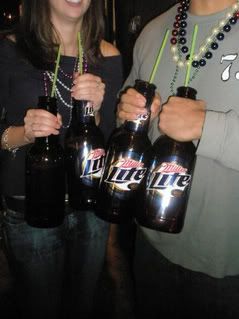 Having ANOTHER Hand Grenade and a "Tropical Itch." Each one comes with a back scratcher.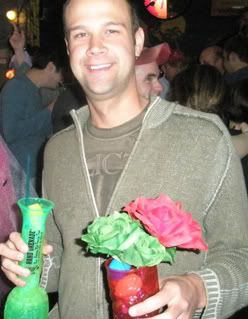 Throughout the bar are baskets to shoot your miniature grenades into. Check out Cobaugh sizing up a shot.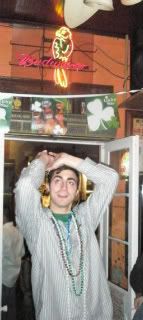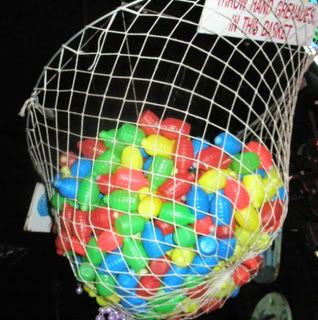 What you see here is a liquor tap. The white portion is all frozen over ice
Ah yes, enjoying beer in a brown paper bag. Even better is the can design.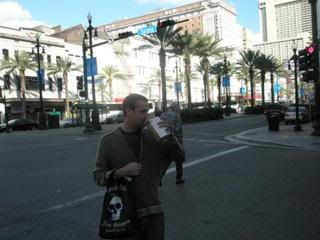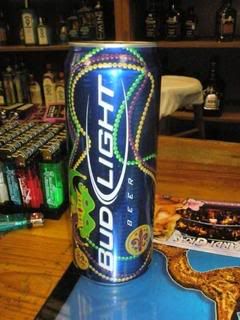 The hand grenade even rears its head here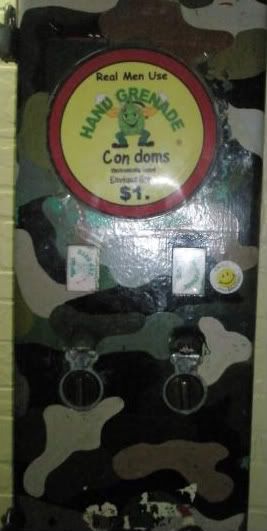 Every other establishment on Bourbon street has these and pizza
What they fail to tell you is that the constant "brain-freeze" will prevent you from drinking more than 3.
Some of the best food I've had anywhere. Let's start with some alligator.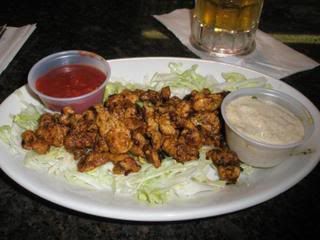 Then some crawfish and jalapeno hush-puppies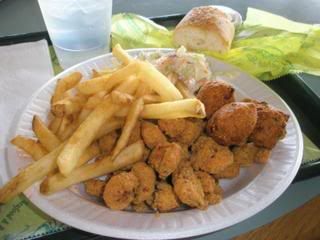 The Taste of New Orleans: Jambalaya, Gumbo, Red Beans & Rice
Downtown Harrah's casino.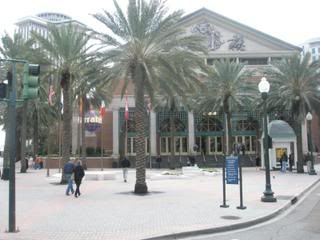 New Orleans aquarium.
The Riverwalk. Contains all types of stores, but most importantly the Mardi Gras store.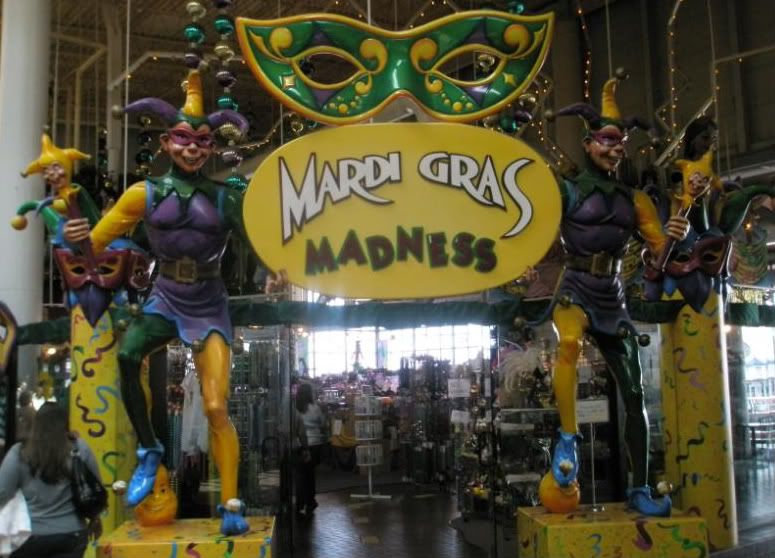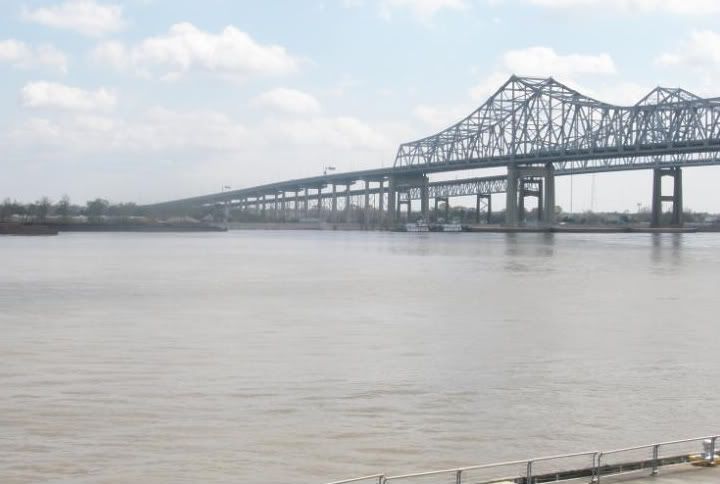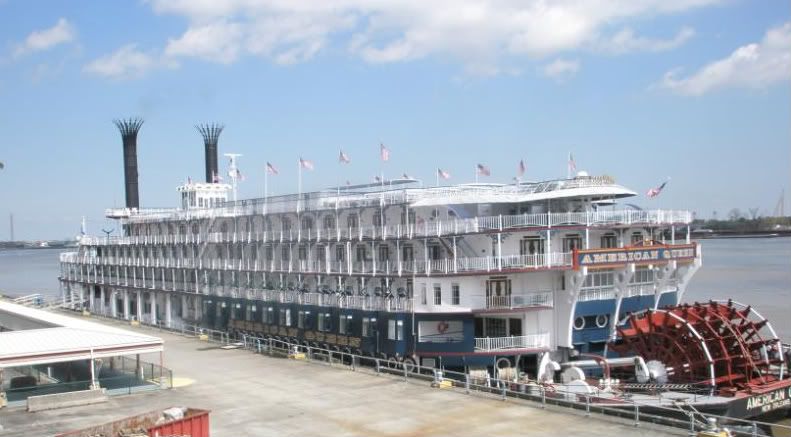 The above ground cemeteries of New Orleans are often called "cities of the dead" for obvious reasons.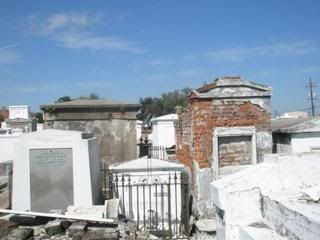 Fan boat rides are always fun. Keep an eye out for the gators!
We'll leave you with the Joan of Arc statue
Thanks to Jason Cobaugh, Harold Kaufman, and Garrick Amos.