My final roadtrip of the (regular) season would take me to both Atlanta and Charlotte.
Philips Arena. Referred to by the Hawks as the Highlight Factory. If you look closely at the outside, you see the word "Atlanta" spelled out.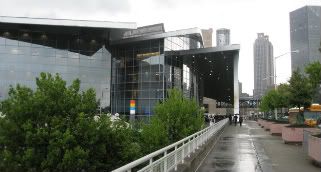 The really went from one extreme to the other here. Below, we see one of the league's great scoreboards, but look at the photo below that. You see all of the banners, but below that you see some minor league scoreboards. You couldn't make out some of the images on these LED boards.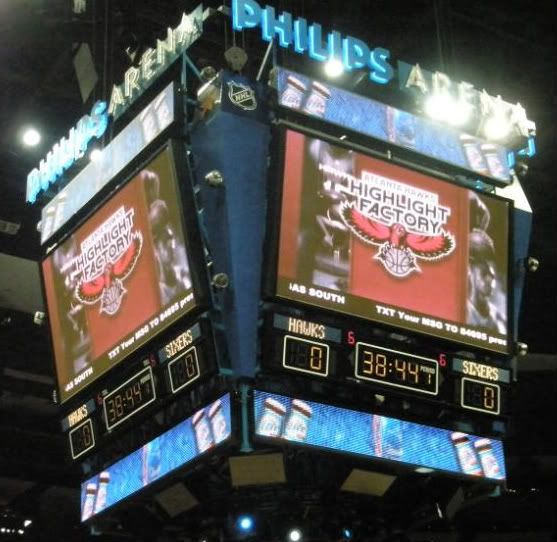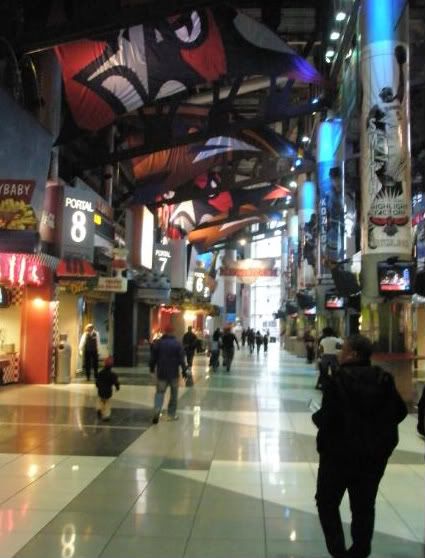 Near section 119 is the "Fro-Zone"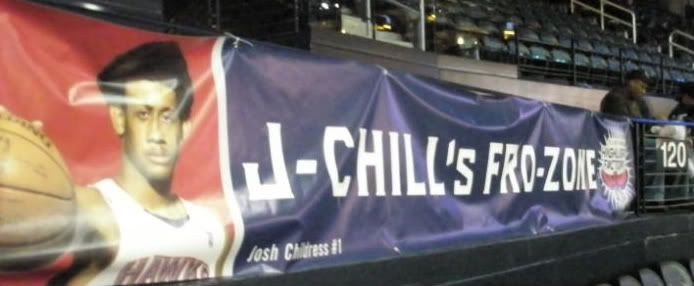 I hand it to Atlanta - it's the best arena to grab a beer. The opportunities to get a beer are everywhere and beyond just your "Big 3" beers, you have many choices from locals brewers, Heineken, and more! Check out some of the other eateries.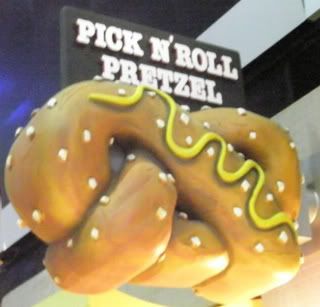 Notice that the entrances to each section are known as "Portals."
The Philips Experience. All sorts of games and such going on. Strangely enough, even an orchestra playing on this evening.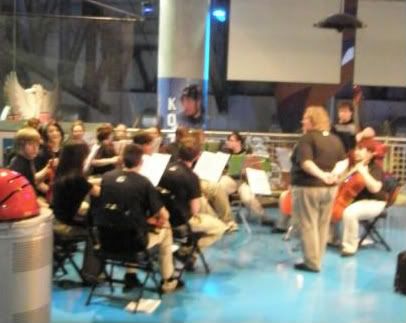 Me taking some shots on goal.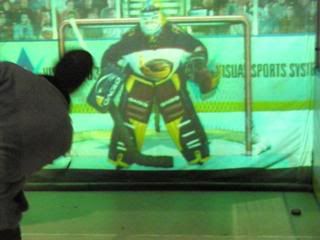 Before tipoff, Spirit the Hawk flies down from the upper-most suite and lands on the arm of someone standing at center court.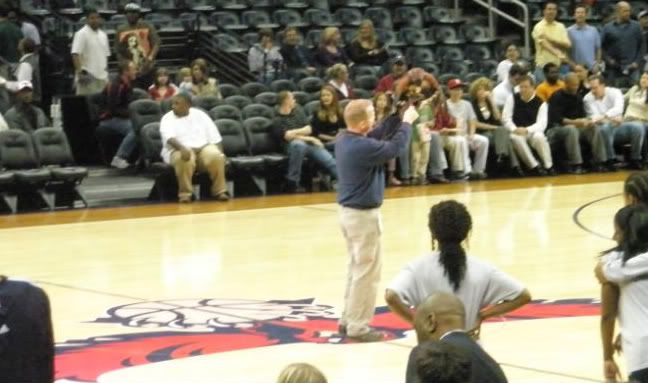 A look at the full court.
What makes this arena most unique is that one side is just loaded with suites. Most importantly is the Heineken suite, which includes a spiral staircase.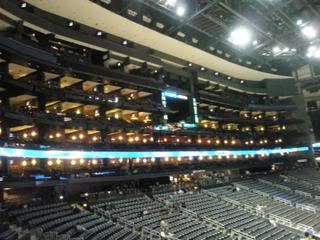 The other side of the arena.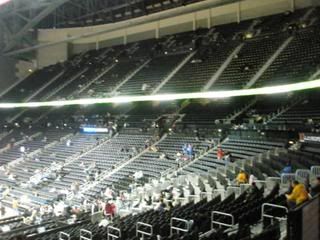 A VERY late arriving crowd in Atlanta. Notice on the clock that there is approximately 6 minutes until tipoff. Next, notice the amount of seats that are filled.
While walking through the concourse, two girls offered us the opportunity to exchange our tickets for comparable tickets and the opportunity to meet Dominique Wilkins. While I have great respect for "The Human Highlight Film," I just wanted to stay my course in my current seat and enjoy the game. Below is Dominique laughing at Harry the Hawk.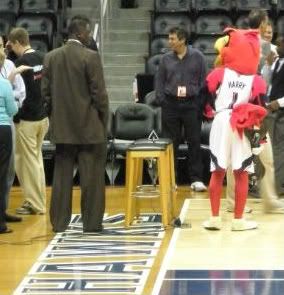 Now here we are at tip-off. Notice again the amount of seats filled now.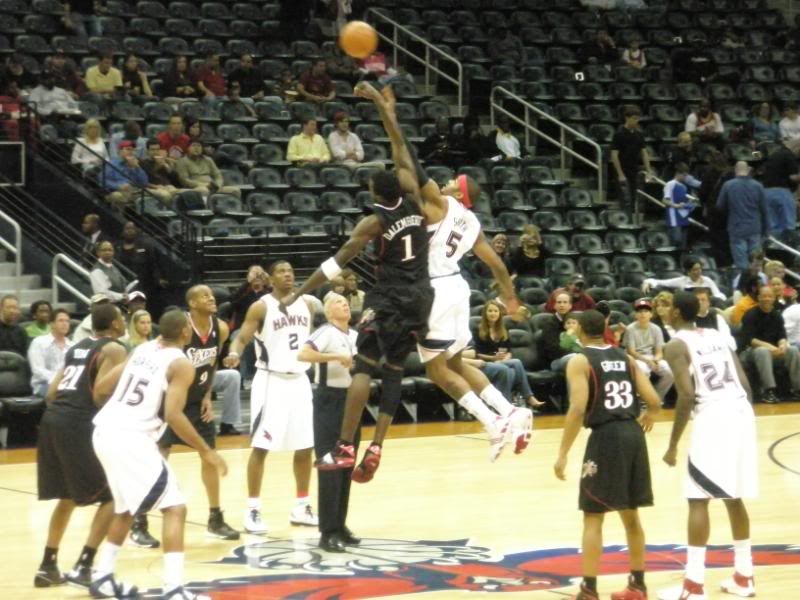 Harry the Hawk. What is funniest about this mascot is that his lower jaw is not locked in place, so with his every move, his jaw is constantly flapping up and down.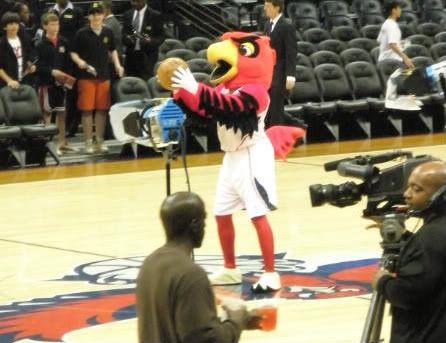 SkyHawk is another mascot that makes occasional appearances for the more risky stunts.
I'm not entirely sure, but I think this is former NBA All-Star Tyrone Hill sitting courtside.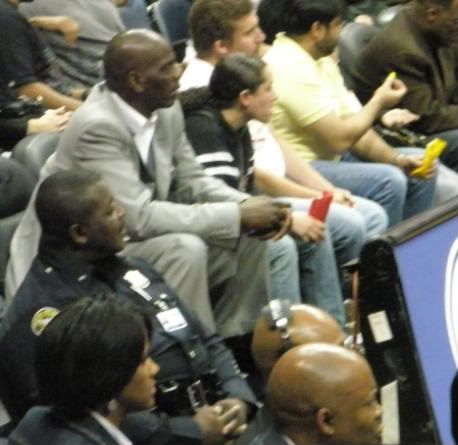 Mike Bibby, now in a Hawks uniform, leading them to their first playoff spot in 9 years.
Here we see Bibby shooting over Samuel Dalembert, but unfortunately the shot would not fall and he finished shooting 1-11. He was a bit better at distributing the ball, tallying 11 assists.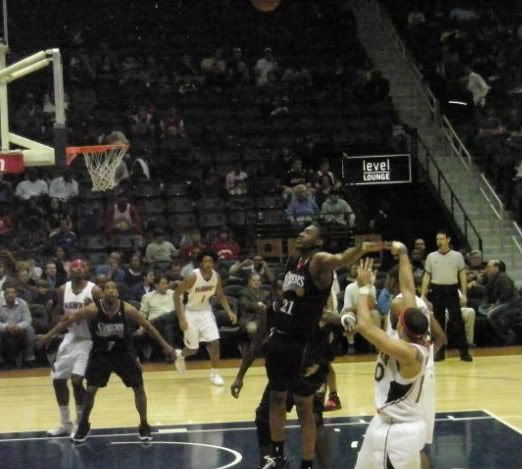 Josh Childress puts up a shot and Iguodala jumps for the block.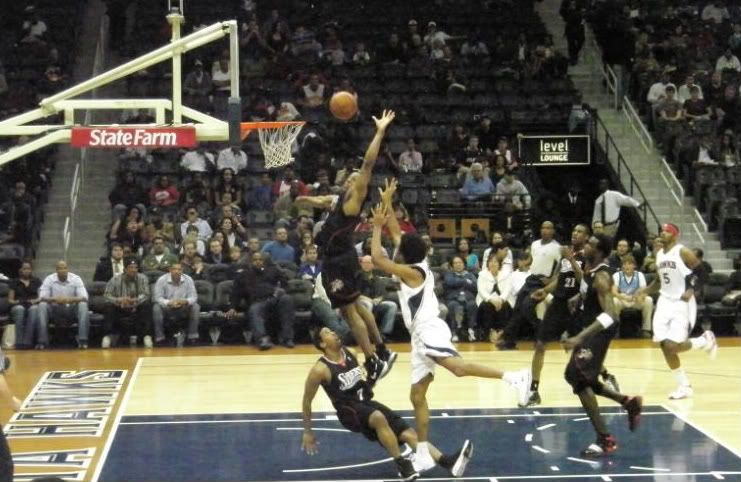 Iguodala was contributing on the offensive end as well. Shown here finishing a dunk after a steal.
Now this was very clever. Hanging above each basket were large black boxes that would emit flames throughout the game. Every time the flames would shoot upwards, a message would appear on the scoreboard, telling fans that playoff tickets were now available and how they could be purchased. Now I'm clearly not attending any Hawks playoff games (unless the NBA Finals), but I gotta tell ya...every time those flames went up, my attention turned to that scoreboard. Very effective ticket sales tactic!
Coming into the game, Atlanta held a 5 game winning streak. These two talented teams kept it close all game, and it was even tied up with less than 7 minutes to play. The Sixers just some great offense from their 3 leaders: Iguodala (30), Andre Miller (23), and Dalembert (15). The Hawks youngsters couldn't slow them down consistently and it was the Sixers clinching a playoff spot, winning 109-104. I've got to say, watching these young Hawk players was some of the most fun I've had all season. Josh Smith's dunks and blocked shots were all too entertaining.
Al Horford putting up a shot. I've seen this guy twice now and I think he should be rookie of the year. No discredit to Kevin Durant, but I really feel Horford got his team to the next level and may have put up Durant-like #'s had he been on the Sonics.
Marvin Williams however, still hasn't lived up to his expectations. Here, we see him shooting a runner as Joe Johnson awaits, wide open behind the arc.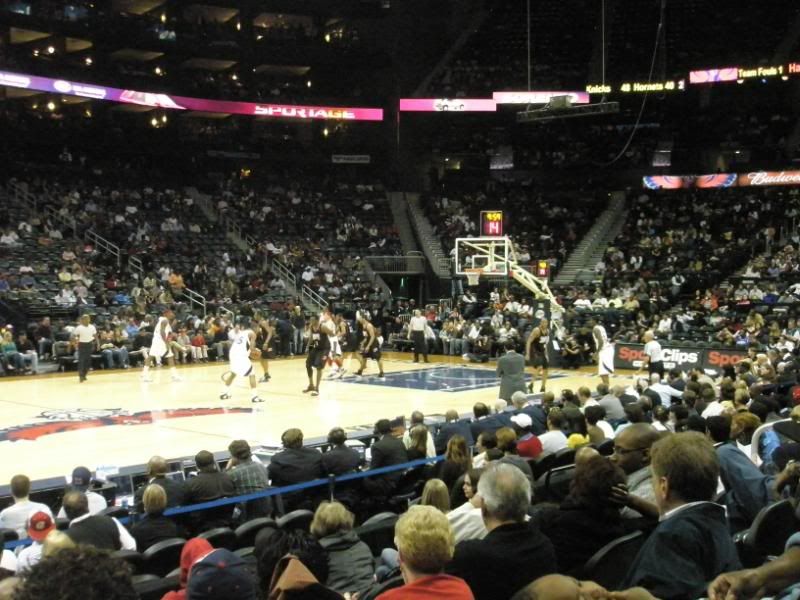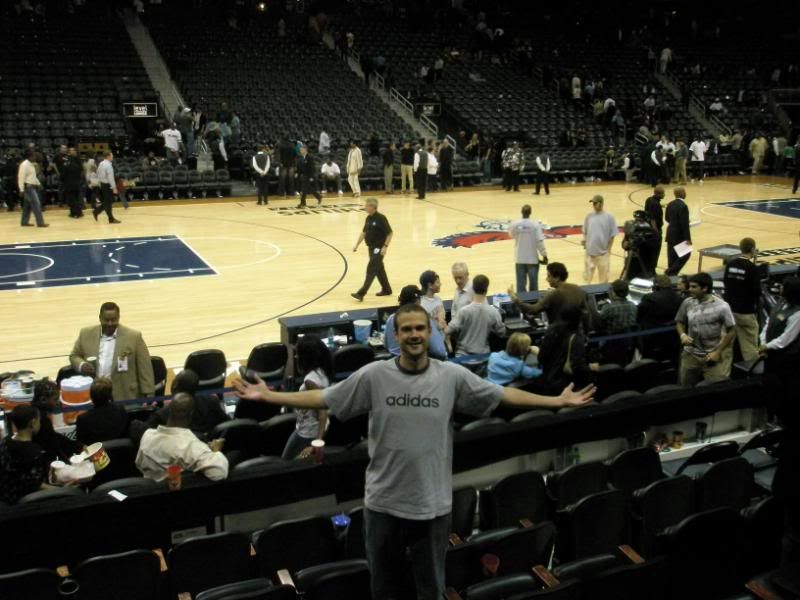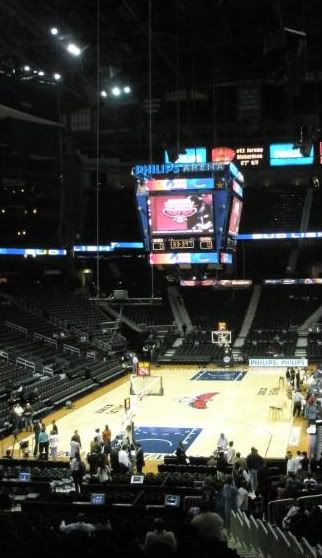 While I didn't win the Georgia lottery and the Hawks didn't get a win, I still got to see another great game and see another one of the NBA's great arenas!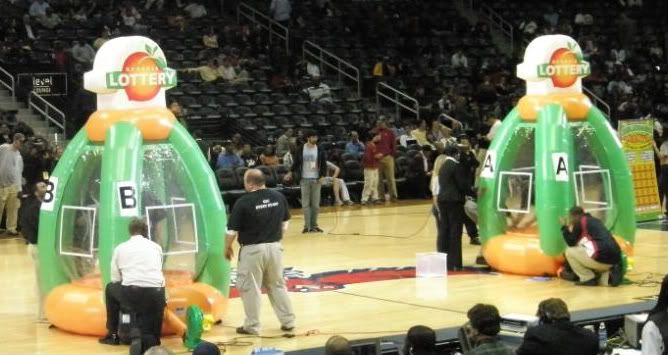 Thanks to Jon Steinberg.