So I choose to visit Minneapolis late in March, thinking it would avoid the difficult weather of one of the northernmost NBA cities. Once again, I was dead wrong. Leaving Milwaukee at about 5 PM, I drove right into the heart of another snowstorm. Visibility was next to none and a typical 4 and a 1/2 hour trip took nearly 7 hours to complete.
Myself, Adrienne, Paul, and Jen arrived at the Target Center several hours before tip-off. I was disappointed that the Timberwolves visit would overlap March Madness, but we actually got to watch the Duke loss while we were in Jeff Munneke's office (VP of Client Development).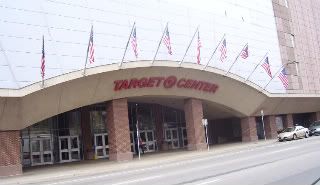 The Target Center couldn't have a better location. It's located right downtown with LOTS of access to restaurants/bars etc. To battle off the cold, many of these places are connected by skywalks & if you're using bus transportation, many of the bus stops are heated (see photos in my city portion).
The first thing we had the opportunity to do was to sit in on a staff meeting before the real game operations began. This was one of my favorite parts of all of my visits because I gained an idea of what working for an NBA team would be like. I would even permitted to give a speech about why I was there that evening.
A lot of the focus in the meeting revolved around specific groups or individuals would be at the game tonight (& even Drew Cieszynski made the list!). They also discussed how their arena has the ability to look a bit more full on a given night because they only have an upper and lower section(rather than Conseco where you have 3 sections of seating). Lastly, they touched on the opposing team, the New York Knicks, and what promotions they had been running recently to capture fans.
The first, and probably most interesting place Jeff showed us was up above the arena...in "the rafters" if you will. It's tough to get a real idea of how big these arenas are until you look down from above.
It's so dark up there that it was difficult to take photos, but I needed some proof that I made it to the top.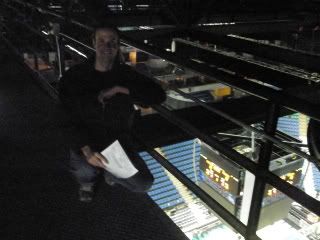 After showing us around some more of the arena, we went to NBA City for some drinks and the Wolves treated us to dinner at the Lexus lounge.
Paul is enjoying this too much!
We made our way back out to the court where Rashad McCants was ensuring that his free throw percentage would be better than Shaq's.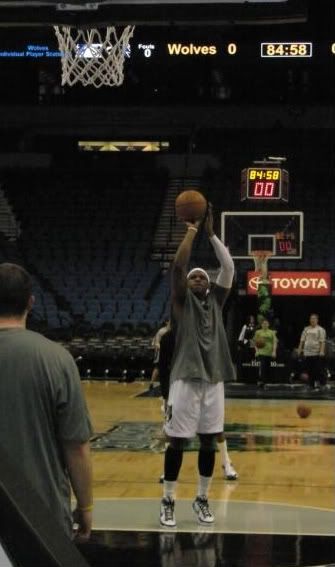 In this next spot, I could easily put, "Here's a picture of Mark Madsen hitting on some women." But unfortunately I won't because he was such a nice guy signing autographs for the kids and talking to everyone around him. I think he is clearly the T'Wolves most popular player. When he got into the game late in the 4th quarter, the crowd went crazy. Everytime "Mad Dog" touched the ball, the crowd suddenly awoke and started yelling and screaming.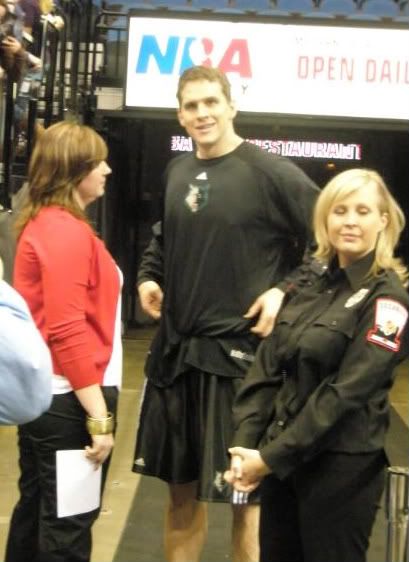 Next, I had the opportunity to conduct a radio interview with
Billy McKinney
, who is one of the most respected NBA personalities around the league. Former player, assistant coach, scout, and administrator, he is now the Radio Analyst for the Timberwolves.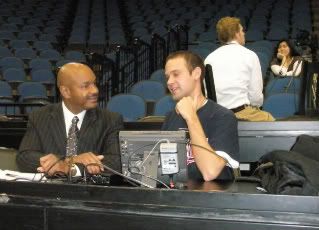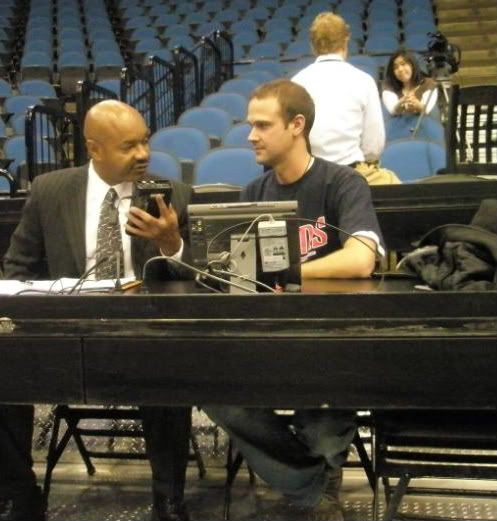 Photo Time!
Me, my Minnesota Twins t-shirt (from '06 baseball tour), and Crunch
1) myself, Crunch, Adrienne, and Paul. (2) myself and Jen. (3) me and some of the dance team/cheerleaders.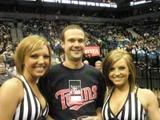 The court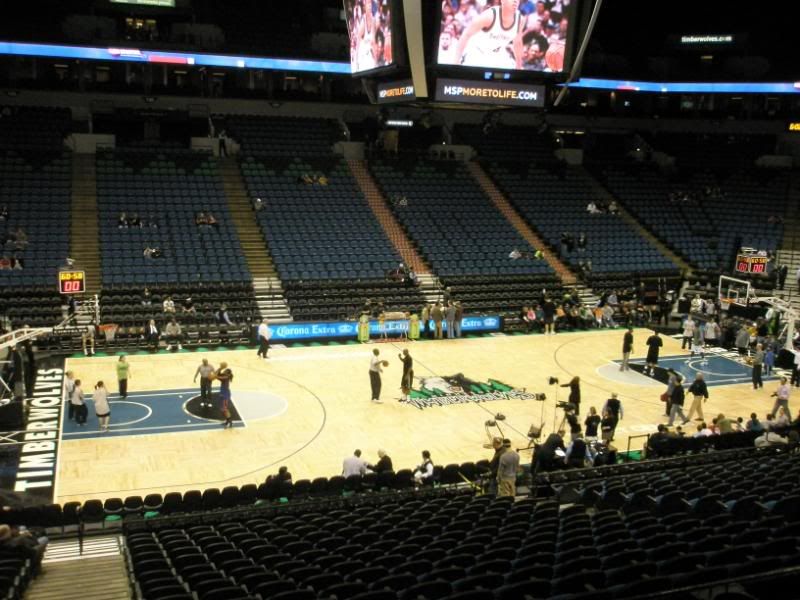 Hopefully we'll see Kevin Garnett's number up there someday.
So we finally took our 4 seats under the basket (thank you T'Wolves) and the players were introduced to Timbaland's "The Way I Are."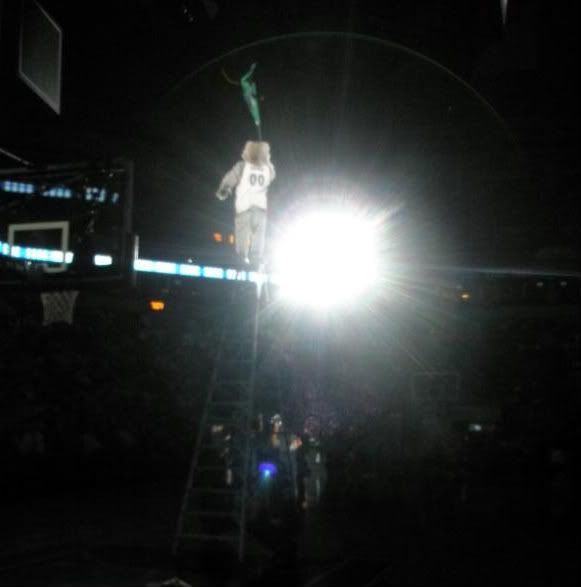 Tip-off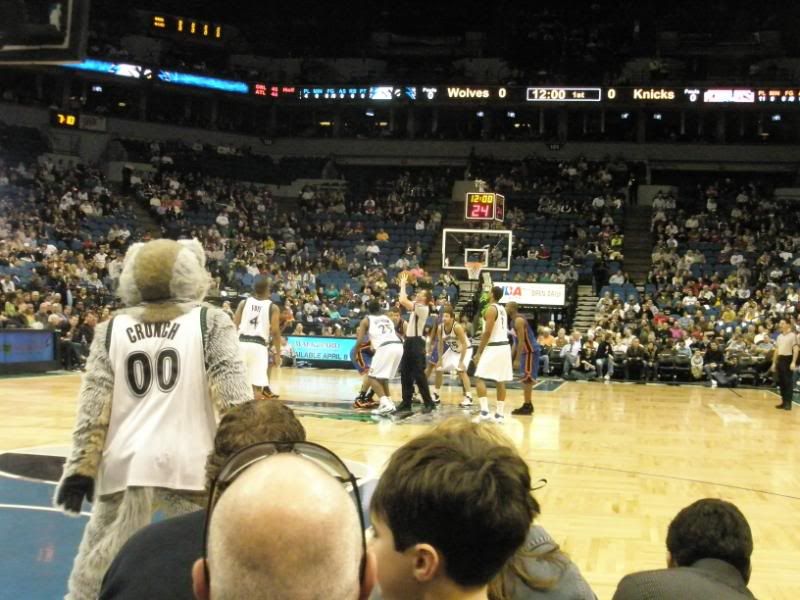 Ok, you want an interesting character? I spent the first few minutes of the game saying to myself, "What the H*ll?" "Who is this guy?" Sitting (well not sitting) courtside opposite the Knicks bench was this guy. This guy, not a coach, but some guy. He was dressed in a business suit and spent the game kneeling in front of his game. Every time the players came down to his end of the court he would start yelling out commands like he was the coach. Every now and then, he'd sip his Sprite. Even funnier is that if you look down on the floor, there is a rolled up magazine. He would pound this magazine on the floor continually in hopes that it would psych "his players" up. He was relentless throughout the game, never sitting down. If anyone in Minnesota can offer insight on this guy, please do.
Rather than having Thunderstix/Cheerstix behind the baskets, the Timberwolves had the HOWL-METER which was interesting. Kids and adults all around the arena start howling in hopes of distracting the free throw shooter (which in the case of the Knicks wasn't difficult).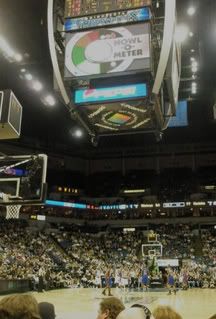 One of the Knicks' roster fillers take a shot and Al Jefferson gets ready to haul down one of his 9 rebounds (would've been a lot more had he got more playing time).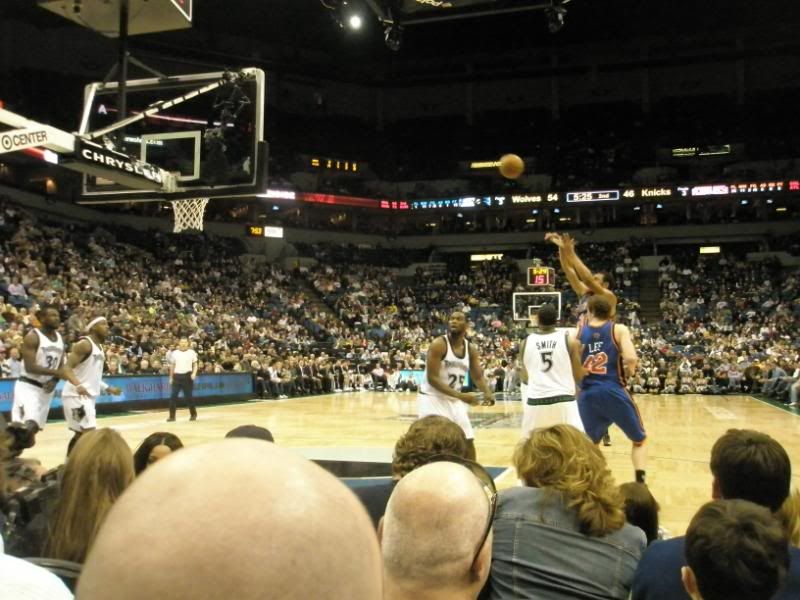 It's so great to have the ability to walk along the court as you're heading for your halftime beer.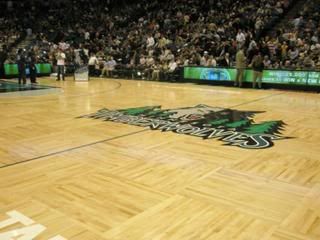 Ryan Gomes taking it to the basket while my favorite Wolves' player Randy Foye (4) watches in the background.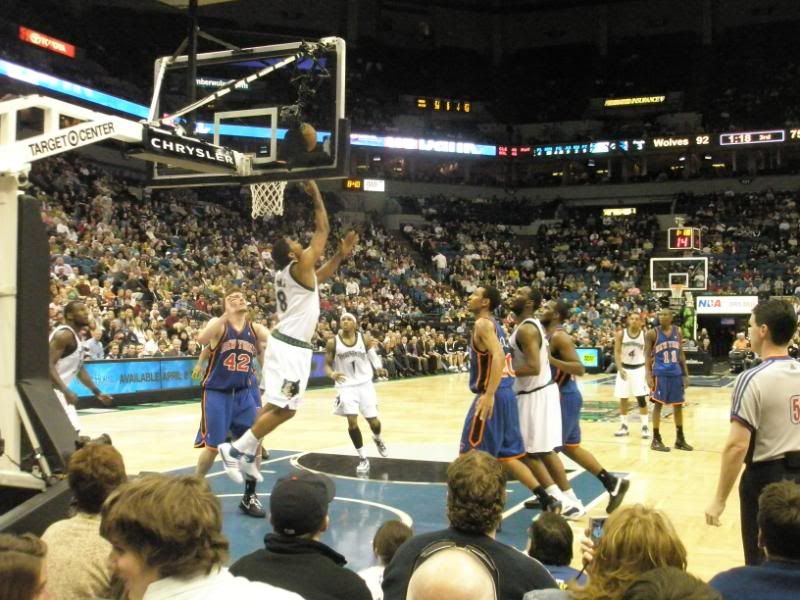 Marco Jaric after the "And 1." Have you seen this guy's
girlfriend
?
Rookie Corey Brewer fires away from beyond the arc.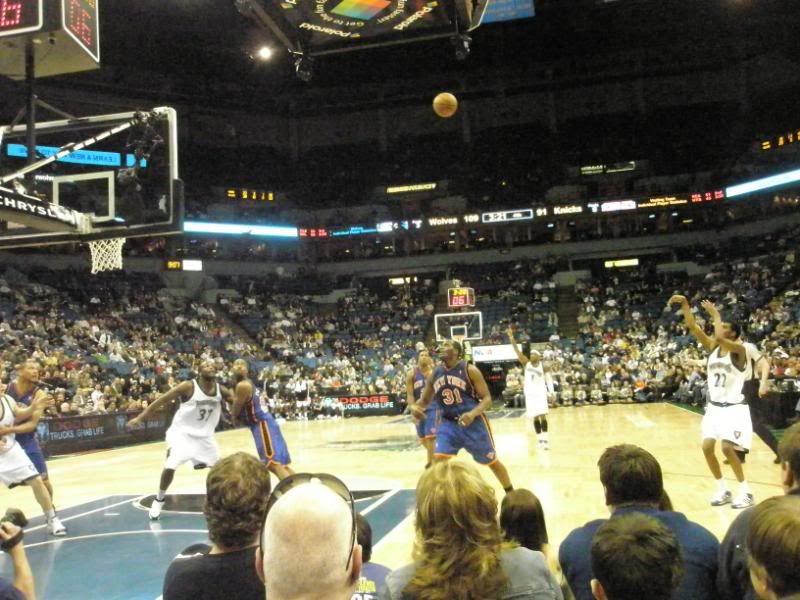 Rashad McCants fires away another 3 ball. He took 21 shots off the bench.
As you may or may not know. Stephon Marbury is done for the year. Eddy Curry is out for the year. Nate Robinson was injured. Quentin Richardson out for personal reasons. Zack Randolph did not play as a coach's decision. So I thought Isiah would ask me to suit up, but I guess he wanted to tank even more in hopes of a better lottery pick. The Timberwolves scored 42 points (to the Knicks 24) in the first quarter and never looked back. Possibly the worst game I've seen all season because it was a rout and the Knicks just weren't competitive. But hey, the T'Wolves assured me that I'd finish .500 at worst for the season (Home vs Away).
You can tell it's a blowout when Madsen is taking shots.
Jeff stopped by to thank us for visiting and to see how everything went and gave us some parting gifts which included a "Big Al" Jefferson t-shirt, Randy Foye bobble, and hat.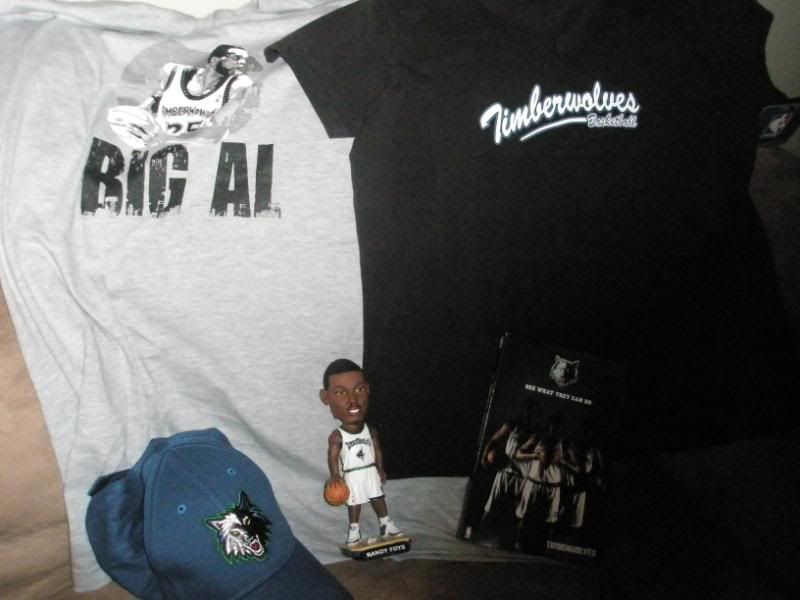 Timberwolves, thanks for the great time. I can't wait to see you guys get back to the top. & I whole-heartedly mean that. Great people. Great city!
Thanks to Jeff Munneke, Mark Rosenberg, Billy McKinney.